Chicken with Green Chile and Basil (Gai Phrik Krapao)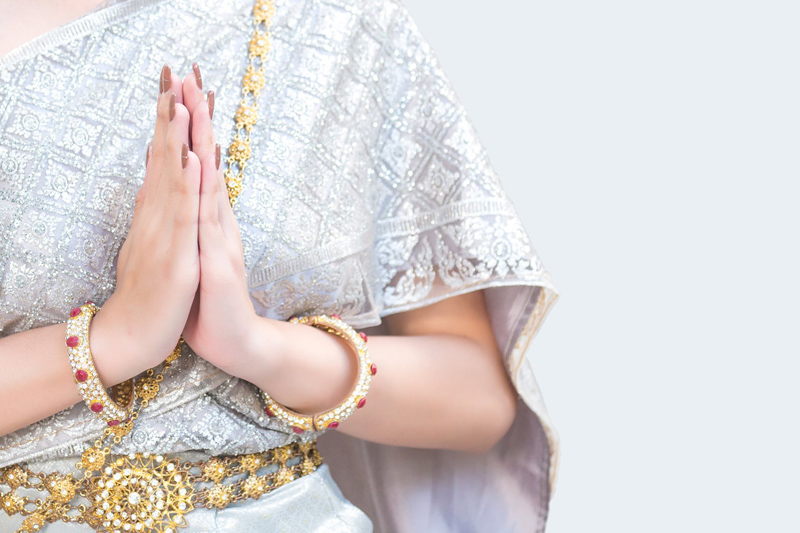 This is a very popular dish and is often found being quickly prepared by street hawkers. This Thai chicken recipe is very healthy as it uses very little oil and no coconut milk, but is BIG on flavour!

The exciting palate pleasing combination of fresh garlic, green chiles with the balance of sour-sweet-salty-hot of the sugar-chile-fish sauce and vinegar develop into a Thai-taste that is wonderful and satisfying, yet very healthy due to the lack of oil and coconut milk. The green chile flavour is very special in this dish!

1 tbsp. Peanut oil
6 cloves garlic, crushed
3 shallots, thinly sliced
8 Thai Dragon chiles-green, cut into lengthwise slivers (serranos can be used)
1 lb. boneless, skinless chicken breast, cut into 1/2" thick slices
2 Tbs. fish sauce (nam pla)
1 Tbs. date palm sugar
Some white pepper to taste
1 Tbs. white vinegar (coconut vinegar if available)
1 tbsp. sweet black soy sauce (see-eu wan)
1 1/2 c. loosely packed Thai basil or fresh mint

Heat wok over medium high heat, add oil rotating wok to coat with the oil.

Add the garlic and chiles and stir-fry quickly, just until garlic is golden being carfeul not to burn.

Increase heat to high and add chicken and shallots. Sprinkle generously with white pepper.

Stir-fry for 2-3 minutes.

Add the fish sauce, sugar, vinegar, and soy sauce. Stir-fry for a couple of minutes until chicken is tender and cooked through and no longer pink.

Lower heat to warm and add basil and toss a few times to wilt the basil.

Serve with steamed jasmine rice. For a healthier alternative I use Brown Jasmine rice which as a nutty rice flavour and aroma.

A side salad of cucumber slices, raw or blanched cabbage wedges, carrot sticks and a slice of fresh lime accent the exciting flavours of this dry-curry dish.

Dry curries are especially popular in the plains region of Thailand named Isan (Isaan, Isarn, Issan, or Esarn) which is located in the northeast region of Thailand.

Isan is located on the Khorat Plateau, bordered by the Mekong River to the north and east, and by Cambodia to the south. To the west it is separated from Northern and Central Thailand by the Phetchabun mountain range.

Agriculture is the main economic activity, but due to the socio-economic conditions and hot, dry climate out-put is way behind that of other parts of the country. This is Thailand's poorest region.

The main language of the region is Isan (which is similar to Lao), but Thai is also spoken by almost everyone. Khmer (the language of Cambodia) is widely spoken in regions near the Cambodian border. Most of the population is of Lao origin as well as ethnic Chinese and Vietnamese.

Isan food is very special especially the many drink foods i.e. snacks. Sticky rice and chiles are prominent. Sticky rice is a staple of Thai Northeastern cuisine, and accompanies almost every meal. It is steamed in a bamboo cone over boiling water, and served in small bamboo covered baskets.






Related Articles
Editor's Picks Articles
Top Ten Articles
Previous Features
Site Map





Content copyright © 2023 by Mary-Anne Durkee. All rights reserved.
This content was written by Mary-Anne Durkee. If you wish to use this content in any manner, you need written permission. Contact Mary-Anne Durkee for details.