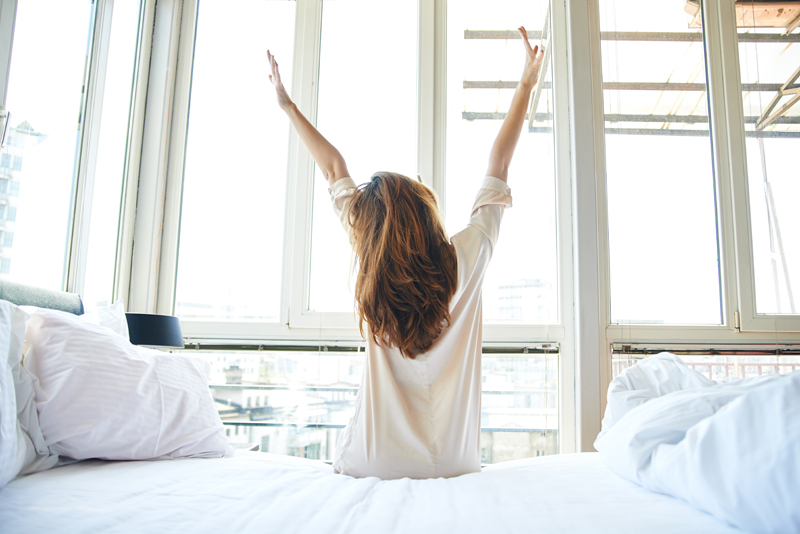 One spring day several years ago I remember waking up completely exhausted, I mean really bone weary tired. Even after a full night's sleep I felt like I could have slept another eight hours. I was in the early stages of my second pregnancy and I wanted more rest, but unfortunately I couldn't waste another moment in bed. My son was calling me from his room. He wanted to go downstairs for breakfast so that we could begin our day together.

As I lay there for a few more minutes I thought about what the day was going to be like. I'd get up and fix some oatmeal with bananas, honey and soy milk. My son and I would share the pot of cereal, get dressed and go out to the grocery store and then to the park. Sounds like fun right?

Yes, but with an 18 month old who had approached the terrible two's a bit early, nothing on my to-do list was easy to accomplish, and my pregnancy sure didn't make things easier. He knocked over his milk, splashed a gallon of water out of the bathtub onto my freshly mopped floor, grabbed cans off the shelf at the super market and ran in front of some children who were playing on the swings almost giving me a heart attack when one of the older children toppled him.

That's life in the terrible twos, but I had added even more to the mix. After each frustrating episode with my son, I'd look down at my expanding stomach and ask myself "oh no what have I done?!" I had my hands full with one and I wondered how I would make it with a two-year-old and a two-month-old. I knew it was only a matter of time before I experienced the terrible twos for real.

One of the things I talk about in this column is something that took me a long time to learn myself: For the most part, the challenging situations we are confronted with in life are temporary. Most feelings of sadness, fear and anxiety are transient. When we feed into them they can become permanent fixtures in our lives. But if you experience the feeling and let it go, it passes right on through like a summer storm. You just have to find a roof to stand under and wait for the clouds to move on. And while you wait try to reap what fulfillment you can get even while the wind is whipping all around you. Sometimes storms can be beautiful.

When I was a little girl living in Thorndale, Pennsylvania I grew up in a house that had a screened in back porch. In the summer when thunder clouds gathered in the sky my sister and I would run through the house closing all of the windows. Then if the wind wasn't blowing too hard we'd sit on the porch and watch the storm. The leaves on the dogwood trees, dancing under the weight of each raindrop. The changing colors of the sky as it was split by lightening, If the storm was really bad we'd watch from inside of the house protected by a sliding glass door. And the storm would finally pass as we watched each fascinating minute.

During this second pregnancy, my daughter made her presence known immediately. While at first I couldn't get enough sleep, around my seventh month I could barely sleep at all. Meanwhile my son was deep in the throes of the most exciting, eye opening time of his life. The world for him was brand new, something to be experienced and explored.

But I was so tired, frustrated, and pregnant all I could say was:

"Danso, put the CDs back on the shelf!"

I knew I was in the middle of a storm and I knew I needed to find shelter. It came in the form of a flier. I was at a festival when a boy handed me an advertisement for the White Wing Educational Day Care Center. Ages 2-6. Vegetarian meals. Gardening. Music. etc. I showed the flier to my husband and he liked the idea of sending Danso to school. I didn't.

I had two missions in life. One was to write and the other was to raise my children myself until they scampered off to kindergarten. And I felt that if I sent Danso to school before that time that I'd be shirking my responsibilities. Another thing I learned is that it is important to be willing to change your mind. Times change and so do our needs. Soon after the festival I called the school. I left a message then I forgot about it. I still felt a bit guilty about the idea of getting help and I felt like a bit of a wimp considering all of the women who've raised many children all by themselves. Here I was belly aching over two and one hadn't even been born!

So the rain continued. Each day left me exhausted and looking at my stomach wondering what drugs I was on to think I could handle more than one child, my career and still have a little time for myself.

Just when I thought I "couldn't take it anymore." The shelter appeared again. I got a call from the school, and we enrolled Danso. I stayed with him for a portion of each day until I knew he was comfortable with the space. Then just like that the storm was over right before the next one appeared in the horizon. Danso was in school for two full months before Adwowa, my daughter was born. I want to write a poem about those two months, they were so quiet, peaceful. That time was the respite I needed. I wrote for hours on end, I visited bookstores in the middle of the afternoon and I did things I hadn't done in over two years.

It was wonderful.

Seven years later life gets hard sometimes with two kids and a half dozen ambitions, but I know this stage is only temporary. What is more temporary than childhood? I'm going to enjoy this time as much as I can



Related Articles
Editor's Picks Articles
Top Ten Articles
Previous Features
Site Map





Content copyright © 2023 by Leah Mullen. All rights reserved.
This content was written by Leah Mullen. If you wish to use this content in any manner, you need written permission. Contact Leah Mullen for details.