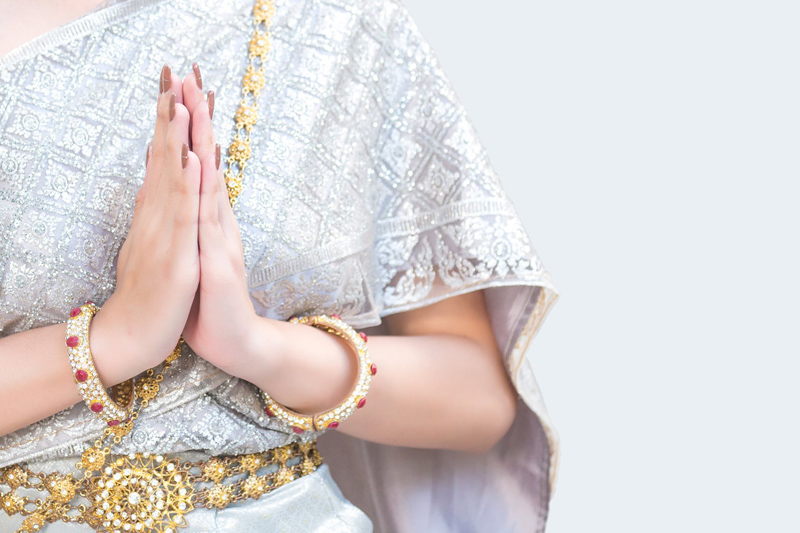 This flavourful easy to make elegant dish is the perfect starter course for a Thai meal. It also is a tempting dish for a party as it can be marinated overnight and then quickly grilled, finished and severed for a sizzling fresh off the grill platter.

6 quails - available at most Asian markets fresh or frozen

Arugula or other greens for presentation
Chile and Spring onion flowers * optional

Marinade below.

3 tablespoons peanut oil
2 tablespoons minced fresh garlic
1 1/2 teaspoons white pepper
1/4 teaspoon salt

Marinade:

2 tablespoons thinly sliced galangal - fresh or frozen
1/3 cup sliced garlic
2" section of lemon grass, thinly sliced
1 1/4 cups coconut milk
2 tablespoons Golden Mountain Sauce*
2 tablespoons Thai Oyster Sauce**
1/3 teaspoon ground white pepper
2 1/2 teaspoons yellow curry powder
2 teaspoons sugar
2 teaspoons sesame oil

To prepare the marinade:

Place galangal, garlic, and lemon grass in a mortar and pound with pestle until a smooth paste, or place in food processor and grind to a fine paste-using 1/2 cup of the thin coconut milk.
Combine the paste, Golden Mountain Sauce, oyster sauce, white pepper, yellow curry powder, sugar, sesame oil, and coconut milk.

Using paper toweling dry the quail. Place marinade and quail in a large plastic bag with a closure. Mix thoroughly to coat the quail and let them marinade in the refrigerator overnight.

Preparing to grill: Heat a gas grill to medium-high or light a charcoal fire and let it burn until the coals are very hot and covered with gray ash. Reduce the burner(s) in the center of the gas grill to low or set up the charcoal grill for indirect cooking by banking all the coals to one side, leaving the other half of the grill empty. Set cooking grate in place, cover grill and let grate heat up, 5 minutes or so.

Grill the quail for 2-3 minutes on each side allowing nice grill marks to show. Do not cook completely. Remove quail from the grill and place in a shallow baking pan and bake for 6-8 minutes at 550 deg F until the skin is crisp but do not allow them to burn.

Serve whole quail on individual plates. Spread a bed of arugula or other greens where the quail will sit. Serve one as an appetizer, or two as an entree. For a party, cut quail in half and serve on a bed of arugula or other greens.

Garnish: Chile flowers and Spring onion flowers. Slice lengthwise several Thai Dragons or other long red chiles into quarters but do not cut through to the stems. Cut Spring onions in the same manner. Place in a bowl of ice water with ice cubes for 30 minutes. The chiles and onions will curl open and form flowers.

* Golden Mountain Sauce is a flavourful seasoning sauce that is available in most Asian markets. It adds dimension to Thai dishes. It is similar to Maggi Seasoning but is less expensive has a Thai-taste. It only takes a few drops to make your rice, soups, eggs, fish, etc. flavour develops. Ingredients: Soya bean sauce, water, sugar, salt, food enhancer 0.02%. No preservatives.

**Thai Oyster Sauce Oyster Sauce is one of my favourite Thai ingredients. It differs greatly in quality and flavour from the Chinese oyster sauces as it has no MSG. Mae Krua Brand is one of the best brands available because it is made from real oyster extract, not imitation. Its intensely salty flavor, and velvet texture, adds a handsome brown colour to stir-fry noodles and vegetables. Try it with broccoli, bok choy, or asparagus.

Thai Oyster Sauce is a key ingredient in Drunken Noodles (Gkuay Dtiow Pad Kee Mao) a very popular rice noodle dish.

https://www.bellaonline.com/articles/art29593.asp/zzz




You Should Also Read:
Drunken Noodles (Gkuay Dtiow Pad Kee Mao)


Related Articles
Editor's Picks Articles
Top Ten Articles
Previous Features
Site Map





Content copyright © 2023 by Mary-Anne Durkee. All rights reserved.
This content was written by Mary-Anne Durkee. If you wish to use this content in any manner, you need written permission. Contact Mary-Anne Durkee for details.