Veracruz - Tortillas in Black Bean Sauce Recipe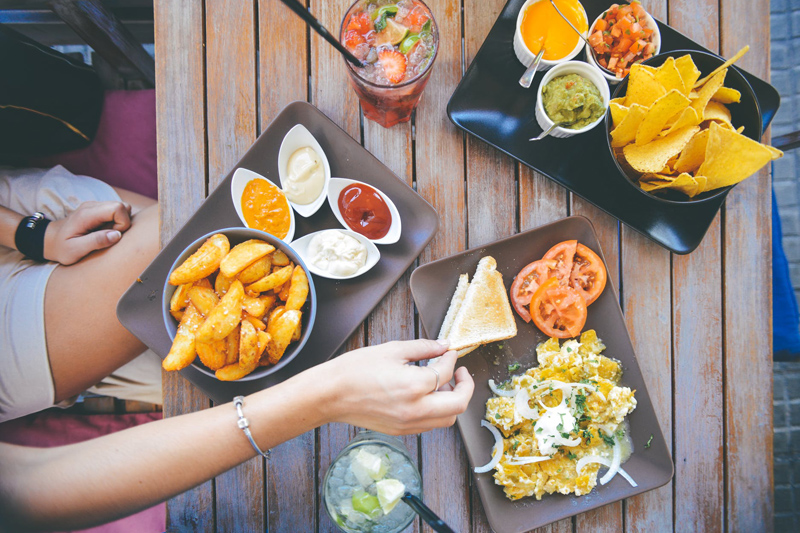 The leguminous Phaseolus Vulgaris family is found throughout its native land of Mexico as well as the Caribbean (think of Cuban black beans) and many parts of Latin America where it goes by a variety of different names – and as one of the earliest plants cultivated and domesticated by man, it has been a staple in the diet of Mesoamericans for millennia. In southern Mexico, the frijol negro is king, inky and shiny, with a tiny white heart in the centre of its gently curved body. Black beans feature in countless recipes, particularly in the state of Veracruz and the Yucatán peninsula: sometimes it will be a straightforward dish like frijoles de olla or pot beans, in other cases the combination of ingredients, flavours and textures will be infinitely more complex.
Enfrijoladas, which translates as in a bean sauce, are a simple formula: stale corn tortillas bathed in a purée of whatever the local bean may be, red, black, white, speckled or tan – it is the food of the home, the market, the countryside, cheap, comforting, soulful - a favourite of street cooks, a truly pre-Hispanic snack or antojito, requiring little equipment and effort.
In Veracruz, the enfrijolada is dusky and dark from the frijol negro and smoky with the regional chipotle chilli. The method of preparation differs slightly from other areas: while traditional enfrijoladas are first sauced and then often topped with garnishes like sour cream and grated cheese, Veracruzana cooks are more likely to drench the tortillas in the black bean sauce before rolling them around a filling of grated cheese – rather like an enchilada but with a black bean sauce rather than a chilli sauce. Sour cream can then be spooned over the top, along with a good sprinkling of chopped jalapeño chillies and onions. The result is rich and savoury, earthy and satisfying, with a good bite from the chipotle and a bright crunch from the topping – although I have to admit it is not the prettiest of dishes!
Veracruz-style Tortillas in Black Bean Sauce – Enfrijoladas Veracruzanas
Serves 4
50 g/2 oz red onions, peeled and finely sliced
15 ml/1 tbsp fresh lemon or lime juice
250 g/9 oz black beans
125 g/5 oz onions, peeled and coarsely chopped
2 garlic cloves, peeled
1 bay leaf
15 ml/1 tbsp olive oil + 60 ml/4 tbsp
175 g/6 oz onions, peeled and coarsely chopped
2 garlic cloves, peeled and crushed
5 ml/1 tsp chipotle chilli powder or to taste
8 corn tortillas (they do not need to be stale)
225 g/8 oz strong Cheddar cheese, coarsely grated
250 ml/8 fl oz soured cream or Greek-style plain yoghurt
25 g/1 oz green jalapeño chillies (use serranos if you want more heat), deseeded and finely sliced
15 g/1/2 oz fresh coriander/cilantro, coarsely chopped
Sea salt and freshly ground black pepper
In a small bowl, mix the red onions with the lemon or lime juice and a good pinch of salt. Set aside to marinate.
Place the beans in a colander and rinse them under cold, running water. Put them in a large saucepan with the 125 g of onions, 2 whole garlic cloves and bay leaf, add enough water to cover by 10 cm/4 in, and bring to the boil over medium heat. Turn the heat down to low, cover the saucepan and simmer very gently for at least 2 hours, preferably 3 or 4, until the beans are totally tender. Check them every now and then to make sure that they are not drying out and are covered by at least 1 cm/1/2 in of water. Add some seasoning and cook for another 20 minutes. Remove the bay leaf and purée with the cooking liquid in a food processor until fairly smooth, adding a bit of water if the mixture is very thick - it needs to be of a pouring consistency, as it will thicken when the tortillas are added. The sauce can be prepared and refrigerated for three days.
Heat the oven to 110oC/225oC/gas1/4/fan oven 100oC and put a serving dish to warm.
Heat 1 tbsp of olive oil in a large frying pan, add the 175 g of onions, crushed garlic and a bit of seasoning, and cook gently, stirring occasionally, until soft and starting to brown. Sprinkle in the chipotle powder and stir-fry for a minute or two. Add the bean purée and bring to the boil, stirring all the time, as it tends to stick instantly to the bottom of the pan. Check the seasoning – the flavour needs to be quite bold and assertive, as tortillas are fairly bland.
Have ready a plate lined with kitchen paper, a second plate and the cheese. Heat 2 tbsp of oil in a frying pan and cook the tortillas for about 10 seconds on each side, adding more oil as necessary. Remove to the paper-lined plate. When they are all done, place one tortilla in the hot sauce and push it down gently to submerge it and coat it completely. With a wide spatula, remove it to the plate and arrange 1/8 of the cheese down the middle. Roll it up with the help of two forks and transfer it to the warm serving dish. Repeat the process with the remaining tortillas. This is all a slightly messy business but fun. Don't try to make it look pretty, it cannot help being rather untidy and once it is garnished, it will be fine!
Put the serving dish back in the oven for five minutes to reheat the enfrijoladas. Pour any leftover sauce over the top and drizzle liberally with sour cream. Sprinkle with onions, chopped chillies and coriander.
Serve immediately.
Buén provecho!
| | |
| --- | --- |
| Chilli and Chocolate Stars of the Mexican Cocina by Isabel Hood is available from Amazon.co.uk | Just The Two of Us Entertaining Each Other by Isabel Hood is available from Amazon.com and Amazon.co.uk |
You Should Also Read:
A Pot of Beans
Mexican Street Food - Enfrijoladas
Mexican Refried Beans with Pineapple Salsa Recipe


Related Articles
Editor's Picks Articles
Top Ten Articles
Previous Features
Site Map





Content copyright © 2022 by Isabel Hood. All rights reserved.
This content was written by Isabel Hood. If you wish to use this content in any manner, you need written permission. Contact Mickey Marquez for details.