Crispy Catfish Salad - Yum Pla Dook Foo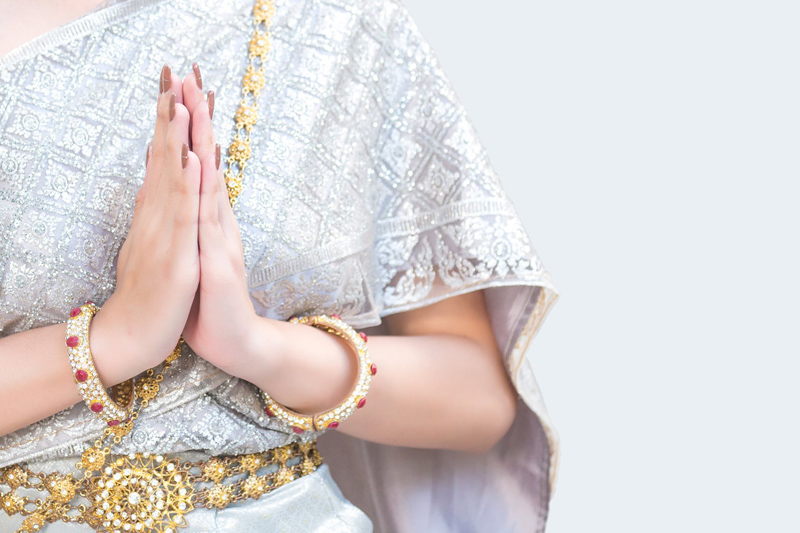 The first time I ate this salad we were at an outdoor restaurant on the banks of the Mekong in Nong Kai. This was well before the Friendship Bridge was built connecting Thailand to Laos.

We sat looking across at Vientiane while enjoying our meal and loving this Catfish Salad. There was a small kitten that kept walking back and forth on the railing eyeing our catfish salad. It was so cute. Yes we shared our lunch with this little one.

From that trip some 16 years ago I started making this wonderful salad.

Ingredients:
1/2 cup vegetable oil
4-10 Thai chile pepper, minced (Thai Dragon Chiles)
2 teaspoons date palm sugar
4 shallots, thinly sliced
2 fresh juicey limes
1 cup green mango
1/4 cup grated carrot (optional)
1/4 cup fish sauce (nam pla)*
1 lb skinless fresh catfish
1/3 cup cashew or peanut - optional
Garnish with cilantro leaves - Optional

There are two different methods of frying the cat fish.

The traditional Thai way is to place the catfish filet on a cutting board and, using 2 forks, break up the fish into very small pieces. Heat up the oil in a wok or skillet on medium low heat and deep fry the fish until golden brown. Remove flaked fish with strainer type "spider". Drain on paper towel to remove excess oil.

I recommend that instead of the traditional method, you bake it first and then drain the juices and pat dry with a paper towel. Then flake the fish meat with a fork removing all bones. Then fry the flaked fish until crispy on medium heat. Make sure the flakes stay separate as you want as much crispiness as possible.

It takes a few minutes to brown all the pieces to be very crispy. Drain the cooked fish on paper towel.

Mince the chiles. Mix the minced chiles, sugar, fish sauce and lime juice together.

Slice the shallot thinly.

Peel and grate mango with a large hole grater. In Thailand, as in the pictures, people sliver the mango by first chopping along the length of the mango many times so that the blade goes just a little below the surface and then cutting the thin pieces away. There also is a type of hand grater that slivers the mango easily. Sometimes I use some grated carrot as well to add colour to the salad.

If your cashews or peanuts are uncooked, toast them in a dry skillet until golden brown.

Mix all ingredients together and serve.

1 lb of catfish is about 2 large filets.

* Please use good quality fish sauce such as Golden Boy! It makes a big difference in the taste of this salad and all Thai dishes.



Related Articles
Editor's Picks Articles
Top Ten Articles
Previous Features
Site Map





Content copyright © 2022 by Mary-Anne Durkee. All rights reserved.
This content was written by Mary-Anne Durkee. If you wish to use this content in any manner, you need written permission. Contact Mary-Anne Durkee for details.