Phad Radna Talay (Guay Treow Radna)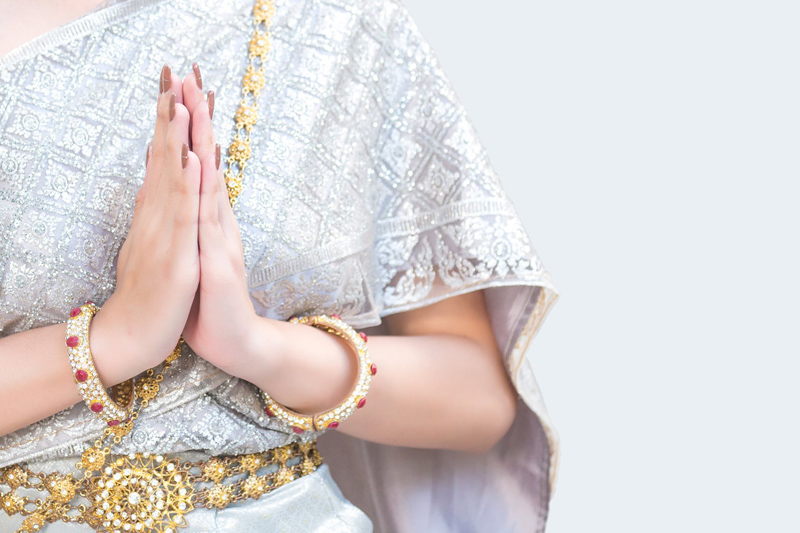 Guay Treow dishes are common as 'hawker' or street food that is readily available all over Thailand as well as most South East Asian countries. This street food is often very inexpensive and always freshly prepared for you.
This dish can be fixed fairly bland, but there is always an assortment of ground roasted chiles, fresh chiles in fish sauce (nam plah phrik), various sauces and condiments for the diner to customize the taste to their palate.
This version assumes that you already have a somewhat advanced Thai palate and includes many of the optional spices as a part of the recipe. You can adjust the amount of chiles to your preferred heat level. We love hot and spicy so we would add more roasted chile than called for in my given recipe. Just remember it is easy to add more chile, but difficult to mellow out a fiery dish for a "whimpy" palate.
All ingredients indicated are fresh.
Serves 4-6 depending on appetites
Ingredients:
4 cups Sen Jaan (Thai Dry Rice Stick Noodles)* pre-soaked
2 teaspoons peanut oil
8 - 12 cloves Garlic, thinly sliced
1" knob of fresh ginger thin julienne or dice
2 tsp. ground dry Thai chiles or minced fresh
4 cups Napa Cabbage (2" dice)
white pepper
1 cup Shiitake fresh mushrooms (thinly sliced)
1 cup Mushroom broth
2 - 4 tablespoons Thai Dark Sweet Soy Sauce(Golden Boy is a good brand)
2 - 4 tablespoons Thai - Golden Mountain Sauce seasoning sauce-to taste
1 1/2 Tbs. Arrowroot or rice flour
1 cup Thai Basil leaves (cut into 1/2" pieces)
6 pair Kaffir lime leaves (stems removed and slivered and diced)
2 tabs. Ground Chile with Garlic or fresh Thai chiles minced
4-6 Scallops (I prefer large sea scallops)
12-18 large Tiger Shrimp (raw, in shells, butterflied)
12-18 pieces Crab Leg Meat (whole, cooked like Dungeness)
1/2 pound Calamari rings
2 cakes fried style tofu 1/2" dice* optional
2-4 Tbs. Fish Sauce, nam pla (Golden Boy is a good brand)
Peanut Oil for stir frying
For Garnish:
Thinly sliced green onions (scallions)
Deep-fried shallots
1/4 fresh lime per serving
Note: The key to making this dish successfully is in the prep step before you begin. I always prep and pre-measure all of my ingredients, placing ingredients in mis-en-place (ingredient bowls of various sizes). I use clear glass types and also beautiful hand carved wooden ones from Thailand and Burma, as well as an assortment of small hand-made pottery bowls.
I arrange each recipes ingredients on a tray with the recipe nearby to enable quick stir-fry method. This also enables you to prep several recipes before your guests arrive and while everyone sips a glass of wine, beer or other beverage in the kitchen you can quickly cook the entire meal in just minutes-creates a fun ambiance.
The cooking time of Radna Talay is quick as it is a typical Thai stir-fry dishes.
Method:
Soak the noodles in hot water to soften them – about 15 minutes. Drain and rinse in cold water to prevent the noodles from sticking together in clumps.
Add a small amount of peanut oil to a wok (spun steel over gas is best) and heat until just smoking, add sliced garlic, diced baby ginger, dried or fresh Thai Chiles and then cabbage, stir fry lightly.
Add an additional small amount of peanut oil to the wok and heat if needed and add the tofu if using, stir-fry to lightly brown.
Add scallops, crab legs, shrimp, and calamari, sprinkle generously with ground white pepper over all-and carefully fry until just browned, turning once or twice (about 2- 5 minutes). Don't over -cook!
Then add sauce ingredients: Golden Mountain Sauce Sauce, Thai Dark Sweet Soy Sauce, Fish Sauce, rice flour (mixed in a little water), Kaffir Lime, Thai Basil, add rice noodles and carefully incorporate using a pasta fork to be sure the noodles don't break or become mushy. Add ground Thai roasted chiles to taste.
Serve on plates or shallow bowls - garnish with slivers of green onions and Thai Basil leaves, and or crisp fried shallots.
Note: If you prefer you can fry or grill the seafood separately and add to the noodles as a garnish which makes for a dramatic presentation.
*Sen Jaan-are a dry rice noodle often used in such as Pad Thai. They come in a couple of widths from fettuccine size to parpadelle size.
There is a fresh version which is 1/2" wide called sen yai. These only last a couple of days are a bit difficult to separate and spoil quickly.
You can also make this a "soupy" dish using more broth. I like it both ways as a drier noodle dish or as a soupy dish. I recently ate Phad Radnay Gai (using chicken) at a restaurant along Sukhimvit in Bangkok. It is the perfect comfort food if made mild for touchy tummies, as mine was after a serious bout with "Phnom Penh Plague".




Related Articles
Editor's Picks Articles
Top Ten Articles
Previous Features
Site Map





Content copyright © 2023 by Mary-Anne Durkee. All rights reserved.
This content was written by Mary-Anne Durkee. If you wish to use this content in any manner, you need written permission. Contact Mary-Anne Durkee for details.