Spicy Thai Shrimp with Mint Raita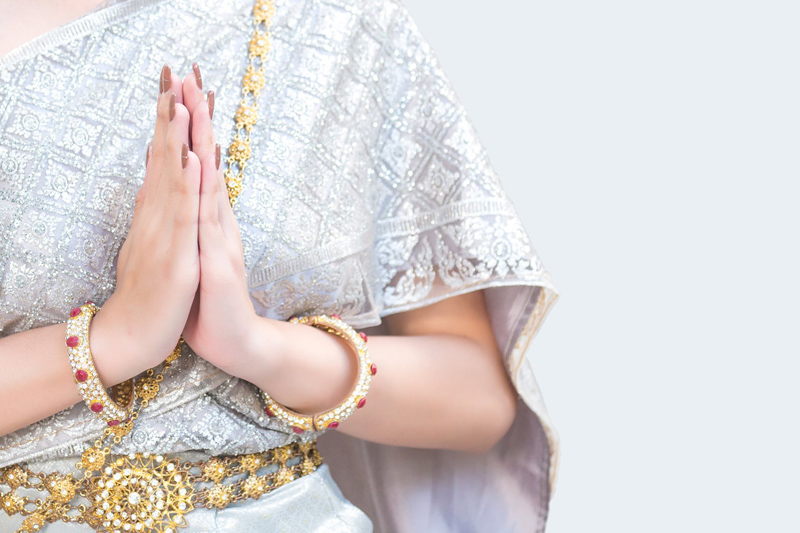 Raita
1 cup nonfat yogurt
1/4 cup peeled, and diced Asian cucumber
1/4 cup thinly sliced green onions
1/4 cup mint leaves, minced
1 pair Kaffir lime leaves slivered and diced (use sissors)
2 tsp lime zest

Shrimp
2 tsp olive oil
2 tsp sesame oil
2 tsp grated fresh ginger
1 tsp minced garlic
24 large Tiger Prawns, peeled and deveined
1/4 cup Thai red chile paste (at Asian grocery stores)or make your own*
Juice of 2 limes
2 tbsp snipped fresh chives

Method:
In a bowl, combine all raita ingredients and set aside.

Heat olive and sesame oils in a medium saucepan over high heat.

Sauté ginger and garlic about 45 seconds. Add shrimp and chile paste, tossing to cook evenly, about 3 minutes. Add lemon juice and stir.

Serve raita with shrimp; garnish with chives.

Serves 4

Optional: Toss with bean thread noodles that have been soaked in hot water for 10 minutes and drained.

Nutritional analysis per serving 158 calories, 5.6 g fat (0.9 g saturated fat), 14.7 g carbohydrates, 13.8 g protein, 2.6 g fiber

* Mae Ploy and Mae Sri have pretty good Thai Red Curry pastes availavle in small cans or tubs at Asian Markets. If you want real Thai flavour make your own Red Curry Paste with my recipe. It will keep in a glass jar for several weeks in the refrigerator and can be used for numerous Thai dishes.

Red Curry Paste

6-12 dried red chiles, soaked, deseeded and drained
1 tsp white peppercorns
2 tsp coriander seeds, roasted and ground
1 tsp cumin seeds, roasted and ground
2 Tabs thinly sliced lemon grass
½ tsp zest of "kaffir" lime (ordinary lime will do)
6 tabs garlic, chopped
1 tsp minced galangal
1 tsp chopped coriander (cilantro) root
4 tabs chopped shallot
a splash of fish sauce (nam pla)
1 tsp fermented shrimp paste (kapi) (roasted)*

* place kapi on a small tinfoil formed flat tray with sides, place in toaster oven until freagrant. Remove and let cool while you prepare and pound the other curry paste ingredients.

Place ingredients first the harder ingredients of chiles, peppercorns, coriander and cumin seeds, kaffir lime leaf slivers,in a mortor and pound thoroughly with the pestle. When they are completely mashed into a paste, add the garlic, galangal, and coriander root- pound again to form a smooth paste. Now add the shallot, nam pla, and kapi and pound again until it is a smooth paste.

You can use a food processor, but it is more difficult to create a smooth paste. It blender makes a smoother paste. You can begin in the food processor and finish in a mortor to attain the desired smooth paste. Place in glass jar and keep in a refrigerator for up to 3 months.

Thai red curry paste (Mae Ploy or Mae Sri brands are quite good), but freshly made curry paste tastes much better and contains no MSG or preservatives.





Related Articles
Editor's Picks Articles
Top Ten Articles
Previous Features
Site Map





Content copyright © 2023 by Mary-Anne Durkee. All rights reserved.
This content was written by Mary-Anne Durkee. If you wish to use this content in any manner, you need written permission. Contact Mary-Anne Durkee for details.