The Sauces of Mexico - Encacahuatado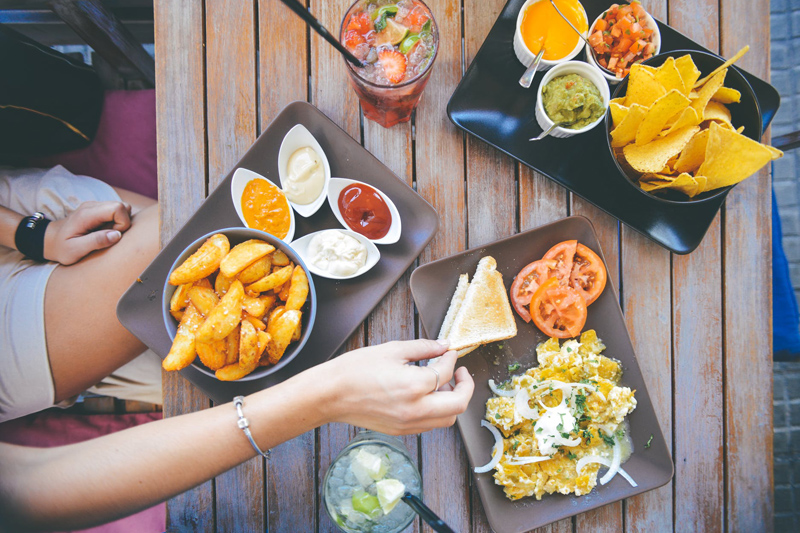 A sauce thickened with seeds and nuts is an utterly pre-Hispanic concept, and Spanish chroniclers who accompanied Hernán Cortés during the conquest of Mexico talked in their accounts not only of the enormous wealth of unfamiliar fruit, vegetables and animals which they came across in the Mexican market places but also of great earthenware cazuelas full of bubbling brick red sauces which were thickened in precisely this way. Some of these were undoubtedly a form of "encacahuatado", but not the one found today, as the modern encacahuatado contains sesame seeds, which are not native to the Americas.
Cacahuates © Philip Hood
Peanuts, arachis hypogaea, are members of the "fabaceae" family and not a nut at all but a legume or pulse, like lentils and beans. They are thought to have originated in South America, as prehistoric traces of both the wild and cultivated varieties have been discovered in Argentina and Brazil, and while the Incas are known to have made propitiating offerings of peanuts to their sun god during religious festivals, archaeological research carried out in Peru has unearthed peanut shells dating as far back as 2500 BC.
Arachis hypogaea seems to have reached Mexico around 500 BC, when the Aztecs started cultivating it, not simply for its edible qualities and as a food staple but also, very importantly, as a medicinal plant. The Franciscan monk, Fray Bernardino de Sahagún, talks in La Historia General de las Cosas de la Nueva España (General History of the Things of New Spain) of the "medicine sellers" who were considered "knowers of herbs and knowers of roots", and who prescribed a mixture of ground peanuts and water to abate fever or to heal swollen gums.
In Náhuatl, the language of the Aztecs, the peanut was known as "tlalcacahuatl", which translates as "cacao of the earth" or "cacao which grows underground" and became the Spanish for peanut, cacahuate. While peanuts surely played an important gastronomic role in pre-Hispanic Mexico, they have also influenced other cuisines world-wide and made a round trip by returning to American shores: the Portuguese introduced peanuts to West Africa, where they were absorbed into the local larders and culinary traditions, and when African slaves were transported to the Americas, they in turn brought the peanut and their peanut dishes back to the continent of origin: the modern Mexican "encacahuatado" bears a strong resemblance to an African "chicken in peanut sauce".
Veracruz in the Gulf of Mexico was the most important port and point of entry to New Spain during the colonial period and many foreign foodstuffs made their way into typical Mexican dishes from there. It is therefore natural that the cooking of the state of Veracruz itself should feature so many ingredients from far-off lands and the "encacahuatado de Veracruz" is a perfect example: a spicy "mole" which normally includes pork or chicken and is thickened not only with peanuts but also sesame seeds – and sesame probably originated in Ethiopia and also reached Mexico via the slave trade.
Peanuts are a very popular Mexican snack, served in bars and sold in paper cornets on the streets. They are roasted to bring out their flavour, either on their own or, even more deliciously, with whole fat cloves of garlic, and sprinkled liberally with salt and chilli, although lime juice and spices are often added. This same roasting not only of peanuts but also sesame seeds is an important step in the preparation of any kind of Mexican encacahuatado, and here I have to admit that I have been known to cheat by using peanut butter and the Middle Eastern tahini paste! Untraditional, I know, but it saves a lot of time, effort and washing up, and the final result tastes very authentic. And having once enjoyed a wonderful dish of kid in peanut sauce in Mexico City, I have developed the following recipe for encacahuatado using lamb.
Lamb in peanut sauce - Encacahuatado de cordero
Serves 4
500 g/18 oz tomatoes, halved
8 garlic cloves, unpeeled
45 ml/3 tbsp olive oil
4 lamb leg steaks, 500 g/18 oz, cut into 2.5 cm/1 in pieces
250 g/9 oz onions, peeled and coarsely chopped
2.5 ml/1/2 tsp ground cinnamon
5 ml/1 tsp ground cumin
4 whole cloves
2.5 ml/1/2 tbsp chipotle chilli paste or powder or to taste
75 g/3 oz crunchy peanut butter
75 g/3 oz dark tahini (sesame paste)
250 ml/1 cup lamb, chicken or vegetable stock, or water mixed with 15 ml/1 tbsp bouillon powder
1 red chilli, deseeded and finely sliced
15 g/1/2 oz fresh coriander/cilantro, coarsely chopped
Sea salt and freshly ground black pepper
Warm tortillas or rice, to serve (optional)
Heat the grill to high. Line the grill pan with kitchen foil and place the tomato halves, cut side up, and garlic cloves on it. Grill 10 cm/4 in from the heat for about 20 minutes, until soft and slightly blackened, turning the garlic cloves over half way through. Cool, then peel the garlic and place it in a food processor with the tomatoes and any juices. Season and process to a chunky purée.
Heat the olive oil in a frying pan and sear the lamb all over until golden. Remove to a plate, add the onions to the pan and cook, stirring often, until they are soft and starting to brown. Add the spices and stir-fry for a minute longer. Stir in the chipotle and tomato purée and simmer for 15 minutes, until it is thick and rich. Add the peanut butter, tahini and stock, and bring to the boil.
Preheat the oven to 160oC/325oF/Gas3/fan oven 145oC.
Return the lamb to the pan and bring to a simmer. If your frying pan is ovenproof, simply cover it with a lid or kitchen foil; if not, transfer the lamb to an ovenproof dish and cover tightly. Place in the oven and cook for 1 hour and 30 minutes.
Check the seasoning and sprinkle with chilli and coriander.
Serve immediately with warm tortillas or rice.
Buén provecho!
You Should Also Read:
Salsas, the sauces of Mexico
The Sauces of Mexico - Yucatecan Sikil Paak
The Sauces of Mexico - Pipián Verde Recipe


Related Articles
Editor's Picks Articles
Top Ten Articles
Previous Features
Site Map





Content copyright © 2021 by Isabel Hood. All rights reserved.
This content was written by Isabel Hood. If you wish to use this content in any manner, you need written permission. Contact Mickey Marquez for details.