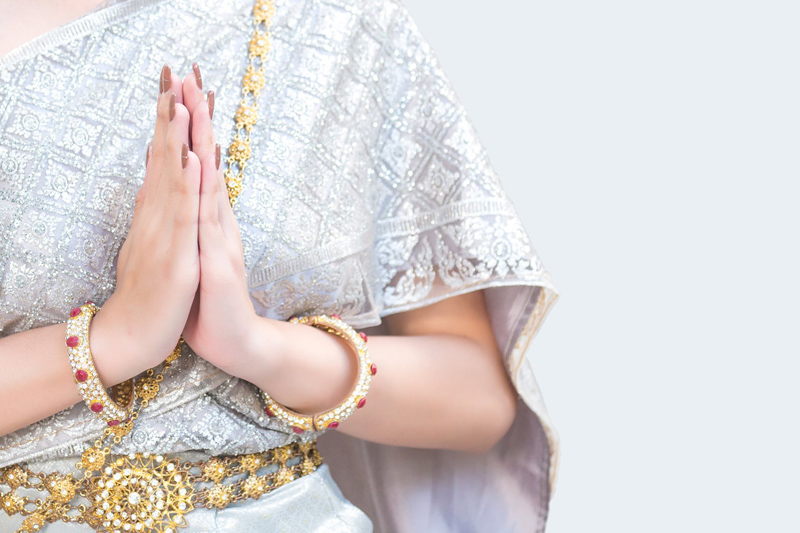 One of my favourite things about eating in Thailand is first there are food vendors cooking 24 hours a day, and secondly one can always find such wonderful fresh seafood which I love.

In Thailand it is easy to pick out a just plucked from the water gleaming fish with bright eyes from the fisherman and either take it home to cook, or to a close-by food stall cooking fish.

Here in the US it can be a little more of a challenge, but with a little practice you can become an expert very quickly for picking out fresh fish. I usually buy my fish at a local Asian market such as 99 Ranch or Le Asia. (see tips below)

If buying fish from your local market I suggest asking when their fish shipments come in, and by all means don't buy fish on a Sunday as it is guaranteed to be old. Just remember when choosing seafood - to trust your nose.

Fish In Tamarind Sauce (Plah Tote Laht Nahm Prik Makahm)

Ingredients
1 cup cornstarch flour (makes the fish crispy)
A few grinds of Pepper and sea salt
2 Pounds Fish Fillet* (a whole fish can be used)
1/2 Cup Vegetable Oil (or peanut which I like best for frying)
3 Tablespoons Garlic, finely minced
1 Tablespoon Red Curry Paste
1 Tablespoon Tamarind Paste mixed with -
1/2 Cup Water
6 Tablespoons Fish Sauce (Golden Boy is excellent brand)
1/4 Cup Thai Soy Sauce
1/4 Cup Date Palm Sugar
3 Medium Green Onions thinly sliced
1 Tablespoon Ginger grated

Garnish:
Cilantro sprigs
10 Medium Cherry Tomatoes cut in halved

Method
Mix cornstarch with the salt and pepper and dredge fish fillets in it.
Heat large skillet and add oil. Cook fillets in oil about 2 to 3 minutes per side or until golden brown. Remove from pan and set aside on paper toweling to absorb excess oil.
Leave about 2 tablespoons of oil in the skillet. Add the garlic and stir-fry for a few seconds being careful to not burn it. Add the red curry paste and sauté for 1 minute or it becomes fragrant.
Add the tamarind, fish sauce, soy sauce, and sugar. Cook for 1 minute stir-frying.
Stir in the green onion and ginger. Reduce heat and simmer for 2 to 3 minutes.
Pour hot sauce over the fish and garnish with cilantro and tomatoes.
Serves 4
Note if using a whole cleaned fish such as a pomfret, you may have to use additional oil to cover the fish to deep fry and make nice and crisp. I love whole deep fried fish, especially when the fins, tail and head become extra crispy and edible.

* Fish should a white fish such as sole, cod, halibut, sturgeon or other firm mild flavour fish.

Some tips for choosing fresh fish include:

Trust your nose! If a fish smells fishy it is NOT fresh. A fresh fish will smell like clean water, or have a touch of a briny smell. Never buy a fish that stinks, and NEVER buy any seafood that gives off an ammonia smell, as it is spoiling.

Look for bright, clear eyes, not the cloudy sunken in eyes. The eyes are the barometer to a fresh fish, for they start to fade and turn dull quickly.

Look at the gills, check to see if they are a rich red colour. If the fish not fresh the gills will look like faded dull brick.

Now look at the fish. Does it shine? Does it look metallic and clean? Or has it dulled or has discolored patches on it? If so, it is marginal and not fresh, pass it by.

Have your fish monger clean and fillet the fish for you. Retail the head and bones to make stock.

Choosing fresh fish fillets:

Number one is smell, just ask the fish monger to let you smell a fillet. If it smells strong and fishy, it is not fresh.

Look for fresh vibrant firm flesh. If the fish looks soggy, pass it by. If there is liquid on the fish fillet it must be clear. If it is cloudy, the fish is old! Press the fish fillet with your finger, if it is firm it is fresh.

Another tip if shopping at an Asian market watch the older women choose their fish. First they will size it up looking at the eyes, the gills, then they will poke the fish. Feel free to ask a fellow shopper for help if they appear to know what they are doing. Your best bet is an older Asian woman! They often will be delighted to help. I have learned many tips from such shoppers!


You Should Also Read:
Red Curry Paste


Related Articles
Editor's Picks Articles
Top Ten Articles
Previous Features
Site Map





Content copyright © 2023 by Mary-Anne Durkee. All rights reserved.
This content was written by Mary-Anne Durkee. If you wish to use this content in any manner, you need written permission. Contact Mary-Anne Durkee for details.