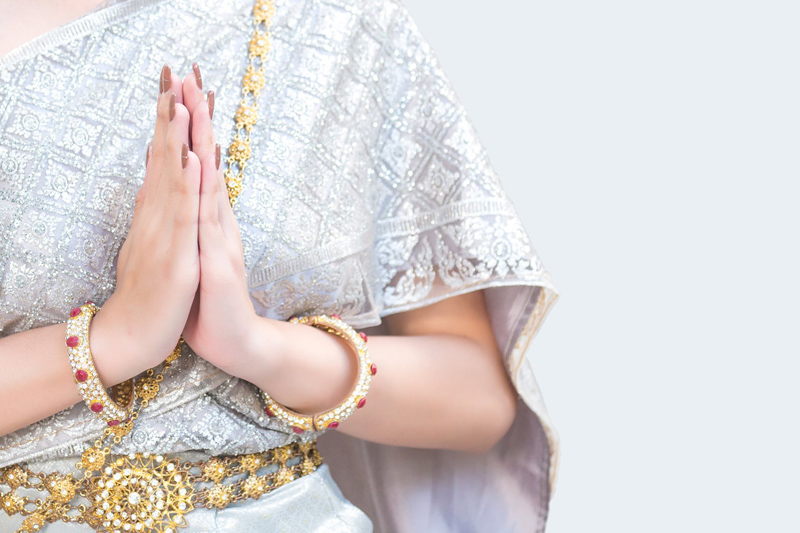 While lamb is not a mainstream and popular meat in Thailand, it is found in Isaan and also, Khao Yai (Sankamphaeng Mountain Range, at the southwestern boundary of the Khorat Plateau), Surin (near Cambodia border), Nakhon Pathon (not far from Bangkok) , and down south where many Muslims raise lamb for eating. Also Carrefor carries Thai lamb and I have ordered lamb sates in Bangkok!

There are over 1 million expats living in Thailand and many love their lamb like the Aussies, Indians, some Americans, etc. Many Thai restaurants in the US, UK and Australia serve many lamb dishes such as sate, curries, and such as Neua Gae Yang Nam Tok (Waterfall Lamb).

In Thai Nam Tok means waterfall which is very descriptive as the juices from the cooking lamb drip down onto the coals like a water fall. Traditionally this is cooked over charcoal which lends a great smokiness flavor. Be sure and not overcook the meat. It should be quite rare.

Before attempting to make this recipe, please read the entire recipe as some steps can be done beforehand.

This is a typical Isan dish using toasted rice powder (Khao Koor) and eaten with sticky rice. Khao Koor is used in Gai Larb (chicken minced salad) and other Thai/Laos dishes. It lends a wonderful fragrance and texture!

You can buy Khao Koor in an Asian market, but it is very easy to make. I always keep a small jar ready to use for these Northeast Thai/Laos recipes.
It is used in salads to keep them from being "soupy" as it absorbs some of the liquid and lends a lovely fragrance.

Neua Gae Yang Nam Tok (Waterfall Lamb) Recipe

1 lb lamb steak, sirloin or tender leg slice cut, or a whole lamb filet

Marinade - Ingredients
1 tablespoon fish sauce - nam pla
1 teaspoon tamarind concentrate mixed with 3 teaspoons water
1 tablespoon fresh lime juice
1 tablespoon chopped Thai Dragon chile peppers

Method
Mix the marinade, pour over the lamb meat turning it over to make sure all areas are covered and marinade it for at least 4 hours. Sometimes I just place the meat and marinade in a large plastic zip-lock bag. This makes it easy to turn over occasionally to thoroughly marinade the steak.

Marinating over night gives the meat more flavor. My favourite cut is the lamb tenderloin which is available at meat markets that get in whole lambs and break it down themselves. It is such a treat!

Heat barbeque, run a piece of back-fat over the grills to keep the meat from sticking and to allow nice grill marks to develop. Once you place the meat on the hot grills do NOT move it until you are ready to turn the meat over. Be sure not to overcook the lamb-it should be pink!

Place the lamb on a cutting board and allow to rest for 10 minutes.

Then cut into half inch thick strips using a sharp knife. Then cut the strips across into bite sized pieces.

Prep the folowing before cooking the lamb:

Remaining ingredients
1/3 cup fish sauce - nam pla
1/3 cup fresh lime juice
3 tablespoons minced shallots
2 tablespoons chopped cilantro
1 tablespoon minced and pounded cilantro roots
3 tablespoons chopped mint leaves
2 tablespoons khao koor *
1 tablespoon freshly roasted sesame seeds
1-3 teaspoons freshly ground roasted Thai Chiles (to taste)

Method
In a wok bring a little oil to medium high heat and add the lamb, immediately followed by all the remaining ingredients as listed above.

Stir fry until heated through this takes about a minute.

Serve with steamed sticky rice. The glutinous rice should be soaked over night and cooked in a bamboo steamer over boiling water. You cover the bamboo cone with a damp clean dish towel. Using a rice paddle you need to lightly fluff the rice over.

Khao Koor (Make ahead of time)
Place medium sized wok over medium flame to heat.
Place 3 tablespoons of uncooked glutinous rice in the hot wok
Stir-fry the rice keeping it moving until the rice starts to turn golden brown. I like to slowly roast the rice as it grinds nicer and is less gritty.

Remove from the heat and allow to cool.

Grind to a fairly coarse powder in a spice mill or clean coffee grinder, or a mortar and pestle. Don't over grind as you want some texture.

Keep in a glass jar for easy use in Thai cooking.


















Related Articles
Editor's Picks Articles
Top Ten Articles
Previous Features
Site Map





Content copyright © 2023 by Mary-Anne Durkee. All rights reserved.
This content was written by Mary-Anne Durkee. If you wish to use this content in any manner, you need written permission. Contact Mary-Anne Durkee for details.