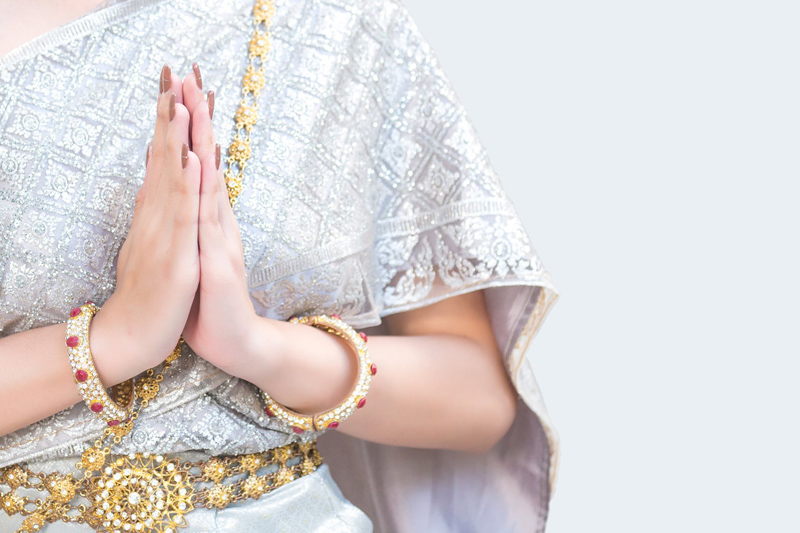 A good Thai salad demonstrates your culinary skills. It is important to balance the flavours of hot-sweet-sour-spicy as well as evenly cut vegetables. This delightful salad is a complex taste with varying textures. Do not cut the vegetables too small or it can become cluttered. Neatly cut the veggies into bite sizes so that each has its' distinct flavor and texture. This salad makes a great first course or starter for a Thai meal or it can be served with the noodles (mie), and or grilled seafood or duck as a fabulous entrée.

Yam Yai Bangkok
Dressing:

1/4 cup rice wine vinegar
1/4 cup olive or peanut oil
2 tablespoons toasted sesame oil
3 tablespoons fish sauce (nam pla)
Juice of 2 limes
1/4 cup date palm sugar
2 tablespoons grated fresh ginger
1 stalk lemongrass, cleaned and minced, and pounded
2 fresh red ripe Thai chiles seeded and minced
1/4 cup cilantro, chopped
2 cloves of garlic, minced
6 fresh Kafir lime leaves rib removed and very finely slivered and chopped

The Salad:

2 cups Chinese broccoli julienned
1 cup bean sprouts, ends trimmed
3 cups Napa Cabbage, thinly sliced
1 large red bell pepper, seeded and thinly sliced
1 cup Japanese cucumber, chopped
5 scallions, thinly sliced
1/4 pound snow peas, sliced thinly on the diagonal
1/2 cup fresh water chestnuts, sliced
1/3 cup roasted peanuts, chopped
2 tablespoons toasted sesame seeds
Garnish: Sprigs of cilantro and chile flowers.
Method: Whisk dressing ingredients together. This can be prepared and placed in refrigerator-whisk just before using.

Prep the veggies (can be placed in refrigerator for up to one hour prior to serving. Place the shredded cabbage separately in a plastic storage bag or covered bowl.
When ready to serve combine the veggies in a large salad bowl, toss with dressing.
Notes: Gourmet Garden lemon grass in a tube works great for the dressing.
( Use 1+ teaspoon to taste)

Variations:
Soak two bundles thin rice vermicelli in hot water for 20 minutes, toss with salad. You will need to double dressing recipe.
For a nice entrée-grill large shrimp (pla goong) in shell on soaked bamboo skewers, place on individual salads. Marinade in a little of the salad dressing.
Roasted duck available at Chinese markets-thinly julienne and adorn salad with a generous amount.
Chicken (gai) skewers which are charcoal grilled are a nice addition for an entrée.
For a nice entrée-grill large sea scallops (pla hoi shenn) on soaked bamboo skewers, place on individual salads. Marinade in a little of the salad dressing.
For a nice entrée-blanch calamari rings (place in ice water for a few minutes to stop cooking. These calamari rings then are placed on individual salads. Marinade in a little of the salad dressing

Substitute sesame seeds with freshly grated coconut meat.
Substitute thinly sliced Wing Beans (tua pluu) for the snow peas.




Related Articles
Editor's Picks Articles
Top Ten Articles
Previous Features
Site Map





Content copyright © 2022 by Mary-Anne Durkee. All rights reserved.
This content was written by Mary-Anne Durkee. If you wish to use this content in any manner, you need written permission. Contact Mary-Anne Durkee for details.