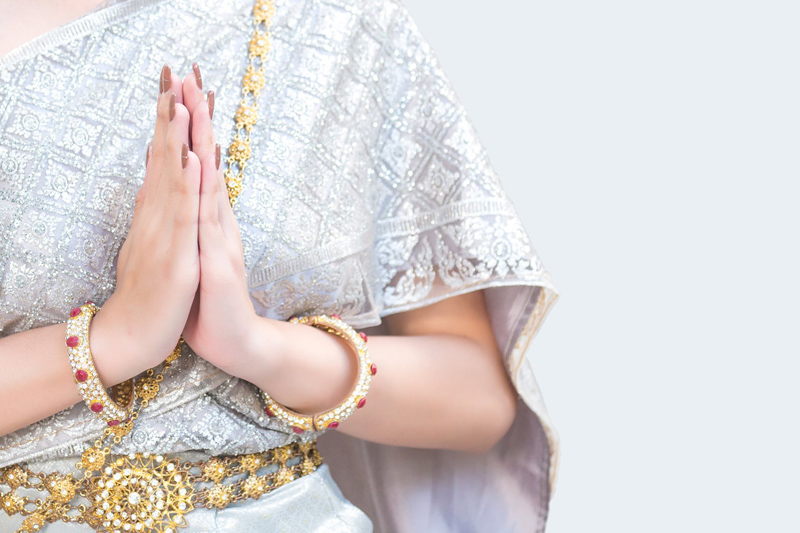 Laab Pet (Ground Duck Salad)

This wonderful Isaan recipe is based on one from the late Colonel Ian F. Khuntilanont-Philpott and his talented chef-wife, Muoi. We had the privilege of meeting them in Korat in the mid 90's, and learned some great Thai culinary insights from them, especially of our favourite Isaan recipes. Laab or Larb is a very popular salad and is often a snack food eaten with sticky rice. You roll the steamed sticky rice into small balls with your fingers alternating bites of lab and rice.
Sticky rice should be presoaked and steamed in a bamboo cone over boiling water if possible as the added fragrance is heavenly.
1 cup minced duck meat
2 tablespoons lime juice
2 tablespoons fish sauce (nam pla)
3 tablespoons of duck stock
1 teaspoon of Thai roasted dry chiles (prik phom)
2 tablespoons shallots, very finely sliced
2-3 cloves garlic. minced
2 tablespoons lemon grass, finely sliced and pounded *optional
1 tablespoon Kaffir lime leaves (bai magroot), slivered and minced
2 tablespoons green onion, thinly sliced
1 tablespoon Thai green Bird Chiles (phrik kee nu), thinly sliced
1 tablespoon of ripe red Thai Bird Chiles (phrik kee nu daeng), thinly sliced
2-3 teaspoons roasted rice powder (Kao Kua)
Butter Lettuce leaves or baby greens
Garnish: mint leaves, basil leaves, long leaf or saw tooth cilantro (pak chee farang) cucumber slices, and preserved radish. Various assorted raw vegetables can be served as "cooling" agents with this sald. I like wedges of cabbage, green mango pices, pomelo sections, young winged beans or green beans, sorrel leaves, or eggplants slices. These vegetables need to be very cold. You can served them on top of crushed ice.
In a dry wok or skillet, carefully toast 2 or 3 tablespoons of glutinous uncooked sticky rice until light brown, allow it to cool and grind to a coarse powder (Kao Kua).
Hand-chop the boned and skinless duck meat and place in a medium sized bowl. I often buy duck quarters at the Asian markets and this works very well and is quite inexpensive as well. (Thai cooks chop with two cleavers at once, but it takes practice, so I just use my sharp (Global knife.) Just remove the skin and cut the lovely meat off the bone removing excess fat, and hand-chop the duck meat. I discourage using a food processor for this process as you lose the wonderful duck meat texture and end up with a paste sort of mixture.
Add lime juice and fish sauce to the minced duck meat and allow it to marinate in the refrigerator for about one hour. Place the bones in a pot of boiling water to make the stock.
In a hot wok or skillet, briefly stir fry the meat until it is just cooked, then remove to a mixing bowl, and combine with the other ingredients, using about one tablespoon of the toasted rice (Kao Kua) powder . (This rice powder can be purchased in Asian markets, but why bother as it is so easy to make and the fragrance is delightful.) Taste and if necessary adjust the seasonings of hot-sweet-sour-salty.
Serve on a bed of lettuce leaves, garnishing with mint and lime leaves. Place the cucumber slices, fresh water chestnuts and preserved radishes around the plate. I like using Butter Lettuce or baby greens for this salad.
Serve with small dishes of nam pla phrik (sliced red and green chiles in fish sauce), and the usual Thai table condiments including lime wedges for diners to adjust to their taste..
Note that traditionally laab is a very hot spicy dish. Thai salads are almost always the hottest dish of a meal. You can virtually add as much powdered chile, and sliced fresh chiles as your palate desires. Do use restraint as it is easier to add spice at the table than remove it,. Remember the heat develops as the dish rests. Also many of us have an asbestos palate after years of eating Thai cuisine and we must regard the tender palates of a novice Thai food eater.
In Thailand families often raise ducks and the duck in this laab would be a freshly killed, plucked bird. They would drain out the duck blood and use as a garnish over the lab. I prefer laab sans the blood. In villages in Isaan this laab is often made with raw pork, but I pass that one by as well for health reasons. I like this lab also made with minced chicken or pork but always cooked-not over cooked, just cook until not pink. Using fresh duck meat results in a very specially Isaan style lab pet.
If using a whole duck or even duck quarters the bones that are left make a wonderful stock which can be used for duck soup with rice noodles like chatboon.





Related Articles
Editor's Picks Articles
Top Ten Articles
Previous Features
Site Map





Content copyright © 2022 by Mary-Anne Durkee. All rights reserved.
This content was written by Mary-Anne Durkee. If you wish to use this content in any manner, you need written permission. Contact Mary-Anne Durkee for details.