Coconut Sticky Rice with Mango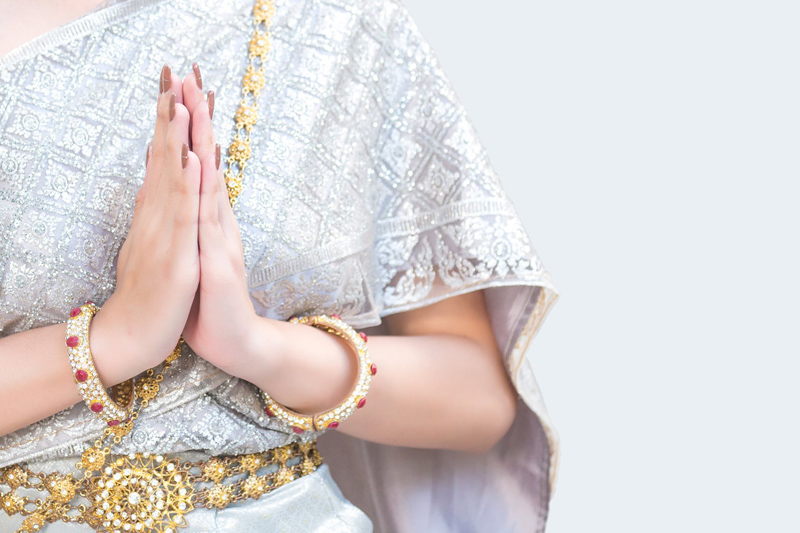 I like to serve it in frosted pink bowls with a small orchid for garnish. These frosted bowls are ruffled and in the shape of a lotus flower.

Ingredients
2 cups long-grain white sticky rice, glutinous rice or sticky rice
2 cups coconut milk
1/2 cup granulated sugar
About 3/4 tsp. salt

Optional flavoring: 2-3 fresh or frozen pandanus leaves (bai toey) or 4-5 drops pandanus essence

2 ripe mangoes, peeled and sliced

Throughly rinse the rice, cover with water 3 inches above the rice line and allow to soak at least 4 to 6 hours, or preferably overnight. The grains will absorb much of the water. This presoaking will soften the grains of rice for easier cooking.

I prefer to steam the sticky rice in a bamboo cone over boiling water. I cover the open top of the bamboo cone with a dlean dish towel. Every once in a while I turn the rice over with a rice paddle to allow the grains to all have contact with the bamboo cone which imparts a lovely fragrance to the rice. I also lightly sprinkle some water on the cooking rice from time to time to make sure it isn't drying out.

While your sticky rice is steaming you can make the coconut sauce.

Place the coconut sauce ingredients, coconut milk, sugar and salt in a non-stick saucepan over a medium low heat. If you want the bai toey fragrance and flavour, place a coupple of the washed leaves or essence drops in the coconut milk mixture and simmer the sauce for about 10-12 minutes.

Then, remove the pandanus leaves, and place on a plate to cool. Once they have cooled run your fingers on either side over the pan of coconut sauce to extract the fragrant juice from the leaves. Taste the sauce, it should have a slight saltiness to it which compliments the coconut milk sweetness and the flavour of the mango.

Keep the sauce warm.

When the rice is cooked place it in to a large bowl, pour half of the coconut sauce over the rice. Stir with a rice paddle to coat each grain with the sauce. If you need to add a little more sauce to coat all the grains lightly that is OK. Just don't have them soupy. Reserve the remaining sauce to serve with the sticky rice and sliced mangoes.

Let the coconut sauce rice rest for 15-20 minutes to allow the rice grains to absorb the flavorings. Serve the rice in shallow bowls spooning the remaining coconut sauce over the rice. Then arrange the sliced mangoes around one side of the rice in a sort of fan display. I like to add a small orchid!

Sticky Rice with Coconut Sauce and mangoes is best served slightly warm or at room temerature-never serve it cold.

Note: - White sticky rice (kao niow) is usually labelled "glutinous rice" or "sweet rice." The following brands are all good: Butterfly, Golden Phoenix, and Sanpatong.

Steamed sticky rice is often eaten in Issan IE Northeastern Thailand and Laos. It is eaten with savoury dishes as well as a dessert. Another wonderful Isaan dessert is sticky rice on a stick (Kao Ji) that is grilled. Very yummy as it is salty and sweet.

Variations: Fresh Durian is perfect with this coconut rice in place of mangoes. Some Westerners are put off by the strong fragrance of Durian, but just get past that and enjoy this exotic taste.




You Should Also Read:
Coconut Custard in Kabocha


Related Articles
Editor's Picks Articles
Top Ten Articles
Previous Features
Site Map





Content copyright © 2022 by Mary-Anne Durkee. All rights reserved.
This content was written by Mary-Anne Durkee. If you wish to use this content in any manner, you need written permission. Contact Mary-Anne Durkee for details.