Grapefruit and Jicama Salad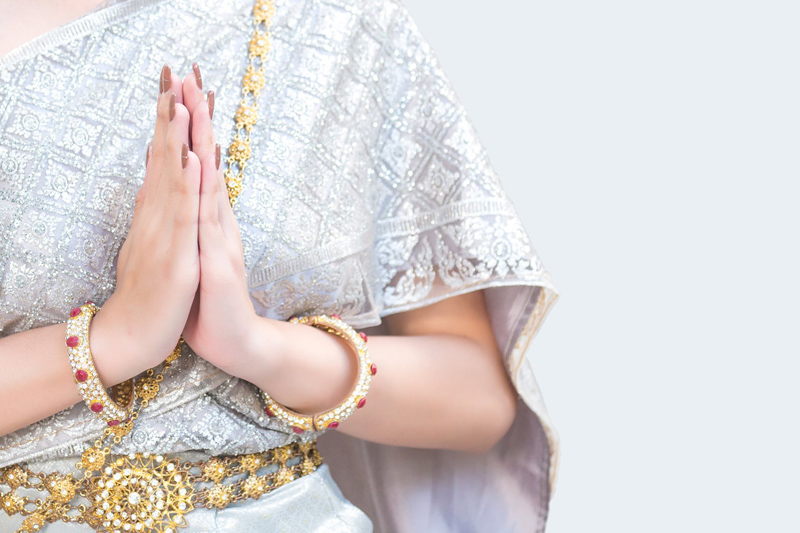 Salads are usually the hottest or spiciest part of a Thai meal. They often contain seafood and fruits, or various other combinations of such as shredded green mango or green papaya that is dressed with lime juice, date palm sugar and chiles.

A spicy Thai salad served with a basket of sticky rice is a wonderful lunch or even as a late night meal. This refreshing salad is a bit of a fusion in that it includes jicama with a flavourful dressing. The texture of the jicama lends itself very well along with cabbage in creating an exciting salad.

I first ate this in a Vietnamese restaurant in San Francisco. This famous and popular restaurant, The Slanted Door, is the creation of the Pham family. I often re-interpret the salads and entrees to echo more of a Thai taste.


Serves 4

2 cups shredded red cabbage
1/4 cup Thai soy sauce
fish sauce (nam pla)to taste
1 tablespoon rice wine vinegar or coconut vinegar
2 - 3 teaspoons date palm sugar to taste
1 teaspoon minced garlic
2-4 small chiles, minced, or dried red pepper flakes to taste
1 tablespoon fresh lime juice, or to taste
1 cup shredded jicama*
1/2 cup shredded carrot, optional
2 teaspoons corn or canola oil
Salt and pepper
1/2 cup coarsely chopped fresh mint leaves
1/4 cup chopped candied pecans or walnuts, optional
2 grapefruits or pommelos, segmented, tough membranes removed

Place cabbage in salted ice water water to cover while preparing other
Ingredients.

Mix together Thai soy sauce, vinegar, sugar, garlic, chiles and fresh lime juice; taste and add more lime juice if you like.

Place jicama, carrots and oil in a large salad bowl.

Drain and dry cabbage, smash it a bit between your hands to break it up.

Add to salad bowl and toss well.

Add Thai soy Sauce.

Taste and add a bit of fish sauce (nam pla) or salt and pepper if desired.

Serve on 4 plates and garnish with mint, nuts and grapefruit.

Serve.

*Jícama is a native Mexican vine, although the name most commonly refers to the plant's edible tuberous root. Jicama is commonly called yam bean,. The flavor is sweet and starchy, reminiscent of some apples or raw green beans, and it is usually eaten raw, sometimes with salt, lemon, or lime juice and chile powder. It is also cooked in soups and stir-fried dishes. Due to its growing popularity, cultivation of jícama has recently spread from Mexico to other parts of Central America, China and Southeast Asia where notable uses of raw jícama include popiah and salads such as yusheng and rojak. Jícama has become popular in Vietnamese food, where it is called cây củ ðậu (in northern Vietnam) or củ sắng or sắn nýớc (in southern Vietnam). In Mexico it is very popular in salads, fresh fruit combos, fruit bars, soups, and other cooked dishes.
In contrast to the root, the remainder of the jícama plant is very poisonous; the seeds contain the toxin rotenone, which is used to poison insects and fish.
Jícama is high in carbohydrates in the form of dietary fiber. It is composed of 86-90% water; it contains only trace amounts of protein and lipids. Its sweet flavour comes from the oligofructose inulin (also called fructo-oligosaccharide).
Jícama should be stored dry, between 12°C and 16°C (53°F and 60°F); colder temperatures will damage the root. A fresh root stored at an appropriate temperature will keep for a month or two.





Related Articles
Editor's Picks Articles
Top Ten Articles
Previous Features
Site Map





Content copyright © 2023 by Mary-Anne Durkee. All rights reserved.
This content was written by Mary-Anne Durkee. If you wish to use this content in any manner, you need written permission. Contact Mary-Anne Durkee for details.