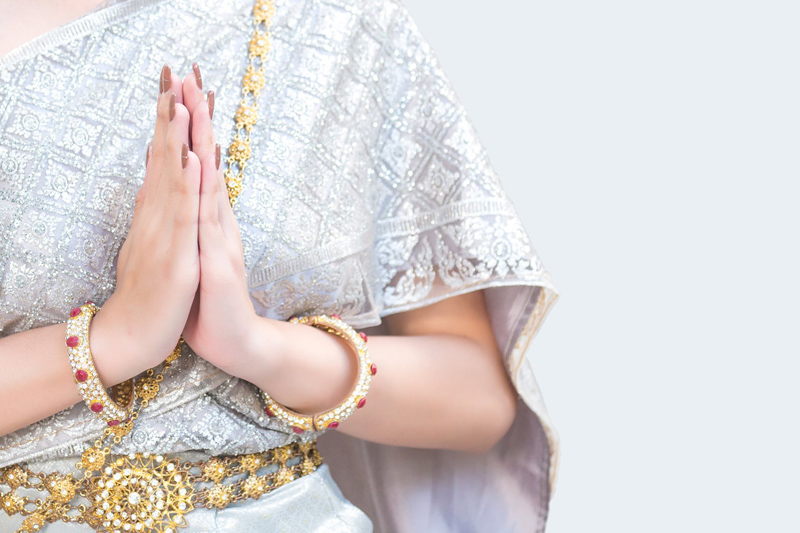 Curried Crab Claws (Bu pad phom kari)

This is a recipe I learned from the late Colonel Ian F. Khuntilanont Philpott while we were on a trip to Korat his hometown in 1995. I often make this using local fresh Dungeness crab and it wonderful. Crab and curry are a marriage of flavours born in heaven! This recipe is mellow and does not hide the lovely sweetness of the crab.

Bu pad phom kari (curried crab claws)

This is a mild curried dish, usually served as a counterpoint to a more intense curry or garlic dish. It can be prepared with crab claws, or with a cup of crab meat, or a mixture of crab meat and shrimp. I prefer using our local Dungeness crab in the shell. I find just curry meat isn't as flavourful.

Thai curry powder (phom kari) can be found in Asian Markets. It is similiar to a mild Indian curry powder. Prik yuak is a sweet green chile, if not available use bell peppers-but make sure they are sweet and not bitter.

ingredients.
1 cup of crab meat or 2# crab in shell
1 tablespoon of garlic, sliced thinly
2 tablespoons of fish stock
1 teaspoon of phom kari (Thai Curry Powder)
1 tablespoon light Thai soy sauce
a pinch of sugar
2 tablespoons of nam plah (fish sauce)
2 tablespoons of shallots, sliced thinly
2 spring onions (scallions/green onions), sliced thinly
1 tablespoon of julienned prik yuak (green sweet chile)

method
Heat wok on high heat, add some oil and swirl to cover wok. Stir fry the garlic and onions. Add the fish stock, soy sauce and fish sauce, and stir fry the crab until nearly cooked, then add the remaining ingredients.

Line a serving dish with lettuce and pour the crab over it, garnish with corinader leaves, lime leaves, and slices of cucumber.

If using crab claws, then steam the crab claws, and combine the remaining ingredients separately, and reduce them to form a dipping sauce.

This dish is of course served with the usual Thai table condiments, and personally I like to add quite a bit of prik dong (red chilis in vinegar) to it.

As always with this type of tropical seafood dish, you can serve it hot, at room temperature, or chilled.

Be sure and use Thai soy sauce as it has quite a different taste from Chinese or Japanese soy sauce.

I really like Golden Boy Brand Fish Sauce from Thailand as it has a nice flavour and isn't filled with chemicals like some brands.



Related Articles
Editor's Picks Articles
Top Ten Articles
Previous Features
Site Map





Content copyright © 2023 by Mary-Anne Durkee. All rights reserved.
This content was written by Mary-Anne Durkee. If you wish to use this content in any manner, you need written permission. Contact Mary-Anne Durkee for details.