Spicy Red Chicken - Healthy version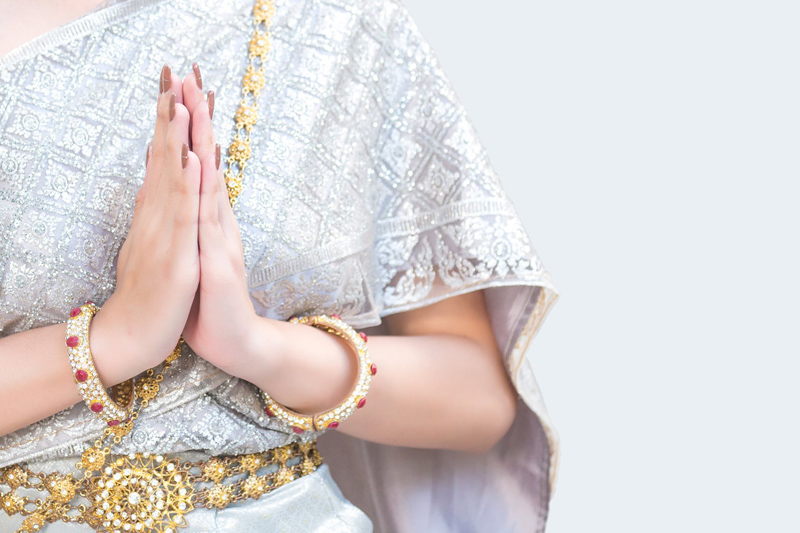 Spicy Red Chicken (Gai Tod Pud Pad)

This is one of our favourite Thai meals. It is a red dry curry made with fried chicken. I use hormone and anti-biotic free local chicken. In Thailand chickens are much smaller and leaner than American chickens. They are most often black and have long legs. They feed on bugs and such darting across roadways in search of the best bugs! This is a curry that is popular in the Northeast and plains area of Thailand and doesn't use coconut milk.

Ingredients
3# Chicken (skinless & cut up or pieces)*
2 tablespoons Red Curry Paste **
2+ Tablespoons Fish Sauce
1 Teaspoon Sugar (date palm)
2 teaspoons Peanut Oil
Sweet Basil (bai Horpha)
Kaffir Leaves (bai Magroot)
Red ripe Thai Chiles

Method
Rinse and dry the chicken, cut into pieces. Grill until just done.

Place peanut oil in a frying pan or wok, cook the red curry paste until it begins to separate into oil and paste and becomes fragrant.

Add the fried chicken, the fish sauce and sugar and stir fry for a minute to combine ingredients, as the chicken is already cooked.

Garnish with slivered kaffir leaves, basil and sliced red chile flowers.
Serve With steamed jasmine rice, or sticky rice. Brown rice is great or black rice.

*Chicken - You can use bone in or boneless chicken. The thighs have the best flavor and are the favourite of Thais for this dish.

Red Curry Paste (Krung Kaeng Phed)

Red Curry Paste is one of the most important staples of Thai cooking. Although you can buy commercial red curry paste that is good, there is nothing like the flavour and fragrance of making your own Thai Curry Paste.

Although you can use a food processor to chop ingredients for a curry paste, the resulting paste with not be so wonderful and flavourful nor fragrant as the ones when you hand pound with a mortar and pestle. This hand pounding breaks down the fibers releashing aromatic oils, and literally changes the texture and composition of the ingredients. Besides it is fun!

I often have a curry paste making "party" and have my husband do all the pounding for me while I mince, cut, and prep. It is great fun!!! We laugh as he says it is a fun way to release pent-up tension and suppressed aggression after a long week at work.

Maybe Thai people are so gentle as they spend so much time pounding and chopping and cooking in the kitchen, then sitting and eating together.

6-12 dried red chiles, soaked, deseeded and drained
1 tsp white peppercorns
2 tsp coriander seeds, roasted and ground
1 tsp cumin seeds, roasted and ground
2 Tabs thinly sliced lemon grass
½ tsp zest of "kaffir" lime (ordinary lime will do)
6 tabs garlic, chopped
1 tsp minced galangal
1 tsp chopped coriander (cilantro) root
4 tabs chopped shallot
a splash of fish sauce (nam pla)
1 tsp fermented shrimp paste (kapi) (roasted)*

* place kapi on a small tinfoil formed flat tray with sides, place in toaster oven until freagrant. Remove and let cool while you prepare and pound the other curry paste ingredients.

Place ingredients first the harder ingredients of chiles, peppercorns, coriander and cumin seeds, kaffir lime leaf slivers,in a mortor and pound thoroughly with the pestle. When they are completely mashed into a paste, add the garlic, galangal, and coriander root- pound again to form a smooth paste. Now add the shallot, nam pla, and kapi and pound again until it is a smooth paste.

You can use a food processor, but it is more difficult to create a smooth paste. It blender makes a smoother paste. You can begin in the food processor and finish in a mortor to attain the desired smooth paste. Place in glass jar and keep in a refrigerator for up to 3 months.

Thai red curry paste (Mae Ploy or Mae Sri brands are quite good), but freshly made curry paste tastes much better and contains no MSG or preservatives.







Related Articles
Editor's Picks Articles
Top Ten Articles
Previous Features
Site Map





Content copyright © 2023 by Mary-Anne Durkee. All rights reserved.
This content was written by Mary-Anne Durkee. If you wish to use this content in any manner, you need written permission. Contact Mary-Anne Durkee for details.