Khmer Marinade Paste-Kroeung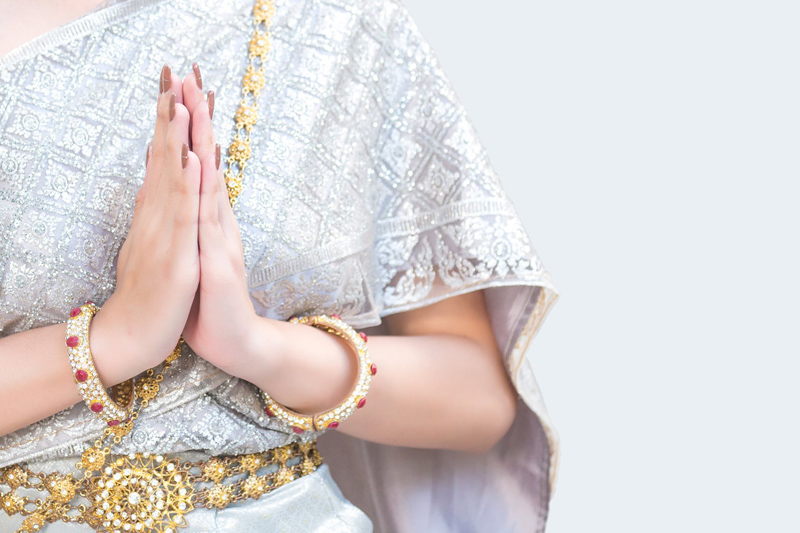 Khmer Marinade Paste-Kroeung
This herbal paste is the base flavor of most Khmer dishes. There is no sufficient substitute that can match its unique and wonderful flavor. Kroeung is commonly used to make stuffings, soup, and stir-fry dishes.
There are many variations depending on what you are going to marinade. This is a good starting point for a rich tasting paste.
I use a pestle and mortar when making pastes, many prefer to use a food processor. To aid in pounding/processing the paste add a little water or fish sauce.
Ingredients:
• 3 stalks lemongrass thinly sliced or grated with microplane
• 8-12 cloves finely minced garlic
• 2 finely chopped shallots
• 1 oz peeled and finely minced fresh galangal
• 1 oz peeled and finely minced fresh turmeric
• 4 finely slivered kaffir lime leaves, with the hard ribs removed (bai magroot)
• Kaffir lime zest
• 2-6 dry red chiles
• ½ tsp salt
Variations:
For Royal Kroeung-add minced cilantro leaves and roots
Color Kroeung
There are three distinct color groups into which all Kroeung can be categorized: Red, Green, and Yellow. The dominant herb or spice present in the spice-blend paste tints the three different color Kroeung. Uncooked Kroeung will often change color as it cooks.
The list of ingredients in these Color Kroeung will vary from recipe to recipes, and there are some ingredients included purely for their coloring ability. Prahok- salted and fermented fish, cinnamon, and ginger can be added in green kroeung, additional dry red chiles for red kroeung, and tumeric for yellow kroeung.

Preparation:
Pound or grind all the ingredients to a smooth paste. If you are using the pestle and mortar, start off with the hard to grind ingredients like the lemongrass, the kaffir lime leaves and the galangal. I use only the inner tender part of the lemongrass, discarding the tough outer leaves. I use a micro-plane to grate most of the ingredients.
Add the rest of the ingredients one by one after the lemongrass, the lime leaves and the galangal pounding well after each addition.
If you are using a food processor, put the easiest-to-grind ingredients in first. The liquid that forms will help to process the other harder-to-blend ingredients.
This marinade paste will keep well in the fridge for about 2 weeks. Add some peanut oil to the paste so that a thin layer of oil forms at the top to ensure its freshness.
Krueung is used in such as coconut curry soup, Samlor Kari Nom Banh Jok containing rice vermicelli noodles with chicken served with fresh string beans, shredded cabbage, carrots, and green mango or papaya. The soup is often served with French style baguettes for dipping.
Any dish prepared using Kroeung will have the word ''Kroeung'' attached. Tirk Kroeung' is a vegetable platter with Kroeung dipping paste which is not unlike Nam Phrik Ong (Thai pork dip) or Nam Phrik Kapi (Shrimp & Chile Dip for vegetables). Another example is Cha Kroeung', stir-fried ground chicken, beef, pork, or cow tongue with Kroeung used as the seasoning.



Related Articles
Editor's Picks Articles
Top Ten Articles
Previous Features
Site Map





Content copyright © 2023 by Mary-Anne Durkee. All rights reserved.
This content was written by Mary-Anne Durkee. If you wish to use this content in any manner, you need written permission. Contact Mary-Anne Durkee for details.