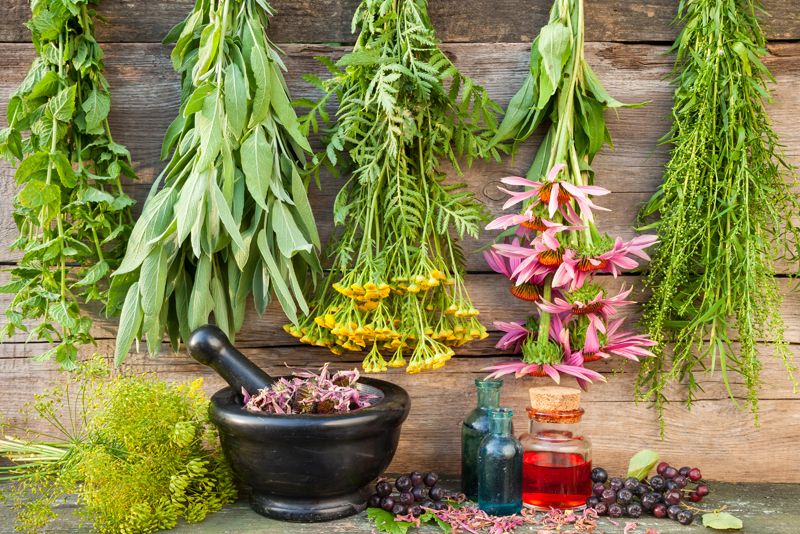 Herbs are perfect for creating a container herb garden. Growing in a container, will keep the herbs at your fingertips and provide a lovely addition to your deck, patio or windowsill.Herbs are so easy to grow, they actually thrive in the small, tight growing space of a container.

To get started growing your container herb garden, you will need a few simple items:

*A few of your favorite herb plants - This can be just about any variety of herb, but try combining herbs that require the same water and light, for the best success. You can also arrange a few separate containers in a grouping, and have a variety of herbs that need different care, in one place.
*A well drained container. This can be either a traditional garden container, or using you imagination, anything that will hold potting soil and can drain well. I use a hand drill or hammer and sharp nail to make my own drain holes, if necessary. Some ideas for unique containers are old boots, bowls or cups, buckets, pots and pans, children's discarded wagon or toy truck, I have even seen an old toilet bowl used as a small garden, at a seasonal campground.
*Potting soil - This is a much lighter soil mixture than garden soil. Yes, you can get away with regular garden soil, but it will compact over time, not allowing your herbs to grow their best.

Start by checking if your container has proper drainage. You do not want your herbs to sit in water, rotting the roots. Poking a few holes into the bottom of your container will keep the excess water from causing damage.
Once you have the proper drainage, fill the container with potting soil, to about 3 inches from the top.

Next, loosen your herbs from their pots by gently squeezing the pot they are in, two sides at a time, in both directions. This will loosen the soil and allow you to remove your herb plant without damaging the roots. Once the soil has loosened, place two fingers on each side of the herb itself, and turn the entire pot over to remove the plant from the pot. If there are signs that the herb is overgrown, loosen the roots with your fingers, so that they can grow outward again. Do not remove every bit of soil from the roots, but do remove the excess soil that is evident. You want to keep the roots safely tucked into the soil they are growing in, but not take up a lot of extra room in your container herb garden with soil that is more than likely depleted of nutrients.

Place your herbs on the top of the potting soil in your container. Arrange them in a pleasing way before adding additional potting soil to fill to within an inch of the top. Water your newly planted herb garden well, wait for the water to drain, and gently press your herbs into the container once again. You will find that the herb plant will sink further into the container after this initial watering.

After your herb plants are planted, the final step is to add some sort of mulch. In a container, it is especially important to protect your herbs from the harsh sun. You will find that you are going to water your container garden every day. This is because there is less soil to hold water, and usually, your container herb garden is located on pavement or on the hot deck. You can certainly help your plants retain water by adding gel material (from your local nursery or garden retailer) before adding your plants. This material is a polymer crystal that will slowly release water into your soil as the herbs dry out.

For an extra special touch, plant your container herb garden in a theme. For instance, a mexican herb garden could contain epazote, cilantro and mint. A pizza garden could consist of oregano or marjoram, thyme and rosemary, a tea garden-mints, lemon scented herbs and other tasty plants.

I hope you try to grow at least one small container herb garden this year. They are a fun way to get out there and garden!

You Should Also Read:
How To Make A Kitchen Herb Garden


Related Articles
Editor's Picks Articles
Top Ten Articles
Previous Features
Site Map





Content copyright © 2023 by Amelia Tucker. All rights reserved.
This content was written by Amelia Tucker. If you wish to use this content in any manner, you need written permission. Contact Bettina Thomas-Smith for details.