Minced Turkey Breast Salad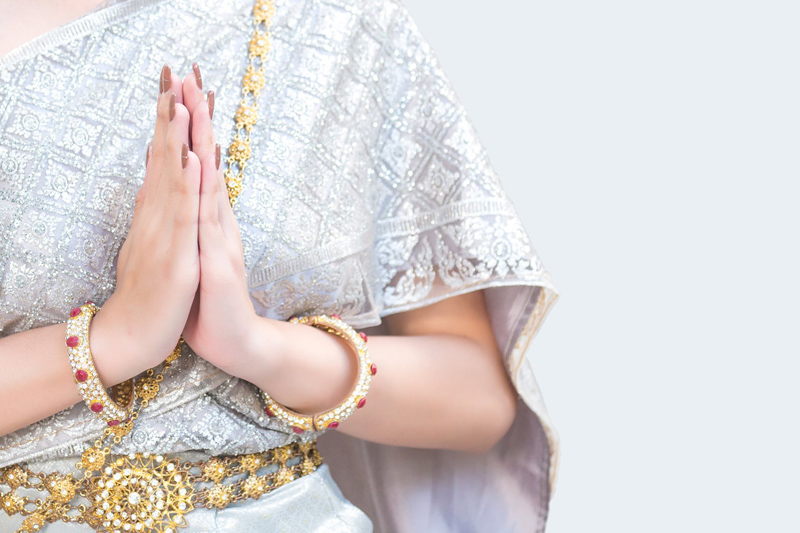 Ingredients:
1 pound minced skinless and boneless turkey breast (ground can be used)
2 teaspoons peanut oil
4-6 cloves garlic, chopped and pounded into paste
2 tsp finely chopped lemongrass
2 shallots, thinly sliced
3 Tabs green onion, minced coarsley
2 small pieces dried galanga (kha), toasted and then ground finely*
2 - 5 or more bird chiles, minced
3-4 Tabs fish sauce (nam plah)**
Juice of 2-3 limes
1/2 to 1 tsp. sugar (Splenda can be used)
2 Tabs. ground roasted rice (Khao Kua Pon)***
Handful of washed mint leaves

Method:

Prep ahead: garlic, lemongrass, chiles, shallot, green onions and mint and set aside.

Remove the outer layers and top and root end from lemongrass, slice thinly the remaining tender inner core of the lemongrass, then mince.

Heat wok over medium flame, now add oil. Add the minced turkey and stir-fry until it is no longer pink, using wooden spatula break up pieces to separate.

Place the galanga in a small dry non-stick skillet over medium a flame and lightly toast the pieces while constantly moving them. Grind the toasted galangal into a fine powder in a spice grinder. I use a coffee grinder that is reserved only for spice grinding.

Toss the cooked turkey breast with the garlic, chiles, lemongrass, shallot, green onion, mint leaves, ground toasted galanga, fish sauce and fresh lime juice until evenly coated and mixed.

Taste and balance the salty-sour-hot flavours. Add a sprinkle of sugar to help balance if needed. Sprinkle in the toasted rice powder and serve with the vegetables and herbs.

I like to serve Laab with sticky rice. You make the sticky rice into bite-sized little balls, and eaten out of hand with the spicy salad.

Garnish: Raw or blanched vegetables such as green beans, winged beans, Thai eggplants, and cabbage. Also raw cucumber and various lettuce is nice.

Herbs such as Thai basil, saw tooth coriander (culantro/Pak Chee Farang), or cilantro.

Notes:

* Galangal-if using fresh, slice thinly, dry in toaster oven on low, then proceed with instructions above. I like using the fresh as it has more fragrance.

** Nam Pla (fish Sauce) use a good brand chemical free such as Golden Boy or Dragonfly brands.

**Rice Powder (Khao Kua Pon)

You can make your own roasted rice powder very easily if you can't find it in your Asian Market. You heat a dry skillet over medium flame, and toss raw sticky rice/glutinous rice about until browned nicely and fragrant.

Cool and grind in your clean spice grinder. Keep in tightly covered container to retain it's fragrance for future use. I usually make 1/2 cup raw rice into this powder at a time.








Related Articles
Editor's Picks Articles
Top Ten Articles
Previous Features
Site Map





Content copyright © 2023 by Mary-Anne Durkee. All rights reserved.
This content was written by Mary-Anne Durkee. If you wish to use this content in any manner, you need written permission. Contact Mary-Anne Durkee for details.