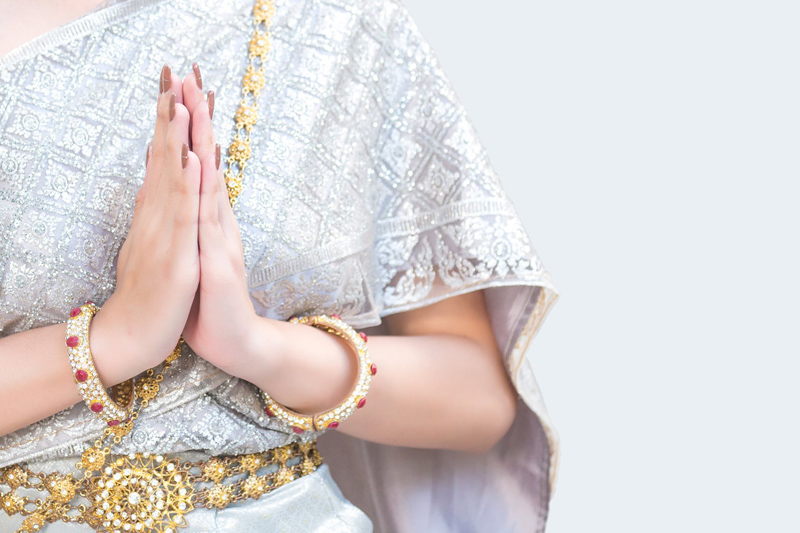 When you think about Thai cuisine seafood always comes to mind. It is no wonder as the coastline of Thailand is over 1600 miles long. This is about the combined coastline of California, Oregon and Washington! Also the center of Thailand is an enormous network of rivers flowing in to the Chao Phraya River and in to the Bay of Siam. Seafood and fresh water fish, crab, and shrimp all are a mainstay of Thai cuisine.

One of my favourite soups, a Bangkok Fisherman's Soup, is an expression of the abundant delights of the waters of Thailand. The flavours of this wonderful soup are created using coconut milk, fragrant herbs including lemongrass, galangal, and kaffir lime leaves.

The flavours of fresh seafood of scallops, mussels, prawn, and fish bathed in these fragrant ingredients create a bowl to delight the senses.

This soup takes the popular Tom Kha Gai (Chicken Coconut Soup) a step higher in flavor! This to me is the Thai version of a French Bouillabaisse or an Italian Zuppa de Pesce each utilizing the fruits of the sea in a flavourful broth.

Bangkok Fisherman's Soup (Tom Kha Talay)

Serves 4

4 cups chicken or seafood broth
3" long pieces, 1 cleaned stalk of lemongrass, outer tough leaves removed
4 slices of Galangal (fresh or frozen)
2 pairs fresh Kaffir Lime leaves (Bai Magroot)
1 can coconut milk (Chaokoh or Mae Ploy are good brands)
3 + 1 teaspoons nam phrik pao (jarred or homemade)*
3 + 1 tablespoons fresh Lime juice
2 + 1 tablespoons date palm sugar, grated and to taste
2 + 1 tablespoons fish sauce (Nam Pla- use a good chemical free brand such as Golden Boy)
12 mussels, cleaned and placed in cold water
½ pound scallops (Bay or Sea scallops)
8 Tiger Prawns or shrimp, peeled, deveined
4 small oysters* optional (husked, cleaned of shell sit aside in small bowl over ice
4 legs fresh Dungeness crab if available
Garnish-sprigs of cilantro and Chile Flowers
Condiment for guests to adjust heat to their taste
6 Thai Bird Chiles (Phrik Kee Ku) seeded and minced placed in a small amount of fish sauce in a small bowl

Roasted Chile Paste (Nam Phrik Pao) https://www.bellaonline.com/articles/art54107.asp

Place the stock, lemongrass, galangal, and bruised (fold them a few times to bruise) kaffir lime leaves in a large pot (4 quart size or larger). Bring to a boil, stir for one or two minutes, add the coconut milk and return to a low boil.

Add the nam phrik pao, 2 tablespoons of the lime juice, 2tablespoons of the fish sauce and 2 tablespoons of the date palm sugar. Reserve the remaining 1 tablespoon of each to fine-tune your salty-hot-sweet-sour taste at the end. Gently simmer to incorporate the ingredients and to make fragrant. Leave on lowest heat.

Taste and adjust the balance of salty-sweet-sour-hot to your palate using the reserved 1 tablespoon each of date palm sugar, Nam Phrik Pao, fish sauce and lime juice. The flavor should be a balance not too hot, or too sweet, or too sour, or too salty just a balance of these tastes.

Check your mussels to make sure they are firmly closed IE alive. If any are open tap them and if they do not close firmly discard them! Scrub and de-beard the mussels.

Bring the soup back to a gentle boil, add the mussels, prawns, scallops, and oysters if using. Add the crab leg at the last few seconds to warm it only. You will use it as a garnish. Do not stir the soup. Bring it back to a gentle boil for one minute to cook the seafood.
Optional- I prefer to remove lemon grass, galangal and Kaffir lime leaves. Otherwise remind diners these are for flavor not to be eaten.

Carefully ladle the soup in serving bowls making sure each bowl has equal amounts of the shellfish. Garnish with chile flowers and cilantro sprig.
Tips: If using large sea scallops you will need to slice or cut them in to bite size pieces.
Grate Palm Sugar with a micro-plane to make it melt and blend easier in liquids.

I suggest large white or traditional blue and white or celadon bowls for serving this amazing Thai Seafood Soup. Garnish with a sprig of cilantro and chile flowers if desired.

Chile Flowers: I use Thai Dragons Chiles as they are slim and thin and make very pretty Chile Flowers. Hold chile by the stem, slit chile from the tip up to, but not through the stem into 4 sections which will form the petals of the flower. Carefully remove seeds with the tip of your knife. Place the chiles in a bowl of ice cold water. In about 20 minutes the "petals" begin to curl and form your chile flowers.











































You Should Also Read:
Roasted Chile Paste (Nam Phrik Pao)


Related Articles
Editor's Picks Articles
Top Ten Articles
Previous Features
Site Map





Content copyright © 2022 by Mary-Anne Durkee. All rights reserved.
This content was written by Mary-Anne Durkee. If you wish to use this content in any manner, you need written permission. Contact Mary-Anne Durkee for details.