Veracruz - Picadas Recipe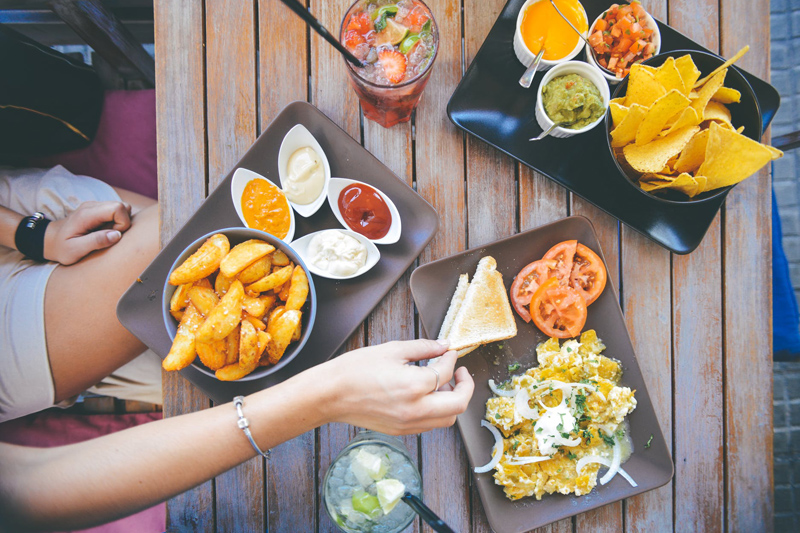 The Veracruzana Picada, like its sister, the Pellizcada, is a very regional member of the vast clan of Mexican antojitos – snacks based on corn, cooked, served and consumed mainly on the streets and in the markets, although I do have to say that countless antojitos do not fit into this description! Elsewhere, Las Picadas may be known as gorditas, sopes, garnachas, huaraches, chalupas…… The shapes may vary but the end result is pretty much the same: a masa base with a topping.
La Pellizcada tends to be quite simple, drizzled with lard and a basic salsa, while La Picada, whose edges are always pinched up to form a border, can be adorned with any number of garnishes: refried beans, fried plantains, salsas and pork scratchings, savoury carnitas, shredded meat in mole sauce. However, although picadas may be eaten throughout the day, they are essentially a breakfast food in Veracruz and a much more straightforward affair: spread with a sauce, sprinkled with crumbled cheese and chopped onion, and drizzled with sour cream. Hot from the griddle, spicy and fragrant, they are a breakfast to die for.
While any sauce or salsa can be used, the combination of a green one (based on tomatillos and green chillies) and a red one (based on tomatoes and red chillies, whether fresh or dried) is traditional and colourful.
Picadas
Makes 6 picadas
For the masa base:-
2 cups warm water or as necessary
250 g/9 oz masa harina
2.5 ml/1/2 tsp sea salt
Vegetable oil for frying
For the Salsa Verde:-
15 ml/1 tbsp olive oil
25 g/1 oz jalapeño chillies, deseeded and sliced – feel free to use the hotter Serrano chillies if you want more kick
2 garlic cloves, peeled and crushed
150 g/5 oz onions, peeled and coarsely chopped
200 g/7 oz tinned or frozen tomatillos (Mexican green husked tomatoes)
Fine sea salt
For the Salsa de Tomate:-
500 g/18 oz tomatoes, halved
8 garlic cloves, unpeeled
30 ml/2 tbsp olive oil
250 g/9 oz onions, peeled and coarsely chopped
25 g/1 oz jalapeño chillies, deseeded and sliced
2.5 ml/1/2 tsp chipotle chilli powder or purée or to taste
Sea salt and freshly ground black pepper
250 ml/8 fl oz/1 cup sour cream or plain Greek style yoghurt
50 g/2 oz red onions, peeled and finely sliced
50 g/2 oz Mexican queso fresco or Feta cheese
10 g/1/3 oz fresh coriander/cilantro, coarsely chopped
Make the dough in a large bowl by whisking the water into the masa harina along with the salt. Add a bit more water if it is all a bit dry – it needs to be soft and pliable. Knead lightly until smooth. Cover with clingfilm/plastic wrap and set aside for an hour or two.
The two salsas can be made while the dough is resting, although they both refrigerate and freeze well so if it suits you, do make them ahead of time.
For the Salsa Verde, heat the oil in a large frying pan or wok. Add the chillies, garlic and onions and cook over medium heat, stirring regularly, until the onions are soft and golden. Transfer the mixture to the bowl of a food processor, add the tomatillos and some seasoning, and process to a chunky purée. Scrape it all back into the frying pan and cook over low heat for about 15 minutes, stirring often, until nice and thick. Check the seasoning.
For the Salsa de Tomate, heat the grill to high. Line the grill pan with foil and arrange the tomatoes, cut side up, and garlic cloves on it. Grill 10 cm/4 in from the heat for about 20 minutes, until lightly charred, turning the garlic cloves over half way through. Cool, then peel the garlic cloves and place them in a food processor with the tomatoes and any juices. Process to a chunky purée.
While the tomatoes are grilling, heat the olive oil in a frying pan and cook the onions and jalapeños until soft and golden. Stir in the chipotle and cook for a further two minutes. Add the tomato purée and some seasoning, and cook over medium heat for about 15 minutes, stirring often, until nice and thick. Check the seasoning.
Divide the dough into eight roughly equal balls. With a rolling pin, flatten the balls one by one between two sheets of cling film/kitchen wrap, keeping them as round as possible, to a thickness of about 2 mm.
Preheat the oven to its lowest setting and warm a large serving plate. Brush a non-stick frying pan with a little vegetable oil and heat it on medium until it just starts to shimmer. Place one picada in the pan and cook for three or four minutes, until the edges start to turn golden. With a large spatula, flip the picada over and cook for a further two minutes. While the second side is cooking, pinch up the edges to form a border – and they don't need to be tidy or even!
Transfer the picada to the plate in the oven to keep warm while you cook the remainder.
When they are all done, spoon some of the red sauce into four picadas, and the green sauce into the other four. Drizzle some sour cream over them and then sprinkle with onion, crumbled cheese and coriander.
Serve immediately.
Buén provecho!
| | |
| --- | --- |
| Chilli and Chocolate Stars of the Mexican Cocina by Isabel Hood is available from Amazon.co.uk | Just The Two of Us Entertaining Each Other by Isabel Hood is available from Amazon.com and Amazon.co.uk |
You Should Also Read:
Veracruz - Pellizcadas Recipe
Antojitos, the Street Food of Mexico
Mexico's Regional Gastronomies - Veracruz


Related Articles
Editor's Picks Articles
Top Ten Articles
Previous Features
Site Map





Content copyright © 2023 by Isabel Hood. All rights reserved.
This content was written by Isabel Hood. If you wish to use this content in any manner, you need written permission. Contact Mickey Marquez for details.