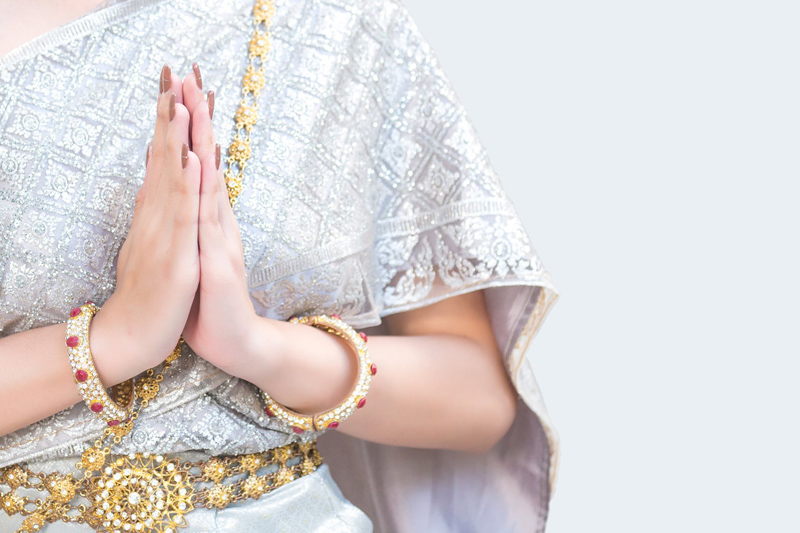 8 ounces rice noodles
torn red leaf lettuce
1 cup julienned cucumber
Any or all of the following Asian herbs:
mint
cilantro
Thai Basil
Pak Chee Farang (saw tooth herb)
Vietnamese mint (rau ram)
Chives
slivered bai Magrood (Kaffir Lime leaves) if available
Chopped Thai Dragon Chiles
bean sprouts
8 ounces shelled shrimp, boiled just until pink, cut lengthwise in half
shell & tail remove
8 ounces pork tenderloin julienned 1/2" x 21/2"
package of round 12" rice papers-available at Asian markets.

Place noodles in hot water for a few minutes, remove and drain when softened.

Place ingredients into bowls or on a large platter.

To set up your assembly line place ingredients in this order: shrimp, pork, noodles, lettuce, bean sprouts, herb leaves, chiles, magroot.

I dip the rice papers one at a time into a deep pie plate filled with hot water
to soften them. This water when it cools must be replenished.

Assemble instructions: Place 3 shrimp halves on the bottom third of the
moistened pliable rice paper sheet, cut side up, and top with three pieces
of pork neatly lined up. Then take a piece of lettuce and fold into a 5"
long, place on top of the pork, then place about 1 tab of the noodles, 1
tab of bean sprouts, cucumber, then 4 or 5 leaves of mint, coriander, and
Thai Basil, then add a few chopped chiles and slivers of magroot. Arrange
the ingredients across the rice paper not just as a clump in the center.

Now you are ready to roll! Tuck the ingredients together and with your
second, third, and fourth fingers press down on the ingredients, fold up the
bottom of the rice paper to cover them snugly, then fold over the sides
towards the center and roll. The roll will be about 1 1/2" diamter and 5
inches long.

This isn't complicated and after making one you get the feel of the amount
of each ingredient and won't need to measure. LOL

*we serve dipping sauces with spoons so you can drizzle it into the rolls.
Both are excellent and really good to use both on the same bite.

Sauce #1 for Thai Salad rolls

2 cloves garlic
2 Thai Bird or Thai Dragon Chiles minced
1/4 cup sugar (Date Palm is best)
1/4 cup fish sauce (nam pla)
1/2 cup water
1/4 cup fresh lime juice w/pulp
2 tabs finely shredded carrot for garnish

Place garlic, nam phrik, and chiles in mortor and pound with pestle.
Combine pounded ingredients with sugar, vinegar, nam pla/fish sauce, water, sugar and
lime juice, stir.

Sauce #2 - Hoisin Sauce for Thai Salad rolls

1/2 cup Hoisin Sauce
1/4 cup water
1/8 cup rice wine vinegar
scant 1/4 cup puréed shallots
2 tsp. or to taste chile paste (Nam phrik pao)
1 tab chopped peanuts for garnish*

*Place raw peanuts in to a dry skillet over medium-high heat, keep the peanuts moving to prevent burning. When golden remove from skillet.

Place the Hoisin sauce, water, rice wine vinegar, chile paste and shallots in a small sauce pan. Bring to a boil stirring, reduce heat and let simmer for 5 minutes or until blended but not too thick. Set aside to cool. Put into bowl and garnish with the peanuts.

You can make these as vegetarianb rolls using all veggies or add tofu. I like the compressed flavoured tofu the best for this.

I have made these using Dungeness Crab, also have used left over chicken breast. Be creative and have fun making these flavourful rolls.


You Should Also Read:
Nam Phrik Pao (Roasted Chile Paste)


Related Articles
Editor's Picks Articles
Top Ten Articles
Previous Features
Site Map





Content copyright © 2023 by Mary-Anne Durkee. All rights reserved.
This content was written by Mary-Anne Durkee. If you wish to use this content in any manner, you need written permission. Contact Mary-Anne Durkee for details.