Sauces for Thai Salad Rolls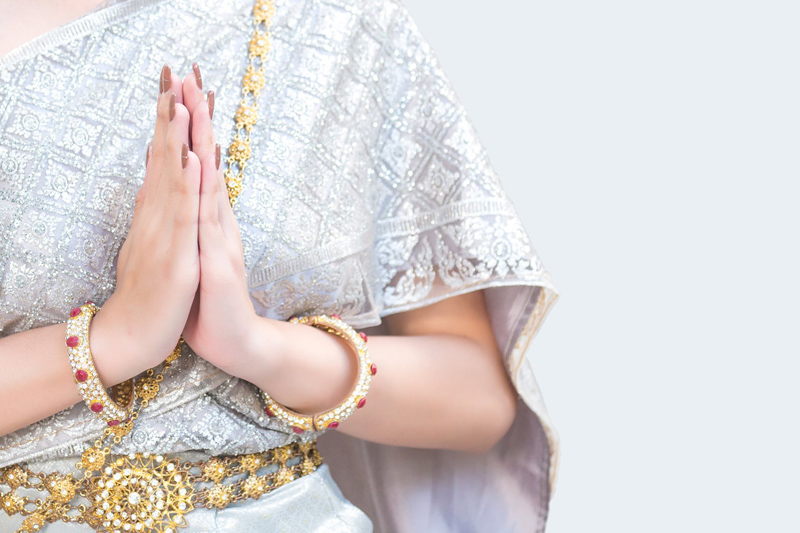 Sauce #1 for Thai Salad rolls

2 cloves garlic
2 Thai Bird or Thai Dragon Chiles minced
1/4 cup sugar (Date Palm is best)
1/4 cup fish sauce (nam pla)
1/2 cup water
1/4 cup fresh lime juice w/pulp
2 tabs finely shredded carrot for garnish

Place garlic, nam phrik, and chiles in mortor and pound with pestle.
Combine pounded ingredients with sugar, vinegar, nam pla/fish sauce, water, sugar and
lime juice, stir.

Sauce #2 - Hoisin Sauce for Thai Salad rolls

1/2 cup Hoisin Sauce
1/4 cup water
1/8 cup rice wine vinegar
scant 1/4 cup puréed shallots
2 tsp. or to taste chile paste (Nam phrik pao)
1 tab chopped peanuts for garnish*

*Place raw peanuts in to a dry skillet over medium-high heat, keep the peanuts moving to prevent burning. When golden remove from skillet.

Place the Hoisin sauce, water, rice wine vinegar, chile paste and shallots in a small sauce pan. Bring to a boil stirring, reduce heat and let simmer for 5 minutes or until blended but not too thick. Set aside to cool. Put into bowl and garnish with the peanuts.

You can make these as vegetarianb rolls using all veggies or add tofu. I like the compressed flavoured tofu the best for this.

I have made these using Dungeness Crab, also have used left over chicken breast. Be creative and have fun making these flavourful rolls.

Chile-Ginger-Garlic Sauce (Nam Phrik Jaew)

1/4 cup minced garlic
1/4 cup minced ginger
1/4 cup yellow bean sauce
1/4 cup lime juice
2 tabs thinly sliced Thai chiles (phrik kee nu)
1/4 cup light soy sauce
1/4 cup palm sugar

Mix ingredients together. Store in glass jar in refrigerator.

The Importance of Thai Table Condiments

Whenever you dine in a Thai restaurant you will find several table condiments for you to adjust the flavours to your taste. There will always be a Nam Phrik Pla (Fish Sauce with cut up chiles), a smoked ground dried chile powder, a little bowl of MSG, perhaps others such as Shrimp Paste and Chile (Nam Phrik Kapi).

If you are served Barbecued Chicken (Gai Yang) you will be served the ever so popular Chile Dipping Sauce (Nam Pla Phrik Kee Nu). Also a Sweet and Spicy Chile Sauce (Nam Jeem Gai Yang) is served with Bangkok Barbecued Chicken. This most popular sauce is readily available in the US, Europe and South East Asia bottled. Some of the popular brands you will find are Mae Ploy and Dragonfly.In the North East of Thailand, Isan you will often be served this dipping sauce with a basket of sticky rice.

In the Northern provinces of Thailand you will often be served a country style tomato sauce with ground pork and red curry (Nam Phrik Ong). Spicy meat sauces are served as dips along with an array of raw or blanched vegetables, sticky rice and crispy pork skins. This type of snack food is usually eaten while sipping a cool drink or a frosty Singha beer.

One of my favourite sauces is the Isan style Spicy Mushroom dipping sauce (nam Phrik Het). This is one of the hottest dipping sauces nd the locales say it will make a tiger cry. This sauce is made from mudfish similar to American catfish, garlic, shallots and mushrooms. This is served with raw or blanced vegetables. The contrast of the crisp cool vegetables and hot spicy sauce are quite addictive!





Related Articles
Editor's Picks Articles
Top Ten Articles
Previous Features
Site Map





Content copyright © 2022 by Mary-Anne Durkee. All rights reserved.
This content was written by Mary-Anne Durkee. If you wish to use this content in any manner, you need written permission. Contact Mary-Anne Durkee for details.