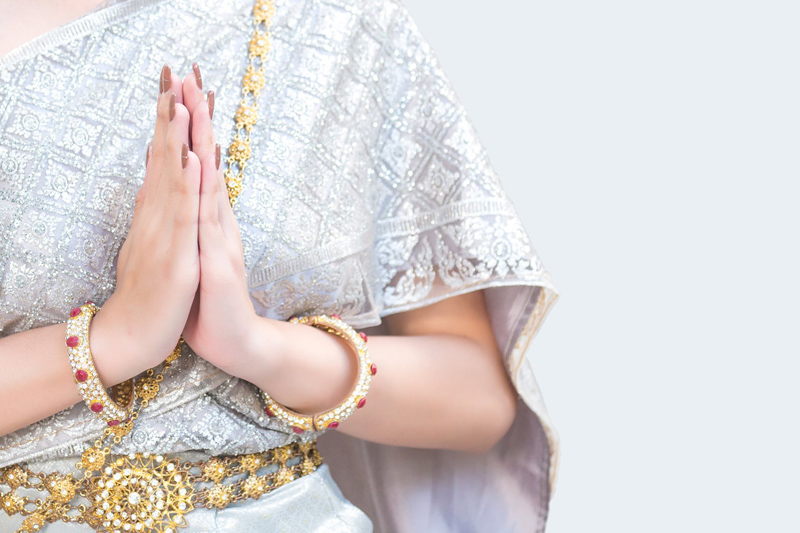 Krung Kaeng Massaman (Massaman Curry Paste)

The name massaman comes from "Musselman," an archaic term for a Muslim (Muslimman) or Arab, and it is theorized that the recipe was inspired by the cookery of Arab/Persian Islamic spice merchants and traders who came to Thailand in the 16th century.

Although the name refers to Muslims or Arabs, the flavor profile is so Thai. This fragrant curry has heat, it is an exciting blend of spices plus lemongrass and galangal which are typically Thai.

Some theorize that massaman is derived from early Portuguese influences, and is similar in concept to the "sour and hot" Goan style vindaloo dishes. By Thai standards this is usually a fairly mild curry. First you must prepare a massaman curry paste. This can be prepared in advance and stored in the fridge in a preserving jar for several weeks or even months.

10 to 20 dried red chiles *
1 tablespoon ground coriander seed
1 teaspoon ground cumin
1 teaspoon ground cinnamon
1 teaspoon ground cloves
1 teaspoon ground star anise
1 teaspoon ground cardamom
1 teaspoon ground white pepper
4 tablespoon chopped shallots
1 tablespoon kaffir lime skin
1 tablespoon kapi (preserved shrimp paste) roasted
4 to 6 tablespoon chopped garlic
1 to 2 teaspoon fish sauce
1/2" piece of galangal root, roughly chopped
2 2" pieces of lemon grass, sliced into thin rounds

*California dry chiles work great

The galangal (kha) is roasted before using as is the kapi. To roast kapi lay on tinfoil and place in taster oven for a few minutes. Be sure and open the window as the aroma will develop!

The ground spices should be fresh and toasted in a dry skillet or wok moving them constantly to prevent them from burning.

The ingredients are blended to a fine paste traditionally in a heavy mortar and pestle, but you can use a food processor which takes far less effort. My susband loves to do the pounding in the mortor for me and I do believe this procedure releases far more of the oils and thus is more fragrant.

Variations: Beef, potatoes, pineapple and peanuts or cashew nuts
Chicken and potatoes


Based on recipe given to me by Colonel Ian F. Khuntilanont-Philpott in Korat in the mid 90's


Related Articles
Editor's Picks Articles
Top Ten Articles
Previous Features
Site Map





Content copyright © 2018 by Mary-Anne Durkee. All rights reserved.
This content was written by Mary-Anne Durkee. If you wish to use this content in any manner, you need written permission. Contact Mary-Anne Durkee for details.