Mexican Rice with Chicken Recipe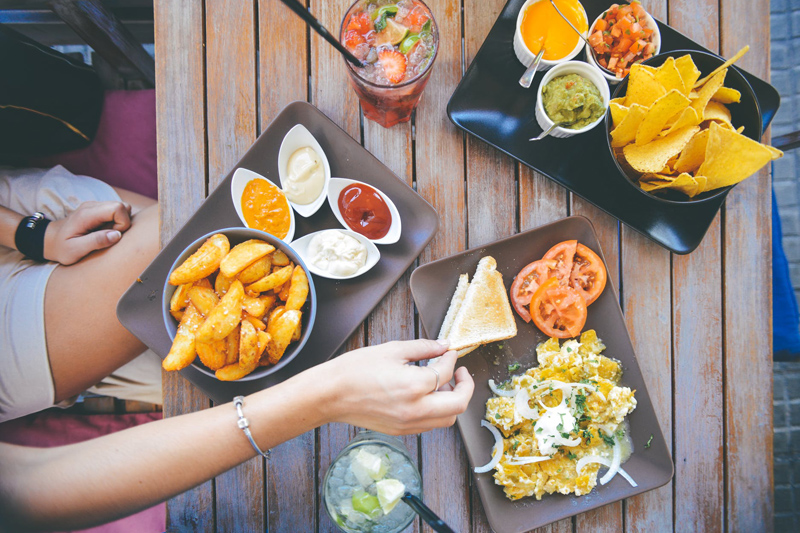 The rice came from the Far East, sailing across the Pacific aboard the Manila Galleons, while chickens arrived in Mexico from Europe, courtesy of the great Spanish Fleet. To these two foreign ingredients were added the very Mexican tomatoes and chillies, and today the rather plainly named Arroz con Pollo or Rice with Chicken is to be found throughout the country's kitchens. It is very reminiscent of the Spanish paella or even an Italian risotto, with the enhanced kick and acidity of the Mexican additions – and it appears everywhere on restaurant bills of fare and as part of the comida corrida or set menu so popular in the provinces and small family run places.
Rice, like tortillas, is served with virtually every main course dish in Mexico, and apart from plain boiled rice, one of the simplest Mexican rice dishes is known modestly as Arroz a la Mexicana or Mexican rice. It is moist, rich and deeply flavoured – and varies in small ways from region to region, with different chillies playing an important role. Veracruz for instance makes Arroz a la Veracruzana with jalapeño and chipotle chillies as well as carrots and peas. Arroz con Pollo is a step up from here and becomes a one pot meal; in some cases and areas, it is nothing more than Arroz a la Mexicana with chicken; in others, it is considerably more elaborate, bold and gutsy, with pork or chorizo perhaps as well as chicken, and strips of grilled poblano chilli as in my recipe below.
Whole chicken joints are traditionally used in a classic Mexican Arroz con Pollo, but I prefer to use chicken breast mini fillets, adding them towards the end of the cooking time to keep them tender and moist. I also go for very unMexican brown basmati rice. Many cooks use a purée of raw tomatoes in which to simmer the rice, others roast the tomatoes on a dry griddle and thereby reduce their moisture - a method which produces a far more deeply flavoured result; my preferred approach is to grill the tomatoes although it is more time consuming.
If poblano chillies are unavailable, substitute bell peppers of any colour and increase the amount of chipotle chilli if desired to provide some extra heat.
Mexican Rice with Chicken – Arroz con Pollo
Serves 6
For the tomato sauce:-
750 g/1 3/4 lb tomatoes, halved
8 garlic cloves, unpeeled
Sea salt and freshly ground black pepper
For the rice:-
250 g/9 oz brown basmati rice
15 ml/1 tbsp bouillon powder
2.5 ml/1/2 tsp chipotle chilli powder or to taste
500 ml/17 fl oz/2 1/4 cups boiling water
Sea salt and freshly ground black pepper
500 g/18 oz poblano chilli peppers or green bell peppers
30 ml/2 tbsp olive oil
350 g/12 oz chicken breast mini fillets
350 g/12 oz cooking chorizo, sliced into 1 cm/1/2 in rounds
25 g/1 oz red or green chillies, deseeded and finely sliced
300 g/11 oz onions, peeled and coarsely chopped
Start off with the tomato sauce, which can be made well ahead of time and refrigerated or frozen.
Heat the grill to high. Line the grill pan with foil and arrange the tomatoes, cut side up, and garlic cloves on it. Grill 10 cm/4 in from the heat for about 20 minutes, until lightly charred, turning the garlic cloves over half way through. Cool, then peel the garlic cloves and place them in a food processor with the tomatoes, any juices and some seasoning. Process to a chunky purée.
Line the grill pan with fresh foil and place the poblano chillies on it. Grill 10 cm/4 in from the heat for about 20 minutes, turning as necessary, until soft and blackened all over. Set aside until cool enough to handle, then peel off the skin, discard the seeds, stems and veins, and cut the flesh into strips about 1 cm/1/2 in wide. The chillies can be prepared up to this point and refrigerated for three days.
Have two plates ready, one of them lined with kitchen paper. Heat the 2 tbsp of olive oil in a large saucepan and add the chicken fillets. Brown lightly on both sides then remove with a slotted spoon to the bare plate. Set aside. Add the sliced chorizo to the pan and cook for two minutes on each side then remove with a slotted spoon to the plate lined with kitchen paper. The chicken and chorizo can be prepared up to this point and refrigerated overnight.
Pour off all but two tablespoons of the oil and chorizo fat from the saucepan. Stir in the chillies and onions and cook gently, stirring occasionally, until wilted. Add the rice and stir-fry for a couple of minutes before mixing in the tomato sauce, coating the rice well. Add the bouillon and chipotle powders and some seasoning, then the boiling water. Give it one good stir, bring to the boil, cover the pan, turn the heat down to low and cook, undisturbed, for 50 minutes. Check it and if the rice is still a bit hard or there is still liquid in the bottom of the pan, cook for a further 10 to 15 minutes, until the grains are tender and all the moisture has been absorbed. Stir in the chicken, chorizo and poblano strips, cover the pan again and cook for a further ten minutes. Remove the lid and fluff it all up gently with a large fork. Cover with a dishcloth and the lid and set aside for five minutes before transferring to a warm serving dish.
Serve immediately although it will keep its heat for a good hour if not longer.
Buén provecho!
| | |
| --- | --- |
| Chilli and Chocolate Stars of the Mexican Cocina by Isabel Hood is available from Amazon.co.uk | Just The Two of Us Entertaining Each Other by Isabel Hood is available from Amazon.com and Amazon.co.uk |
You Should Also Read:
Veracruz - Arroz a la Tumbada Recipe
The Spanish Influence in Mexican Cuisine
Mexican Chicken Soup for the Soul


Related Articles
Editor's Picks Articles
Top Ten Articles
Previous Features
Site Map





Content copyright © 2022 by Isabel Hood. All rights reserved.
This content was written by Isabel Hood. If you wish to use this content in any manner, you need written permission. Contact Mickey Marquez for details.