Yum Woon Sen Gai (Bean Thread Chicken Salad)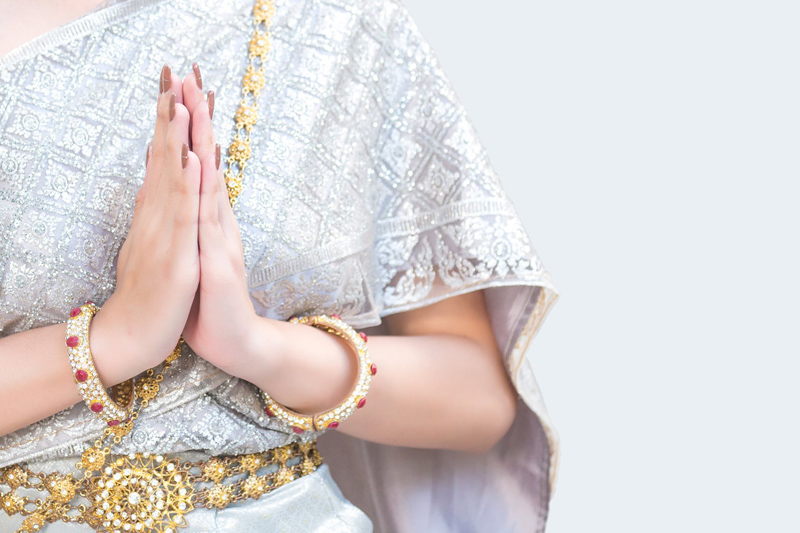 This is the perfect healthy choice entree using lean and skinless chicken breast and bean thread noodles. Sometimes I serve this in Butter Lettuce leaves for eating out of hand at parties.

(Serves 2 as light entrée or 4 as salad course

2 bundles of bean thread noodles (woon sen) 4 ounces total
2/3 pound of ground skinless chicken breast
Dash of white pepper
1/2 cup of dried Cloud Ear fungus (optional)*
1 tbs of vegetable oil
5 garlic cloves, finely minced**
4-5 tbs of fresh lime juice
3 tbs of fish sauce (nam pla)***
2 stalks of lemon grass stalks (tender white part only), finely sliced,
2-3 shallots, finely sliced
4 Thai chiles (prik kee noo),
2 – 3 tbs chopped cilantro (pak chee)
1 tbs of mint, chopped
Several Boston Butter lettuce leaves

Garnish:
Cilantro Sprigs

Chile Flowers (optional) for garnish-make these chile flowers by slitting a long Thai Draon chile with scissors into quarters while holding by the stem. Only cut to the stem and leave attached. Place the chiles in ice water for 20 minutes and the "petals" curl to make your flowers.

**Fried garlic can be also purchased at Asian markets, but it is so easy to make yourself and tastes fresh and wonderful flavour.

*** Nam Pla (fish Sauce) Please use fresh good quality fish sauce. If your fish sauce has become dark and concentrated it can become "evil sauce" and ruin your dish. I like Golden Boy Brand very much, as it is free of chemicals and MSG. Fish Sauce is such an inexpensive ingredient always buy the best and only use when fresh.

Method:
Place the noodles in very hot water and soak about 5-10 minutes until soft.
Drain and roughly chop.

Soak the Cloud Ears in boiling water for about 5-8 minutes. Drain and roughly chop.

Heat oil over a medium heat in a wok, and fry the garlic until lightly golden brown, do not burn or they will be bitter. Remove from oil and drain on a paper towel.

Now add the ground chicken to the hot wok, sprinkle with white pepper, and stir-fry until chicken is not pink, add a splash or two of fish sauce, cook until chicken is done.

Add the mung bean noodles and Cloud Ears to the chicken and stir-fry well.
Remove from heat.

Add the 2 tbs of fish sauce and lime juice to the chicken and stir well. Add the mint, lemon grass, chiles and coriander and stir well. I use a pasta claw to toss as it mixes without breaking the noodles.

Place Butter Lettuce leaves on serving dish, place noodle mixture on top of the leaves.

Sprinkle with fried garlic and garnish with cilantro sprigs.

Variations: You can use lean ground turkey or pork instead of the chicken.

ENJOY!!!


Related Articles
Editor's Picks Articles
Top Ten Articles
Previous Features
Site Map





Content copyright © 2023 by Mary-Anne Durkee. All rights reserved.
This content was written by Mary-Anne Durkee. If you wish to use this content in any manner, you need written permission. Contact Mary-Anne Durkee for details.