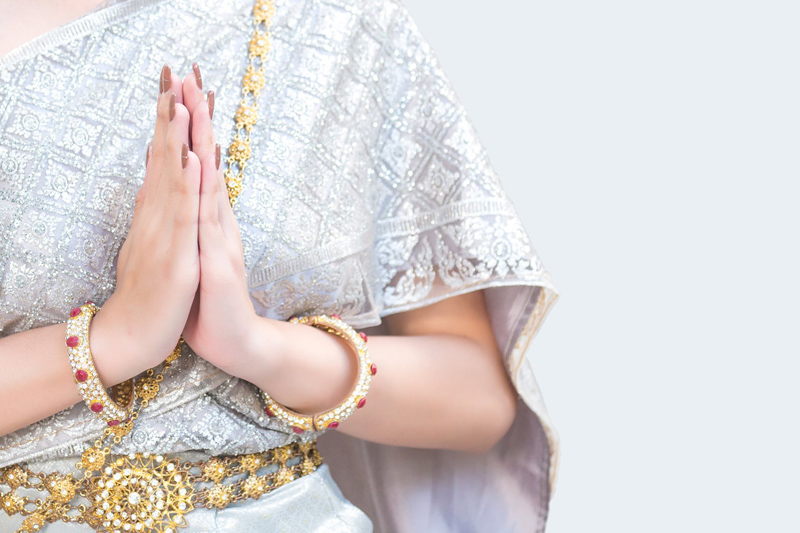 Thai Hom Mali (new crop) Jasmine Sticky Rice wrapped in fragrant lotus leaf ( Hor Yip Lor Mai) is a Thai'd up recipe brought to Thailand by Chinese many years ago. It is a favourite at Dim Sum spots as well as from street vendors along the many sois in Bangkok and in the countryside villages.
These fragrant bundles are often called Lucky Seven Treasures. Thais have added lemongrass, galangal, Thai chiles, and kaffir lime for a more fragrant flavourful Thai rendition of an old favourite of China. Often Babecued Chicken (Gai Yang is used as the centre treasures as is preserved duck eggs, dried shrimp, Chinese Lapchong or Thai Sausage, black mushrooms, barbecued pork, etc.
Some prefer to use a 50/50% sticky rice and jasmine rice for a less heavy sticky texture. I remove the stem end of the lotus leaf after soaking to make them easier to fold. Often there is a long "bamboo string" included to tie the bundles for steaming in a bamboo steamer in the package of dried lotus leaves.
Ingredients:
3 cups sweet glutinous rice, soaked overnight
15 dried lotus leaves (reserve 3 leaves to line bamboo steamer.
1 1/2 Tablespoons peanut oil
1 1/2 teaspoon sugar
4 cups chicken stock
1 1/2 Tablespoon peanut oil
1-2 Tablespoons Thai oyster sauce Mae Krua or Dragonfly are good brands)
1/2 Tablespoon Thai soy sauce
If using raw chicken you will need 4 pieces boneless, skinless chicken thighs cut into ½ inch pieces (or duck meat).
If using barbecued chicken or duck remove skin, cut into ½" pices, sit aside.
1/2 Tablespoon Fish Sauce (Nam Pla Golden Boy is an excellent brand)
1 teaspoon cornstarch
1 teaspoon sugar (date palm)
1 teaspoon sesame oil
2 Tablespoons dried shrimp, soaked and drained
2 Kaffir Lime Leaves slivered
1 Tablespoon minced lemongrass
3 minced Thai chiles
2 Chinese sausage or Thai Sausage, thinly sliced
12 fresh Shitakii mushrooms, sliced
12 slices of lean barbecued pork (char siu) ( ½ pound), sliced
3 cloves of garlic, minced
1/3 cup of water
2 shallots chopped
The night before:Rinse the white sticky rice and remove any stones you might find. Cover by 2" above the rice with water. Soak overnight or for at least 5 hours.
Drain rice and place in to woven bamboo cone-shaped basket over pot filled with a few inches of hot water. The steam from the boiling water steams the rice. The basket fits over a tall aluminum pot with a wide flared collar which holds the cone basket in place. Place a damp tea towel over the bamboo cone basket. Bring water to a boil and on occasion using rice paddle turn rice over.
The special steaming basket and pot are available from Southeast Asian markets and are essential for the even cooking of sticky rice. The fragrance of the bamboo lends a very special flavor to the rice! These pots and steamer cone basket are readily available in many Asian and South East Asian markets for less than $6 a set.
Soak the lotus leaves in hot water until softened. Cut off stem with scissors for easier folding into bundles. Place 3 soaked lotus leaves in each bamboo steamer (3 bamboo steamer stacks)..
Once the rice is steamed place in a large bowl. Place the oil, stock and sugar in a small pan, bring to a simmer to dissolve. Pour over the steamed sticky rice and combine thoroughly but to not mash the rice. Toss gently! Cover the bowl with plastic wrap and let stand for10-15 minutes to allow the rice to absorb the liquid.


Prepare the filling (treasures)
If using barbecued chicken or duck, remove skin and cut in to 1/2" pieces.
If using raw chicken:
Marinate the chicken with oyster sauce, soy sauce, cornstarch, sugar and sesame oil for 20 minutes.
Heat wok over medium high heat, add the oil, stir-fry the dried shrimp and Chinese/Thai sausage. Remove from wok and place in bowl and sit aside.
Add the garlic, and sauté for 30 seconds or so until it becomes light golden. Add chicken, stir-fry until browned, add the Thai chiles, lemongrass, and shallots. This will take two to three minutes.

Add shitakii mushrooms, barbecued pork and return the dried shrimp and sausage to the wok.
Add 1/3 cup of water and a splash of fish sauce stir-fry all the ingredients are covered with the sauce.
Additional treasures
12 Lotus seeds
4 preserved duck eggs, cut into quarters (yolk only is preferred by some)
12 Thai Basil leaves (bai Krapao)

Assembling
Divide the rice in to 24 equal portions. Divide the filling into 12 portions.
Place a lotus leave flat on a work surface. If there are holes place small pices of lotus leave to patch the holes.
Place 1 portion of sticky rice onto the center of the leave. Make a slight indentation in the center of the rice. Place spoonful of the filling in to this indentation. Drizzle in a little of the sauce from the chicken. Place a lotus nut, ¼ preserved duck egg and a basil leaf on top of the filling mixture.
Place another of the rice on top and press into a triangular form about 3" X 2 ½"
Fold one side of the lotus leaf over the filling, then fold the other side of the lotus leaf overlapping. Now fold up the bottom part of the lotus leaf to cover the rice, continue rolling up the the bundle until all the leaf is used.
Gently wrap the moistened bamboo "string" to tie up your bundle like a gift. Place your bundle in to the lotus leaf lined steamer rack. Continue until you have completed the 12 bundles.

To steam
Steam over boiling water for 30-40 minutes. Add hot water if required to keep steam generously going.
Serves: 12



Related Articles
Editor's Picks Articles
Top Ten Articles
Previous Features
Site Map





Content copyright © 2023 by Mary-Anne Durkee. All rights reserved.
This content was written by Mary-Anne Durkee. If you wish to use this content in any manner, you need written permission. Contact Mary-Anne Durkee for details.