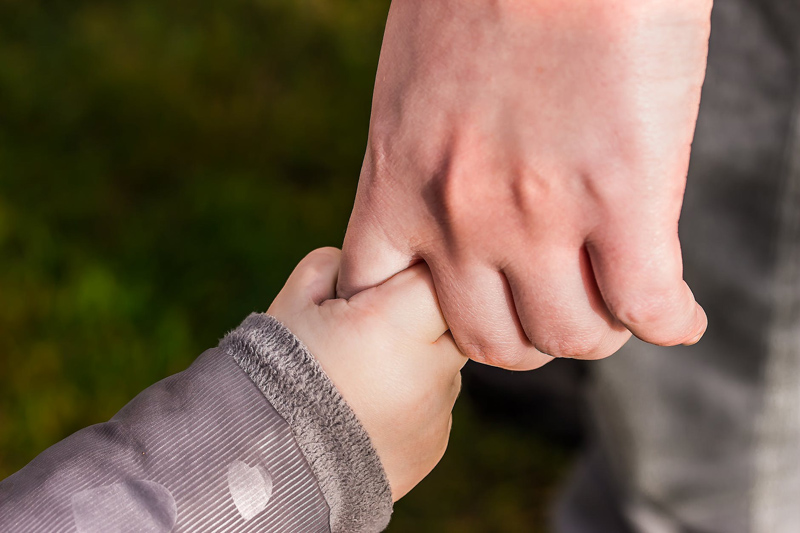 The first thing we should consider when teaching adults and children service dog etiquette is that it develops naturally from respectful and considerate behavior toward the dog handler who is a person with a disability. We cannot know what training a service dog needs to focus on while it is working to support or take directions from its handler. While none of us would presume to handle or interfere with a person's wheelchair controls, white cane or hearing aide, our first impulse may be to respond to or interact with service dogs as if they are pets. Children can often recognize and remember rules associated with working service animals better than adults, and may remind their parents that a working dog has a job to do that requires concentration and interaction only with its handler.
It is a great service for people with disabilities that we teach our children specific rules for showing respect toward individuals with a disability, especially when they rely on undistracted communication between themselves and their service animal. A special bond forms between a dog and its owner that enhances the training and temperment that brought them together. Service dogs work specifically for one person and are trained to be companions for that individual.
There is no reason for a person with a disability or a service dog to be distracted by the needs or preferences of others that may interfere, however briefly, with the primary relationship. Family members, close friends or neighbors who may wish to pat or share a treat with a service animal should control their impulses unless specifically invited by the service dog's handler. The person with a disability has to display great force of will to refrain from making the invitation.
Children should learn from an early age not to pet or distract any dog without adult permission and supervision, including new pets in their own homes that may be adjusting to new living quarters and/or are still developing trust relationships. Just because a child has shown responsible behavior with the family pet does not justify a parent's request that they be allowed to pat or interact with a service animal. Children do best with black and white rules and the rule should be that it is never permissable to interact with or otherwise distract a service dog. Family and close friends should also keep this rule in mind.
We should teach our children and learn good manners before we encounter a person with a service dog. It is rude to discuss or assume a person's diagnosis when we see a service dog working in the community. The best resources are people who train or benefit from canine companions. We do have to train ourselves better impulse control when meeting a person with a service dog - that dog is working and the individual depends on the concentration and skills that the dog has learned specifically to support him or her in everyday life and social situations.
If a child brings a service animal to a classroom, community program or retail area, the same rules apply that should be followed when an adult is handling a service dog. It may be more difficult for classmates to understand that the primary relationship between the child and dog is exclusive and important to the child with the disability in ways that are private and personal.
Browse your local bookstore, public library or online retailer for books like
Teamwork II - A Dog Training Manual for People with Disabilities
or, The Golden Bridge - A Guide to Assistance Dogs for Children Challenged By Autism or Other Developmental Disabilities (New Discoveries in the Human-Animal Bond)
and
Septic-Tank-Style Pet-Waste Disposal Systems
New Service Dog Muppet Debuts 0n Sesame Street
https://blog.amsvans.com/sesame-street-episode-launches-new-service-dog-muppet/
Businesses: This should happen NEVER:
NYC - Disabled war hero says KFC turned him away due to his service dog
https://nypost.com/2013/08/22/disabled-war-hero-says-kfc-turned-him-away-due-to-his-service-dog
Emotional access and making spaces psychologically as well as physically welcoming
'Don't Stare at Me' is an access need, too
Her dog is not the most interesting thing about her, by far.
https://meloukhia.net/2012/08/dont_stare_at_me_is_an_access_need_too.html
Wonder Dog: A Golden Retriever Reaches a Raging Boy
https://www.nytimes.com/2012/02/05/magazine/wonder-dog.html?_r=1&pagewanted=all
Ability Magazine: Barking Up the Right Tree - The Benefits of Service Animals by Linda Boone Hunt
https://abilitymagazine.com/current/animals.html
DisabledWorld.com
Teaching Kids Disability Etiquette
CanineAndAbled.com
Kimberly Carnevale
MarilynPona.com
Assistance Dogs General Information
NewHorizonsServiceDogs.org
New Horizons Service Dog Etiquette
BrilliantMindBrokenBody
Teaching Moment - Service Dog Etiquette - Adults
Service dog owners want to educate public
https://www.fstribune.com/story/1768268.html
Caitlin, 8, decides to train her own service dog after she finds out she has to be 12 to have one
https://www.youtube.com/watch?v=4qYj_O_OAPY
The Sam Simon Foundation
Saving the Lives of Dogs to Enrich the Lives of People
Assistance Dog program rescues dogs from shelters and humane societies to become Hearing dogs for people who are deaf or hard of hearing and Service Dogs for Veterans with PTSD.
https://www.samsimonfoundation.com/
You Should Also Read:
Service Animals and Childhood Disability
Child Safety - Pills Purses and Suitcases
Safety, Risk, and Childhood Disability


Related Articles
Editor's Picks Articles
Top Ten Articles
Previous Features
Site Map



Follow @DownSynAdvocacy
Tweet





Content copyright © 2022 by Pamela Wilson. All rights reserved.
This content was written by Pamela Wilson. If you wish to use this content in any manner, you need written permission. Contact Pamela Wilson for details.