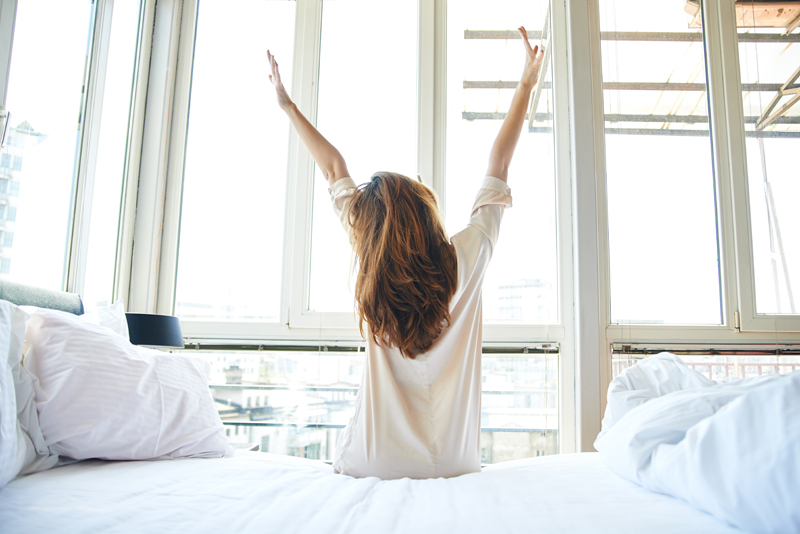 A few weeks ago we discussed creating a mental oasis. These are imaginary places we visit whenever we have the time and/or inclination to do so. For me I need something pleasant to think about when the trains stall in the subway tunnels. Or perhaps while you're sitting in a doctor's waiting room with nothing better to do, you close your eyes for a moment and imagine sailing on a bright blue ocean on a warm summer day. This kind of oasis is a very brief mental vacation. A reminder that in the midst of something that might not be so pleasant—like waiting around—that life is good.

A companion to the mental oasis is a sanctuary—an actual physical place that allows you to leave the world of worries for a brief period of time. And when you emerge, you are invigorated, refreshed and renewed. I have a few sanctuaries, and similar to the mental oasis, these are places where I can go to get away from it all.

When my children were very, very small we lived in a place where I could enclose a small portion of the apartment for myself. It was one of the few sections of our home that the children were forbidden to explore. It was a very small space, just long enough for an adult to lie down and maybe three feet wide. It was not big at all, but it was mine all mine and I loved it. My version of a room of my own. Every once in a while when the children were napping or when my husband was in charge, I'd eagerly go to my little space. I spread out a beautiful piece of fabric and on top of it I placed crystals, essential oils, pictures and books. I'd light candles (following all required safety measures), meditate, read spiritual texts, write in my journal, stretch or just sit and think.

Then we moved to a place that made it difficult for me to find a space I could cordon off from everyone. As in Spencer Johnson's book, Who Moved My Cheese, a source of sustenance had been removed from my life, so I had to get creative. I'd read somewhere about portable alters that are set up on trays and when you're finished with it, you put it away until you need it again. I knew I didn't feel like dragging out the essential oils, crystals etc every day so instead I simplified my sanctuary experience down to one thing. My journal. We taught the children to tell time and I'd tell them that I needed five minutes for them to be quiet. They were probably 3 and 5 years old then, but because it was such a short period of time, they were able to do it. I'd take those five quiet minutes to sit with my thoughts, pray, write, think etc.

Now my children are 9 and 11 years old and after a hard day while we're in the middle of our evening routine of homework, dinner, dishes, baths, permission slips etc, I'll say, "I'm going into my room for a bit. I'll be right back." Then I go into my room and lie across the bed with my journal for just a few minutes, before I return to the fray of family life. This is my sanctuary, but just one of them.

In the spirit of Marjorie Hillis' classic self help book Live Alone and Like It which taught us to have two hobbies. I also believe you should have two sanctuaries—at least two. My sanctuary at home is lying across the bed for a few undisturbed minutes with my journal. The other is a special corner of the Brooklyn Public Library's Macon Branch. I love that place. There's a little alcove toward the front of the building that is not all that visible from other parts of the small library. That's where I like to sit and read. Once when I was on my way back to New York from a long, tedious trip out of town, I imagined my little spot, my little sanctuary at the library. When I got home I put down my bags and went there for just a few minutes before I came back home to unpack. It was just the boost I needed.

According to Elisabeth Wilson's book Stress Proof Your Life after stressful encounters, we need renewal and having a sanctuary is one way to take a break and just enjoy.



Related Articles
Editor's Picks Articles
Top Ten Articles
Previous Features
Site Map





Content copyright © 2023 by Leah Mullen. All rights reserved.
This content was written by Leah Mullen. If you wish to use this content in any manner, you need written permission. Contact Leah Mullen for details.