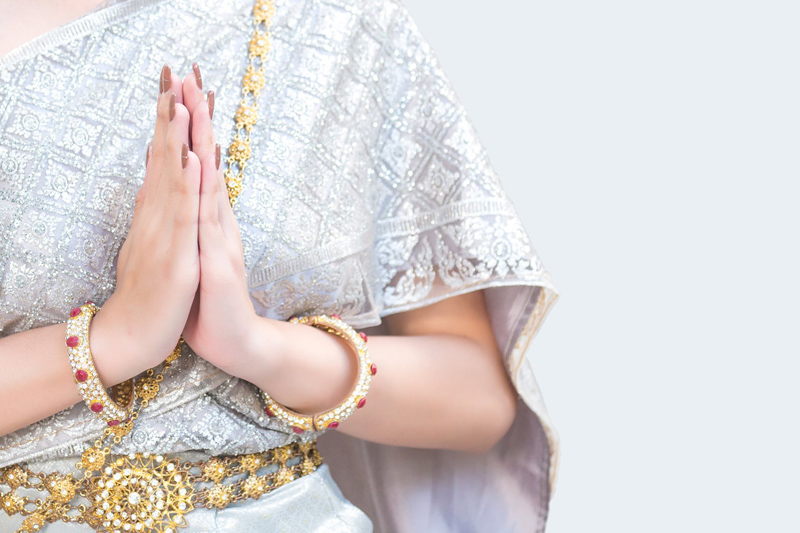 Crying Tiger (Seur Rong Hai)

Ingredients
2 teaspoons fresh green peppercorns *
2 teaspoons Thai 4 flavour paste ** recipe below
6 cloves garlic, 3 minced, 3 unpeeled, lightly crushed
3 to 12 bird chiles or 2 to 8 Thai Dragon chiles or serrano chiles, minced
8 ounces thinly sliced steak such as sirloin boneless
2 tablespoons peanut or veg oil
splash fish sauce (nam pla)
1-2 teaspoons date palm sugar
Water as needed
1 tablespoon crispy pork rinds, crushed
12 sprigs cilantro, coarsely chopped

•Can be found frozen in Thai markets or substitute with dry green pepper corns dry roasted in skillet

Method
Place Thai 4 flavour paste and minced garlic in a mortar and pound until blended into a paste. Add the unpeeled garlic cloves and pound until the garlic and peels are blended into the paste. You can remove the garlic peel if you prefer but it adds a more Thai-taste and texture.

Add the chiles and continue pounding.

Add the green peppercorns and, crush them by pressing them against the side of the mortar in a circular motion.

Transfer the paste to a small bowl and set aside. The paste will keep well in a jar with a tight-fitting lid in the refrigerator for a couple of weeks.

Trim any fat from the steak, set aside.

Arrange the ingredients en misen plas on a tray in the order they will go into the skillet: oil, chile paste, steak, fish sauce, sugar, and a small cup of water.

Heat a wok or skillet over medium to high heat for 2 minutes, until smoking a little.

Add the oil and swirl to coat wok. Now add the chile paste, stirring it quickly, until it becomes fragrant, 2 to 3 minutes.

Add the steak, quickly stir fry, and sprinkle a bit of water into the pan to prevent the paste from burning. When the steak is lightly cooked, push it to up on to side of wok.

Add the fish sauce and sugar to the center of the skillet. Stir and blend until the mixture bubbles, then push the steak pieces into it while you continue to stir until the steak is coated. If needed, sprinkle a bit more water to prevent sticking.

Transfer the steak to a serving dish, garnish with the crushed pork rind and cilantro, and serve hot with steamed Thai Hom Mali Jasmine rice (new crop rice).

Thai 4 Flavour Paste
This versatile Thai paste is best made ahead and kept in a glass jar in the refrigerator to develop the full flavours. It is great for grilling meats, seafood, stirfrys, I mix 1 teaspoon of the paste with the juice of one lime and olive oil and a marinade rub for meats and fish to be grilled
1 1/2 teaspoons coriander seeds
1 tablespoon Thai white peppercorns
1/2 teaspoon sea salt
8 to 16 cloves garlic, minced (1/2 cup)
1/2 cup minced cilantro roots and stems

You can make this in a food processor, but I prefer the resulting flavor of pounding in a mortar and pestle as this releases the oils for full flavoured paste.

Heat a small skillet over medium-high heat.
Add the coriander seeds and dry-roast, sliding the skillet back and forth over the burner, until seeds are fragrant, about 3 minutes.
Transfer the seeds to a small bowl to cool and repeat with the peppercorns.
When cool, grind the coriander seeds and peppercorns separately in an electric spice or coffee grinder and transfer to separate bowls.

Place the sea salt, garlic, and cilantro roots and stems into a mortar pounding and scraping down the sides of the mortar between poundings with pestle. This becomes a rhythmic process.

Add the ground spices and process to a paste.
Transfer to a jar with tight fitting lid and refrigerate.
Yield: Makes approximately 1/2 cup





Related Articles
Editor's Picks Articles
Top Ten Articles
Previous Features
Site Map





Content copyright © 2023 by Mary-Anne Durkee. All rights reserved.
This content was written by Mary-Anne Durkee. If you wish to use this content in any manner, you need written permission. Contact Mary-Anne Durkee for details.