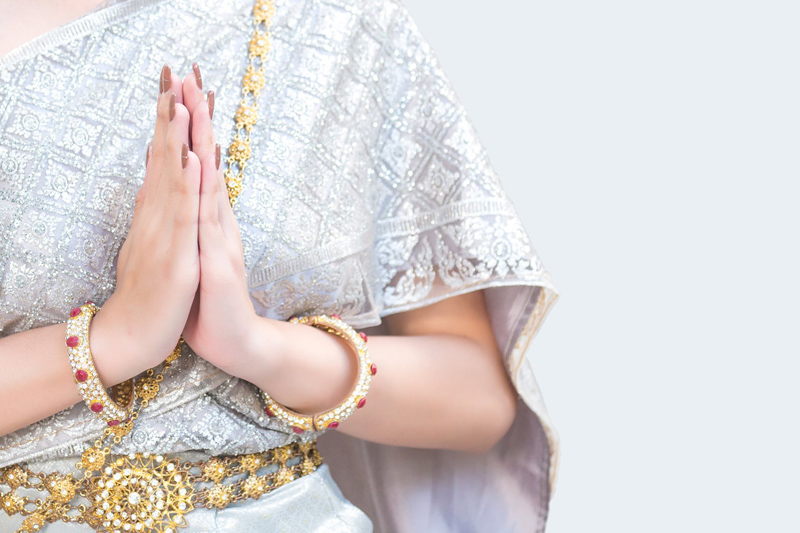 Thais love seafood as along the very long coast-lines fresh seafood is plentiful. The flavours of hot-sour-sweet-salty are a perfect compliment to seafood. I prefer using thetiny clams for this dish as they cook very quickly and are not tough like the large clams seem to be. If clams aren't your favourite try using mussels for this delightful and easy Thai recipe of mine.

I do prepare this at times with a mixture of shellfish including clams, mussels, and shrimp. Calimari rings can be added during the last couple of minutes for an awesome feast from the sea.

2 lb. fresh clams (I use the smallest clams available)*
1 Tbs. peanut oil
8 cloves garlic, chopped
4 thinly sliced shallots
6-12 Thai chiles, slit but left attached at the stem
2-3 Tbs. roasted chile paste (nam prik pow)
2 Tbs. hot water
1-2 tsp. date palm sugar (disolved in hot water above)
1 packed cup Thai basil leaves (bai horapa),
1 Tbs. fish sauce (nam pla), to taste

Prepare clams by rinsing and brushing clams well to remove any sand the clams.
Place clean lams in a bowl of ice cold water wi 1tsp. disolved salt for 45 minutes or so. Be sure to toss out any clams that open and won't close up when pressed closed, as they are dead.

Rinse the clamsin cold water and hange the water several times to remove any sand. Then drain them in a colander.

Dissolve date palm sugar in the hot water.

Place wok over high heat until smoking hot. Put in oil, swirl about the wok to cover the surface. Add the garlic, chiles and shallots stirfry, add chile sauce/nam phrik pao, and date palm sugar water. You must work quickly to prevent the garlic from burning. Combine all ingredients in your hot wok, add clams, stirfy to coat thm th the other ingredients. Cover wok, reduce heat to medium, uncover every minute to stir again. When the clams release some water uncover increase heat to high.

As the clams open up, stir in basil, andtaste for hot-sweet-salty balance. Balance flavour by adding fish sauce, sugar, chileto your taste.

Continue to stir-fry until the clams have all opened up. Do not overcook as they will shrink and become tough and rubbery. Pour the clams and sauce out onto serving dish, garnish with a few basil leaves and flowers. Serve at once.

These clams are good with steamed Jasmine rice. (Thai Hom Mali)

Serves 4 as an entree or 6 as a multi-course Thai meal.

*mussels re also excellent for this recipe


Related Articles
Editor's Picks Articles
Top Ten Articles
Previous Features
Site Map





Content copyright © 2023 by Mary-Anne Durkee. All rights reserved.
This content was written by Mary-Anne Durkee. If you wish to use this content in any manner, you need written permission. Contact Mary-Anne Durkee for details.