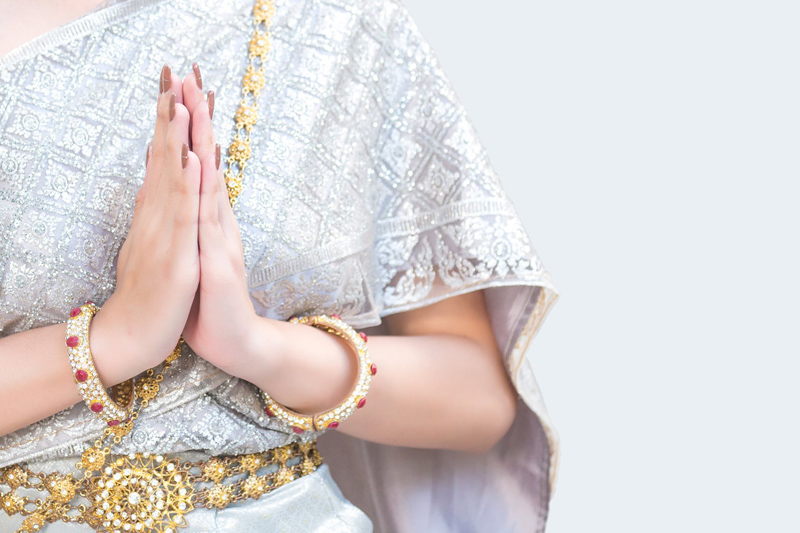 Peek Gai Yat Sai Goong (sometimes called Angel Wings)

Quantity varies depending on the size of the chicken wings and how much you stuff them! What makes this recipe really flavour packed is the marinating step which is not commonly used for this popular Thai dish.

*Vary the heat to your taste by adjusting the amount of chiles used.

This is always one of the most popular finger foods to serve as an appetizer, a starter for a full Thai meal or as a wonderful pass around for parties.

You can either barbecue or deep fry these yummy wings.

Marinade

2 teaspoons fish sauce
1/2 cup lemon grass (takrai), very finely minced
1/4 cup minced garlic
1 teaspoon sugar
2 teaspoons freshly ground black pepper, (prik thai)
1/2 cup of chopped cilantro, (pak chi farang)

Stuffing

1 cup of shrimp, finely chopped
1 cup of lean pork, finely minced
2 kaffir lime leaves slivered, remove center rib
2 green onions, minced
*1 chile to 2 tablespoons red ripe Thai chiles (prik khe nu), finely chopped
*1 to 2 tablespoons chile paste in oil, (prik nam pao)
*1 to 2 tablespoons red curry paste

*Vary the heat to your taste by adjusting the amount of chiles used.

2 dozen chicken wings
If deep frying: Rice flour for coating
peanut oil for deep frying

Method

Cut the chicken wings in half. You then have a drumette and center with tip portion. If you prefer you can buy drumettes only and use them.

Combine the marinade ingredients and marinade the wings overnight in the refrigerator.

This next step may seem difficult at first but becomes very easy after a couple are finished. Separate the meat from the bones by gripping one end of each piece and jerking the meat and skin from the other end back to your hold (alternatively you can insert the stuffing using a pastry bag).

Another way to debone is to use a small, pointed knife and remove bones from mid-joint. Run the knife around the top of each bone, push the flesh down to expose the bone and carefully twist each bone out.

Place pork and shrimp in the bowl of your food processor with the fish sauce, green onions and cilantro. Crush garlic to a paste with the sugar and add together with the black pepper and shreds of Kaffir lime leaf. Process until well mixed.

Place mixture into pastry bag and stuff each wing section. Fill each chicken wing with mixture, but do not overfill or they will burst when cooked.

If deep frying:

Secure tops with small toothpicks. Place the wings in a bamboo steamer and steam over boiling water for about 7 minutes. Leave to cool.

Roll in rice flour or wheat flour and dust off excess. Heat oil in a wok and deep-fry the wings until they are golden brown. Drain on paper towels.

If barbecuing wings:

The mini drumsticks can now be barbequed. Make sure not to burn them. I prefer a quick sear then finish cooking offset from heat or flame.

Serve with bottled Thai Chicken Sweet Hot Chilli Sauce, and pickled ginger
Tip if you make some of the wings hotter than others, then you
can dip the fiery ones in a little red food coloring diluted in water to
turn them red... as a warning to the non-ChileHeads in the group and children.







Related Articles
Editor's Picks Articles
Top Ten Articles
Previous Features
Site Map





Content copyright © 2023 by Mary-Anne Durkee. All rights reserved.
This content was written by Mary-Anne Durkee. If you wish to use this content in any manner, you need written permission. Contact Mary-Anne Durkee for details.