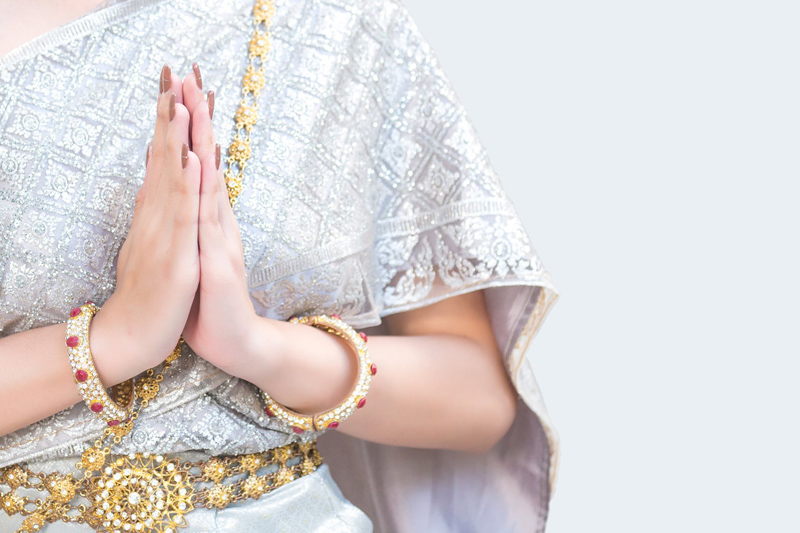 We first had this delightful salad in Bangkok as part of a large Khon Toke style meal. We enjoyed it so much I later learned to make it from a Thai friend . If available you can use large fresh water shrimp and reduce the number of shrimp used.

Papaya and Shrimp Salad (Som Tom Malakaw Goong)

serves 6 as a first course (2 as a lunch entrée)

Shrimp
30 shrimp (31-40 size) raw cleaned and deveined
2 tsp toasted-sesame oil
1/4 tsp Nam Phrik Pao*

Salad
6 cups baby mixed salad greens washed & dried
4 tabs freshly lime juice
3 tabs peanut oil

Papaya
1/3 cup cilantro (pak chee) leaves
1 cup cubed ripe papaya (Malakaw)
2/3 cup juilenned red bell pepper
1/4 cup thinly sliced shallot
1 clove garlic, minced
1-3 Thai Dragon (Phrik chee fa) Chiles minced
2 tsp fish sauce (nam pla)**
2 tabs fresh lime juice

Garnish-roasted peanuts, chopped
Garnish - Chile Flowers (optional)***

Place 1/3 cup raw peanuts in dry skillet over medium heat to roast. Keep the peanuts moving to prevent burning. Remove as soon as they are lightly toasted. Set peanuts aside to cool. When cooled, coarsely chop for garnish.

Place 12 wooden skewers in water to soak for 20 minutes to prevent burning on barbeque.

Place shrimp in a bowl, add sesame oil and nam phrik pao.
Toss with a spoon to coat shrimp with marinate .

Heat barbecue
Skewer shrimp by placing two skewers through the shrimp for ease of turning on grill.
Grill lightly just until they turn pink-do not overcook!

Toss mixed baby greens with the fish sauce, lime juice & oil until evenly coated.

Toss shrimp lightly with papaya mixture .

To serve:
Scatter baby mixed greens on each salad plate.
Spoon dressed shrimp on top.

Garnish with roasted chopped peanuts, and chile flowers if desired.

*Nam Phrik Pao – a roasted chile paste available in Asian markets. Pantainorosingh is a good brand, but now contains MSG. It is easy to make and keep in a glass jar in the refrigerator as a condiment for many Thai recipes.
To make your own: https://www.bellaonline.com/articles/art54107.asp

** Nam Pla (fish sauce) - use a quality Thai fish sauce such as Golden Boy or Dragonfly Brand

*** To make Chile Flowers-hold washed chiles by the stem, slit in quarters with sharp knife or scissors taking care not to cut through the stem. Place in cold water with crushed ice for 20 minutes. The chiles will curl to form "flowers".

Variation: This salad could easily be made with fresh ripe mango if you prefer.





Related Articles
Editor's Picks Articles
Top Ten Articles
Previous Features
Site Map





Content copyright © 2022 by Mary-Anne Durkee. All rights reserved.
This content was written by Mary-Anne Durkee. If you wish to use this content in any manner, you need written permission. Contact Mary-Anne Durkee for details.