Mexican Antojitos - Gorditas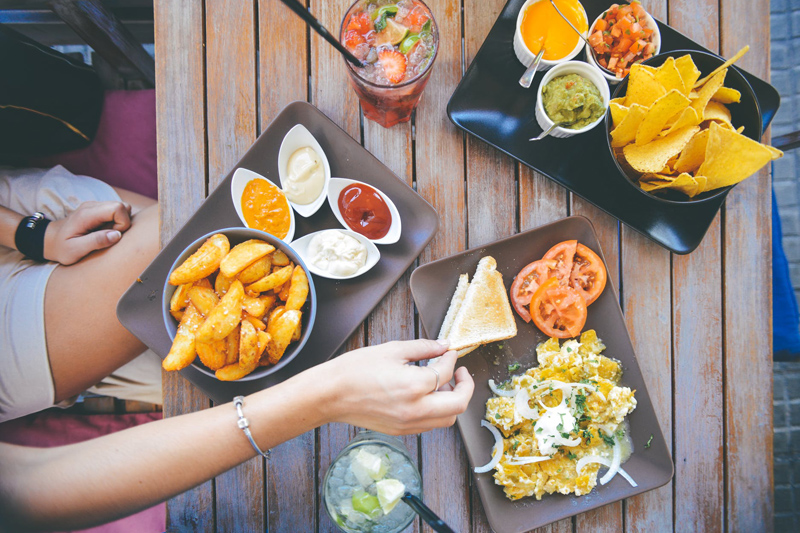 Gorditas: little plump ones.... The name alone evokes gastronomic comfort and joy and the endless delight of Mexican antojitos.

The state of Veracruz prides itself on being the home of the little plump ones, and its black bean gorditas are a speciality of every cook in the state while the market stalls and small restaurants around the Mercado Hidalgo in the port of Veracruz churn them out by the dozen. However, gorditas come in many guises and are prepared, cooked and eaten in different ways. For instance, a gordita can be a blonde, "blanca", a redhead, "colorada", or a brunette, "negra", depending on what flavouring, if any, has been added to the corn dough, masa: ground dried chillies, herbs, a purée of black beans, or perhaps nothing more than salt and lard. They can be rolled out as thinly as a tortilla or to a thickness of one centimetre; they can be cooked on a dry griddle, which produces a more solid gordita, or deep-fried in lard (very authentic and post-Hispanic) or vegetable oil (contemporary but probably not much healthier); they can be eaten plain and unadorned, straight from the pan; they can be cut open and filled with any kind of savoury stuffing; or they can be topped, rather like a tostada. But however a gordita is prepared, its main characteristic is that it balloons and puffs up to a greater or lesser extent as it cooks, producing a crisp crust – in fact, in some areas, it is known as an "inflada" or puffed up. This inflation process also creates a vacuum, the pocket for a filling if used.

The first step is the dough, la masa, which can be fresh or made from corn flour, masa harina, and two very simple versions of gorditas can be created from nothing more than masa: one is rolled thinly and will puff up delightfully in hot oil, although it is too fragile to be stuffed and tends to be eaten with just a salsa; or the masa can be rolled more thickly, resulting in a considerably sturdier gordita. However, various additions to the basic dough are customary in many areas: some fat, often in the form of lard but also thick cream or butter; small amounts of flour and baking powder; and flavourings like beans, chillies and herbs. Once the masa is made, a ball of it is flattened into a circle, thick or thin, and then it is ready to become a gordita and puff up into a delectable little plump one.

The following recipe is for a thin gordita - one which balloons nicely and becomes delightfully crisp, served with a sweet and sharp sauce of plantains and tomatoes – very Veracruz!

Gorditas with plantain sauce – Gorditas con plátano macho

Makes 6 gorditas

For the masa:-
125 g/4 1/2 oz masa harina
120 ml/1/2 cup water
15 g/1/2 oz butter, softened
2.5 ml/1/2 tsp salt
5 ml/1 tsp chipotle chilli powder
5 ml/1 tsp baking powder
5 ml/1 tsp Mexican dried oregano
Vegetable oil for frying

For the sauce:-
30 ml/2 tbsp vegetable oil
250 g/9 oz onions, peeled and coarsely chopped
2 garlic cloves, peeled and crushed
1 red chilli, deseeded and finely sliced
350 g/12 oz tomatoes, coarsely chopped
1 large, very ripe plantain, about 225 g/8 oz, peeled and diced
Sea salt and freshly ground black pepper

Place the masa harina and water in a food processor and blitz for 30 seconds. Remove the lid, cover the bowl with a damp tea towel and leave to rest for half an hour.

For the filling, heat the oil in a heavy frying pan, add the onions, garlic and chilli, and cook over medium heat, stirring occasionally, until the onions are golden, about 20 minutes. Add the tomatoes, plantain and some seasoning, turn the heat up, and cook, stirring often, until the tomatoes have broken down, the plantain is soft, and most of the moisture has evaporated. Check the seasoning. The filling can be prepared up to 48 hours ahead of time and refrigerated.

Add all the remaining ingredients to the masa harina in the food processor, and process until the dough comes together. If it is very dry, add a bit more water – it needs to be soft and moist, but not sticky.

Preheat the oven to its lowest setting and reheat the filling.

Pour the vegetable oil into a large, deep frying pan to a depth of about 5 cm/2 in. Alternatively, you can use a deep fat fryer. Heat the oil to a temperature of 180oC/350oF. Divide the dough into six and, with a rolling pin, roll each portion into a disc no more than 2 mm thick – it does not have to be as thin as a tortilla, but if it is too thick, it will not puff up properly and the inside will be raw. Carefully slide the gorditas into the hot oil – you may have to do this in several batches, depending on the size of your pan – and cook, spooning the oil over them, until they puff up, rise to the surface and are nicely golden and crisp, about 3 minutes on each side. Drain on kitchen paper and keep warm in the oven until they are all cooked.

Serve the gorditas immediately, with a spoonful of sauce on top and offer the rest separately.

Buén provecho!
You Should Also Read:
Antojitos, the Street Food of Mexico
Veracruz - White Gorditas Recipe
Veracruz - Black Gorditas Recipe


Related Articles
Editor's Picks Articles
Top Ten Articles
Previous Features
Site Map





Content copyright © 2018 by Isabel Hood. All rights reserved.
This content was written by Isabel Hood. If you wish to use this content in any manner, you need written permission. Contact Mickey Marquez for details.