Mexican Antojitos - Sopes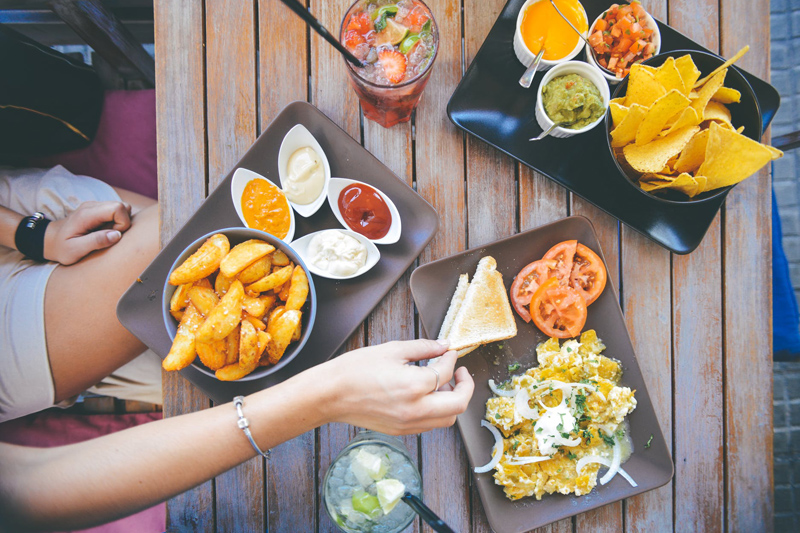 The "sope" family is vast and convoluted, difficult to track, but whatever a sope's origin, regional designation or topping may be, it is definitely a member of the clan. The patriarch was reputedly born in Guadalajara, but as with all Mexican "antojitos", every state makes its own very special and typical variation and calls it by a different name: in Oaxaca, a sope is a "memela" or a "garnacha"; in Puebla, a "pellizcada" from "pellizcar", to pinch; in Veracruz, a "picada", and in Yucatán, a "panucho". Larger elongated versions found particularly in Mexico City are known as "huaraches", sandals, and in Guerrero they make a baby sope, known as "sopecito".

Names aside, a sope is simply a container or tartlet made of "masa", corn dough, rather like a thick, sturdy tortilla, which acts as a base or plate for the topping. A ball of masa is rolled and flattened into a circle or oval, before being baked on a dry "comal" or griddle until lightly browned and crisp. The edges are then pinched up to form a border which will hold the filling – and for this particular step, heat-resistant fingers are a great asset!

Watching Mexican street cooks shaping sopes is mesmerising: they work incredibly fast, shaping them while they cook, seemingly impervious to the heat of the pan, and the end result is a perfectly shaped tartlet case. My attempts at making sopes have been more successful some times than others, as much depends on getting exactly the right amount of water into the dough – and "masa harina", the Mexican flour made of corn, seems to absorb more water one day than the next... However, with a relatively solid topping as in the Sopes Tapatíos below, it does not actually matter if the tartlet sides are not high or even enough.

Guadalajara is the capital of the state of Jalisco, the second largest city in Mexico, and the home of the famous Mexican hat dance, "el Jarabe Tapatío". Anybody or anything from Guadalajara is known as "Tapatío", a name which the inhabitants hold so dear that if you ask a Guadalajaran where he comes from, his reply is not "I am from Guadalajara" but I am Tapatío, "soy Tapatío". It is a magnificent city, blessed with a mild climate and rich in colonial architecture, fountains, leafy parks and flower-filled squares, as well as gastronomic gems, including "birria", a savoury dish of goat stewed in tequila, and sopes. While there is, as usual, no one recipe for any sope, mashed beans, a sauce, chorizo or bacon and some kind of cheese are very typical toppings and an excellent starting point.

Although this recipe looks long and complicated, the individual steps, ie sauce and beans, are not demanding and can be prepared several days ahead of time.

Sopes Tapatíos

Makes 4 sopes

For the beans:-
150 g/5 oz black beans
1 bay leaf
60 ml/4 tbsp olive oil
50 g/1 oz onions, peeled and coarsely chopped
1 mild red or green chilli, deseeded and finely sliced
1 garlic clove, peeled and sliced
5 ml/1 tsp cumin seeds, coarsely ground in a mortar or spice grinder
Sea salt and freshly ground black pepper

For the sauce:-
500 g/18 oz tomatoes, halved
8 garlic cloves, unpeeled
45 ml/3 tbsp olive oil
200 g/7 oz onions, peeled and coarsely chopped
5 ml/1 tsp Mexican or Greek oregano
Sea salt and freshly ground black pepper

For the sopes:-
150 g/5 oz masa harina
15 g/1/2 oz butter, softened
1/2 tsp salt
1/2 tsp baking powder
175 ml/6 fl oz warm water
30 ml/2 tbsp olive oil
100 g/4 oz fresh goat's cheese
2 large Cos or Romaine lettuce leaves, shredded
150 g/5 oz smoked streaky bacon, grilled or fried until crisp and crumbled

Place the beans in a colander and rinse them under cold, running water. Put them in a large saucepan with the bay leaf, add enough water to cover by 10 cm/4 in, and bring to the boil over medium heat. Turn the heat down to low, cover the saucepan and simmer very gently for at least 2 hours, preferably 3 or 4, until the beans are totally tender. Check them every now and then to make sure that they are not drying out and are covered by at least 1 cm/1/2 in of water.

Heat 2 tbsp of the oil in a small saucepan and cook the onions, chilli and garlic gently until soft and lightly browned, about 15 minutes.

Remove the bay leaf from the beans, place them with their liquid in a food processor, add the onion mixture, cumin and some seasoning, and blend until you have a chunky paste.

For the sauce, heat the grill to high. Line the grill pan with kitchen foil and arrange the tomatoes, cut side up, and garlic cloves on it. Grill 10 cm/4 in from the heat for about 20 minutes, until lightly charred, turning the garlic cloves over half way through. Cool, then peel the garlic cloves and place them in a food processor with the tomatoes and any juices. Process to a chunky purée.

While the tomatoes are grilling, heat the olive oil in a frying pan and cook the onions until soft and golden. Add the tomato purée, oregano and some seasoning, and cook over medium heat for about 15 minutes, stirring often, until nice and thick.

Now for the sopes. Place the masa harina, butter, salt and baking powder in a food processor and process briefly. With the motor running, pour in the water and process until it is just amalgamated. Scrape into a bowl, knead into a ball, cover with plastic film and set aside to rest for 30 minutes.

Reheat the beans and tomato sauce.

Divide the dough into 4 balls and flatten them into circles about 1/2 cm/1/4 in thick. Heat a heavy, preferably non-stick, frying pan over medium heat, add the olive oil and cook the sopes for 3 to 4 minutes on each side until golden. Carefully pinch the edges up with your thumb and index finger to form a tartlet – don't worry if they are not perfect, it really doesn't matter! Fill the tartlets with the refried beans, spoon some sauce over the top, and sprinkle with goat's cheese, lettuce and crumbled bacon.

Serve immediately.

Buén provecho!
You Should Also Read:
Antojitos, the Street Food of Mexico
Mexican Antojitos - Gorditas
Mexican Antojitos - Chilaquiles


Related Articles
Editor's Picks Articles
Top Ten Articles
Previous Features
Site Map





Content copyright © 2019 by Isabel Hood. All rights reserved.
This content was written by Isabel Hood. If you wish to use this content in any manner, you need written permission. Contact Mickey Marquez for details.