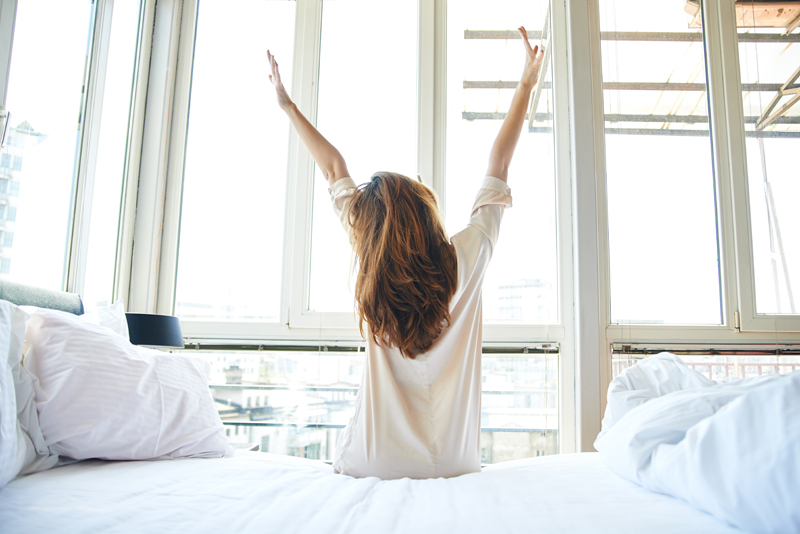 More than a decade ago, I went through a rites of passage program which required participants to get up at 4:30 am to pray with a partner. There were spiritual reasons for this, however after rising super early for a week, I quickly discovered the many practical benefits of getting the day started before everyone else does.

Quiet time. Unless it's a 911 emergency I can pretty much guarantee that no one is going to call, IM, or even email you at 4:30 or 5 am. So if there is something you need to complete without interruption, the early morning hours are the perfect time to do it.

Beat procrastination. In his book Eat That Frog Brian Tracy quotes Mark Twain saying if you have to eat a live frog, know that it's probably the worst thing you'll have to do all day. So why not eat that frog first thing in the morning? Do your most dreaded tasks at 5 am and the rest of your day will be a breeze.

You'll never be late again. Every weekday I have to be at work by 9 am, so I get up at least three and a half hours prior. A major catastrophe would have to happen for me to be late. Because I get up early, I can prepare myself and help the children get ready for school all while maintaining my serenity. I even manage to get some writing in during this time.

While there are many positives to getting up early, there are downsides. Sometimes when I get up at 5 am on the weekend, I've been known to make phone calls at 7 am thinking that everyone else has been up too. This does not go over well with family and friends who want to sleep in. Also because I'm an early riser, by around 2 or 3 pm, I'm exhausted. So when I can, I work in a nap.

And if you happen to get up late every once in awhile, don't worry about it. I like what a friend of mine tweeted one day when he got a late start. He said "all of the early birds got the best worms, so let's see what's left." Even if you get up late, still make the most of your day.

Progress is the goal, not perfection.



Related Articles
Editor's Picks Articles
Top Ten Articles
Previous Features
Site Map





Content copyright © 2023 by Leah Mullen. All rights reserved.
This content was written by Leah Mullen. If you wish to use this content in any manner, you need written permission. Contact Leah Mullen for details.