Offsite Links - 2D (and some 3D) Galleries, Communities, Tutorials
Websites where you can post your digital artwork, get and give help, and interact. Graphic tutorials, challenges and contests.
2D Valley

[offsite link]
Link directory to tutorials, bruches, plug-ins, and more. Also has their own Photoshop content.
Abstract Dimensions

[offsite link]
Abstracts Dimensions is a long standing resource site for Paint Shop Pro.
Artmixer.com

[offsite link]
Tutorials for Corel Painter in PDF downloadable format. Also free images made with Painter and more tutorials for image editing, webdesign, and HTML basics.
Digital Artworks

[offsite link]



Free gallery for Artwork. This site allows you to post your artwork automatically using the online submit form. There is a general gallery for all participants and award winners are place in a special DA Awards and Execllence Awards gallery.
digitalart.org

[offsite link]



This is a nice place to share your artwork and knowledge with other digital artists. Members can post their artwork and get constructive feedback.
DigitalArtMuseum

[offsite link]
Galleries, exhibition programs, forum, newsletter
Epilogue

[offsite link]



Fantasy and Sci-fi artists and writers
FlyByNightGraphics

[offsite link]
This is a Paint Shop Pro user group website that has a great number of new tutorials submitted each month. These tutorials are archived and there is a Challenge of the Month.
GFXartist Network

[offsite link]
The GFXartist Network is an online community for digital artists. Tutorials, articles, member gallery, forum.
Graphic-Forums.com

[offsite link]



This site has several forums for many different graphic progams. There is also a challenge forum called The Battle Grid where members can challenge eachother.
LVS Online Classes

[offsite link]


Paint Shop Pro Art Resources

[offsite link]
This site has some great picture tubes, frames, masks, patterns, shapes, scripts, persets, gradients, tutorials, and more. Sign up for the newsletter to be notified of new postings.
Paint Shop Pro Users Group

[offsite link]
Established in 1997, the Paint Shop Pro Users Group is a volunteer based user group offering several methods of learning Paint Shop Pro such as forums, classes, tutorials and more.
Plus PSP

[offsite link]
This site has a wide variety of tutorials, a user forum, a gallery area and more. This is a great user community for Paint Shop Pro, Photoshop, PhotoImpact, Painter, Corel Draw, and more.
PSP Interactive Zone

[offsite link]

This site has quite an extensive list of resources for the artist, crafter and graphic user concentrating mostly on Paint Shop Pro.
PSP Magic

[offsite link]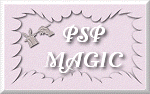 Paint Shop Pro group. Tutorials are written by the members. Online classes for the beginner to the advanced PSP user. Check out the links to individual memberīs galleries.
SinedotsAddicts

[offsite link]
This user group for fans of the Sinedots II plug-in filter is called SinedotsAddicts. The members share tutorials, images, ideas, and presets for the plug-in.
The TutorGig

[offsite link]
If you are looking for tutorials on just about any subject this is the site to start your search.
Virtual University

[offsite link]


This online universary has several graphic art tutorials for Paint Shop Pro 7 and 8.
Visual Tutorials

[offsite link]
Several tutorials for Microsoft Paint. These are animated tutorials in the form of Java Applets and are very well done.
Web Graphics on a Budget

[offsite link]
A tutorial website for Paint Shop Pro users.
Links marked with the [offsite link] designation point to websites not associated with BellaOnline.com. BellaOnline.com is not responsible for the material found there.

Digital Art and Design Homepage | Editor's Picks Articles | Top Ten Articles | Digital Art and Design Site Map


Think your link belongs here? Use the contact page to let this editor know.