Chicken Curry Massaman Style Recipe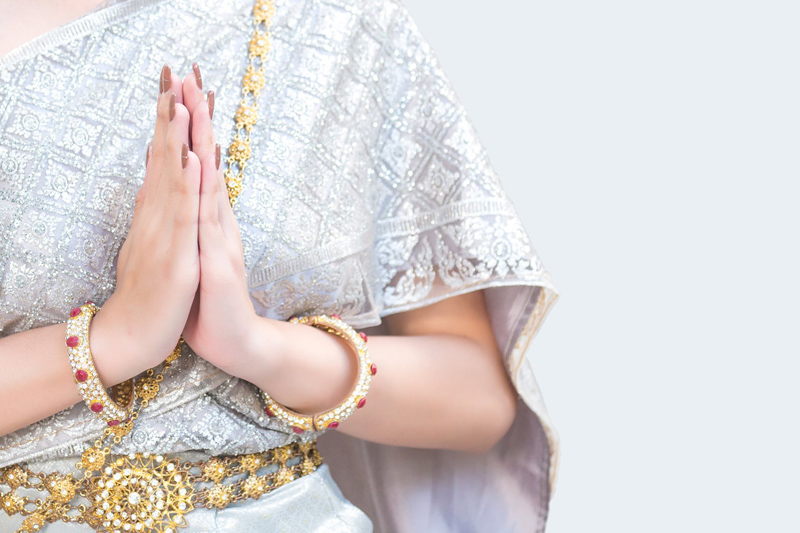 Massaman style is most likely a development of spices brought from Goa by the Portugese and of Islamic origin. It is similar in concept to the "sour and hot" Goan style vindaloo dishes. By Thai standards this is usually a fairly mild curry. It serves as a good introduction to Thai curries without first attempting a fiery curry of the northeast plains of Issan.

This is a great milder curry for children as well.

Thai cooking is all about feel not exact measurements and timing as there are so many variances. I always say a recipe is for reference only! Taste often, and adjust hot-sweet-salty-sour to balance and to your taste.

Remember a recipe is only a reference and each cook should be creative balancing the spices using more or less according to your palate. Thai cooking is all about the balance of sweet-hot-sour-salty taste.

The chicken should be cooked only until tender, and the potatoes should be cooked thoroughly, but don't over cook. Taste and adjust spices to your palate.

Many Thai kitchens are outdoors and the stove consists of a charcoal burner. This is also true with the tiny street side "restaurants" of the street food chefs.

For this recipe the first step is to make your curry paste. I always double or triple curry paste recipes to have plenty for another dish. These curry pastes store well in a glass container in the refrigerator,

Make Massaman Curry Paste or you can use canned Mae Sri or Mae Ploy Mussaman curry paste if you are in a hurry, but the taste will not be as good as the one you make from fresh ingredients and pound yourself. Besides, making your own curry paste gives you great ownership of the dish.

Now let us continue and make the Massamon Curry:

(Kaeng Massaman Gai)

1 lb. boneless, skinless chicken cut into the "bite sized pieces"
3 cups of coconut milk
2 Tablespoons roasted peanuts (unsalted)
5 peeled, shallots, left whole
3 medium sweet potatoes or yams, peeled and par boiled
3 bay leaves
6 roasted cardamom pods
1 small piece of roasted cinnamon bark
3 Tablespoons date palm sugar*
3 Tablespoons tamarind juice**
3 Tablespoons fresh lime juice
1-3 Tablespoon Mussaman curry paste (according to your taste)
1-4 teaspoons garlic, minced

*light brown sugar can be substituted

** this is a souring ingredient - The juice is made by mixing tamarind paste with hot water.

Allow the coconut milk to separate and you will have about 1 cup of
thick "cream" and two cups of thin "milk". Place can in a cold spot to help the separation. I usually keep a couple of cans in the refrigerator in the Summer, or in the garage in the Winter.

Place the coconut milk (thin liquid not the cream) in a small sauce pan, bring the milk to a simmer, add the chicken pieces, and simmer until tender. This only takes perhaps 10 minutes or less.

Put the coconut cream in a wok and bring to a boil, add the Massaman
Curry paste, and "stir fry" until fragrant and the oil begins to separate. This frying step is very important to develop the flavours and aromas of the curry. The coconut oil will separate out and can be skimmed off with a spoon or ladle. I always do this step as it is much healthier.

Add the remaining cream and curry paste to the meat.

Add the peanuts and stir. Adjust the flavor to a balance of hot-sweet-salty-sour, by adding more tamarind, sugar, chile, fish sauce or lime juice.

Add the remaining ingredients and cook until done.

Note: The sweet potatoes are a yellow fleshed sweet potato of the
type sometimes called a yam in the US. Golden Yukon potatoes can be
used, but they absorb less of the sauce and flavour and lack the needed sweetness to balance the curry. The potatoes act as a
buffer to the heat of the curry, and should not be left out.

You can either serve this curry on a bed of steamed jasmine rice, or double the amount of potato and serve it alone.

Serve this Mussaman Curry with a tossed green salad and a bowl of Ajad, pickled cucumbers.

The traditional Thai table also offers chiles in fish sauce (Phrik nam
pla), chiles in vinegar (phrik nam som or phrik dong), powdered chile (phrik phom) - not to be confused with the powdered chili mix sold as chili powder in the US - it contains chiles, cumin, sugar, and other spices.

The perfect beverage to accompany a Thai Curry is either a Singha Beer or a hearty red wine like a Zinfandel. Remember, water will only spread the heat around your mouth. Eating rice or raw cucumbers can ease the fiery tongue as can milk.



You Should Also Read:
Cucumber Condiment (Ajad)


Related Articles
Editor's Picks Articles
Top Ten Articles
Previous Features
Site Map





Content copyright © 2023 by Mary-Anne Durkee. All rights reserved.
This content was written by Mary-Anne Durkee. If you wish to use this content in any manner, you need written permission. Contact Mary-Anne Durkee for details.