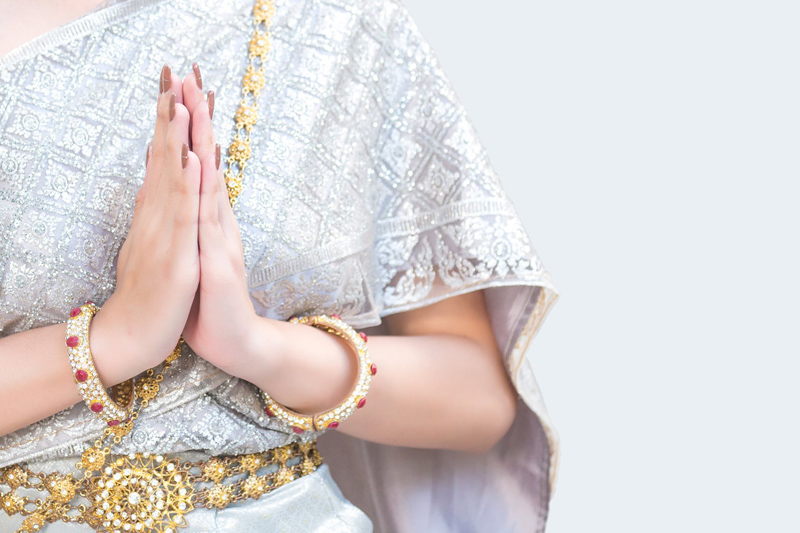 One of our favourite Thai cuisines is that of Mae Hong Son which is located in the far Northwestern corner of Thailand along the border with Burma. This region of Thailand is the most mountainous and remote province of all, and is home to a group of people known as Shan* or Thai Yai.

This is one of our favourite places in all of Thailand as it somewhat unspoiled by excessive tourism and Western ways. We first visited Mae Hong Son when we took our children there in 1987. It really has remained much the same with the exception of the growing number of Burmese Karen who have fled and are in refugee camps nearby in the mountains.

The Thai Yai have had a great influence on the cuisine of Mae Hong Son, which is a combination of Shan and northern Thai cooking. The cuisine is quite unique from the rest of the regions of Thailand. The main staple of northern Thais is khao niaow (sticky rice), which in Mae Hong Son is served by street vendors to eat on a bai tong tueng, the leaf of a type of teak tree.

One of the most famous Northern Thai dishes is a curry noodle dish called Khao Soy which is a Shan dish brought to northern Thailand from Myanmar by Muslim traders, and is today available in virtually every Thai village in Northern Thailand.

In the local markets you will see pre-cut and portioned veggies for use in curries and soups. They make such a lovely display of colours of the various ingredients. You will also see various chile condiments such as Nam Phrik Ong, Nam Phrik Kua, Nam Phrik Uub, Nam Phrik Tuanao the main ingredients are composed of minced pork, onion, garlic, chile, salt, spring onion, coriander, and dried ground fish. Nam Phrik are also known as Bird Chiles.

The Shans are great farmers and grow not only rice, but many vegetables. Their cuisine includes the use of many vegetables as well as edible flowers, young jackfruit.

The famous Shan spicy foods are Gang Hung Lay type meat curries, and other vegetable curries such as lettuce curry, ivy gourd curry, and various gourd curry. Salads consist of bamboo shoot salad, star fruit salad, mango salad, other vegetables and animal's skin salads.

This recipe for Shan Chicken is a spicy "Gang Hung Lay" curry and a wonderful introduction to Shan recipes.

Shan Chicken Curry (Gang Hung Lay Gai)
Yield: 4 servings

1 lb chicken breast, skinless, boneless cut into 1" cubes
2 to 4 Thai Dragon chile peppers, dry, soaked, minced
1 tsp Cumin
1 tsp Turmeric powder
2 tsp Coriander seed
3-4 whole mace**
2 1/2 tbs lemon grass thinly sliced, and pounded
1-2 Shallots chopped
3 garlic cloves chopped
2 tsp Fermented shrimp paste (kapi)
1 tb Fresh turmeric root peeled & grated
2- 3 tb Fish sauce
2 tbs Palm sugar
2 tbs Peanut oil
2 cups water
2/3c up roasted peanuts chopped
1 3" piece fresh ginger peeled & julienned
2-3 tbs Tamarind juice to taste
Garnish: 2 tb Roasted peanuts chopped
** Mace is the lacey exterior of the nutmeg fruit and commonly found in Indian markets.
Place dried chiles in hot water to just cover. Leave for 20 minutes to soften. Remove from water, and chop coarsely.
Place spices in a dry skillet and roast until fragrant.

Place cumin, turmeric, coriander and mace into a fine powder using a mortar & pestle.

Add lemon grass, shallot, garlic, shrimp paste, fresh turmeric reconstituted chile peppers.

Grind into a paste in the mortar with pestle in a pounded turning method.

Combine paste with fish sauce palm sugar.

Transfer to a large bowl.

Add your chicken to this paste then and toss to coat.

Allow is this to marinate for 45 mins. in the refrigerator.

Heat oil in a large deep cast iron skillet or wok over med-heat, add chicken

and cook until no longer pink in center and juices run clear.

Stir in water, the peanuts, ginger and tamarind juice.

Bring to a simmer then cook for 20-25 minutes. until it is thickened. Taste for balance of hot, sweet, salty, sour and adjust to your taste by adding more chile, tamarind, fish sauce, or sugar.

Garnish with 2 tb of peanuts then serve with sticky rice, or steamed Jasmine rice as you prefer..

Note on Shan - The Shan people founded Mae Hong Son in the 1830's. Over three million Shan live in the Shan state of Burma and even have their own army. They are tightly controlled by the Burmese Military.

Shan noodle is so much popular among Myanmar people that almost everybody goes crazy about it. Meeshae, thin white rice noodle(salad style or soup style is served in casseroles.)

You Should Also Read:
Chicken Curry Soup (Khao Soy)
Thai Condiments


Related Articles
Editor's Picks Articles
Top Ten Articles
Previous Features
Site Map





Content copyright © 2022 by Mary-Anne Durkee. All rights reserved.
This content was written by Mary-Anne Durkee. If you wish to use this content in any manner, you need written permission. Contact Mary-Anne Durkee for details.