Cucumber Pickle (Aa Jaad )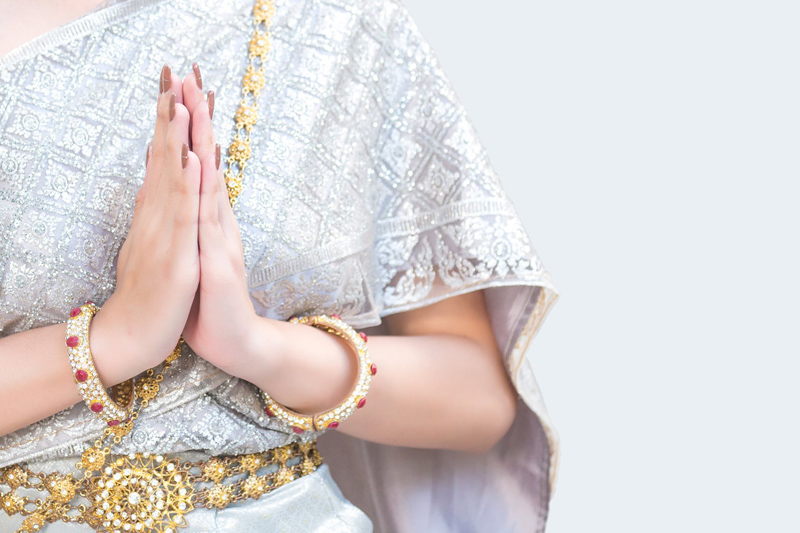 In Thailand small side dishes called Kreaung kiam are served. These various salty, sour, sweet, spicey dishes are great accents to the meal.

This recipe for Aa Jaad) cucumber pickle is a very popular and easy to make table condiment is but one of dozens of such Thai side dishes that are served at most Thai meals in Thailand. I don't know why this type of Thai popular pickle is rarely served in Western Thai restaurants, as it is very common in Thailand, especially in Isan in the Northeast of Thailand.

Often small dishes of svoury items such as chile nuts, sates, and pickles are served with drinks. This particular cucumber pickle is wonderful with orange or red curries especially duck, chicken, quail or game birds.

This pickle is best when made a head and allowed to sit in the refrigerator for a few days to develop the flavours. You can use Thai Jalapeños, Serranos or other favourite chiles, but I prefer the Thai Dragon chiles.

I highly recommend using fresh water chestnuts as they do not have that tinny canned flavour. Fresh water chestnuts can be found in most Asian markets in the produce section. They are so worth finding as the sweetness and crunch will capture your taste-buds! They are sweet and never starchy as canned water chestnuts often are.

1/2 cup rice vinegar or coconut vinegar
2/3 cup Asian cucumber, sliced
2 tablespoons shallot, finely sliced
1 tablespoon palm date sugar
1 tablespoon fresh water chestnuts, finely sliced
1 tablespoon Thai Jalapeños(prik chi fa daeng) sliced

Slice the cucumber in quarters, lengthwise, then slice the pieces into segments about an 1/8" thick.

Remove the chile stems (I prefer using the ripe red chiles) and tap out any loose seeds, and discard, then slice the chiles across into thin rounds. Slice the shallots and water chestnuts.

Combine and serve.

This will keep 2 or 3 weeks in a referigerator. It is a traditional accomaniment to snacks such as spring rolls, or to barbequed foods such as sates and gai yang (chicken).



You Should Also Read:
Thai Barbecued Chicken


Related Articles
Editor's Picks Articles
Top Ten Articles
Previous Features
Site Map





Content copyright © 2022 by Mary-Anne Durkee. All rights reserved.
This content was written by Mary-Anne Durkee. If you wish to use this content in any manner, you need written permission. Contact Mary-Anne Durkee for details.