Pad Thai Bangkok Street Food Style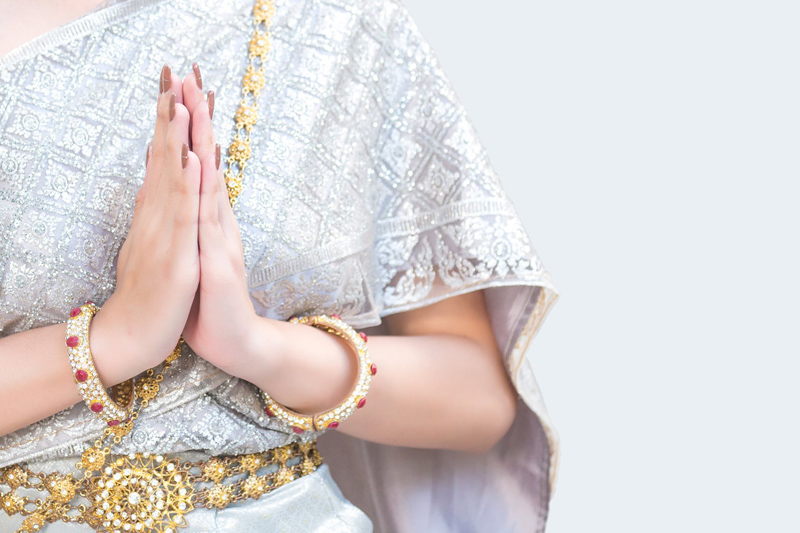 Serves 2

4 ounces (rice noodles, also called Chantaboon Kuaytiow rice noodles)
2 teaspoons peanut oil (used in multiple steps)
1 tablespoon fish sauce (nam pla), to taste (used in multiple steps)
1+ tablespoon tamarind juice to taste
1 teaspoon date palm sugar, to taste
1/4 lb. fresh shrimp, shelled, de-veined and butterflied
1/4 lb. chicken (optional)
1/4 cup firm pressed tofu, cut into matchsticks 1" X 1/2" X 1/4"
4 cloves garlic, minced
1 shallot or red onion thinly sliced
1 tablespoon small dried shrimp
1 teaspoon roasted ground dried red chiles, to desired hotness
1 egg
1 cup fresh bean sprouts

Garnish
1/4 cup chopped unsalted roasted peanuts
A few cilantro sprigs
2 green onion cut into flowers*
2 Thai Dragon Chile flowers*

Condiments
lime wedges
Chile Vinegar Condiment (Prik dong) https://www.bellaonline.com/articles/art32161.asp

Place the rice noodles into a large bowl and cover with hot tap water to soften. From time to time move them around to help separate. This will take 20-30 minutes, but you want them still very firm to the touch.Set aside and continue.

Shell and de-vein the shrimp. Place them in a bowl of ice water with 1 teaspoon of sea salt dissolved in it. Slightly massage the shrimp in the water and let sit for 15 minutes to freshen them. Drain the shrimp, and butterfly and de-vein, set aside.

In a small bowl add the fish sauce, tamarind juice, and date palm sugar, mix until dissolved. Taste and adjust to achieve a total taste balance of salty- sour-sweet. Set aside.

Drain the softened noodles and set aside.

Place large wok over high flame and heat to the smoking point.

Add 1/2 teaspoon of oil and quickly stir-fry the shrimp until they turn slightly pink, but are still translucent. Add a splash or two of nam pla fish sauce. Remove from wok and place in a misen-plas bowl.

Crack the egg into a small bowl and whisk. Add 1/2 teaspoon of oil to the wok add the eggs into the wok and let them cook a little, then turn them over and chop them up. Reserve.

Swirl in the remaining 1 teaspoon of oil to coat the wok surface and wait 20 to 30 seconds for it to heat. Add the tofu, frying 1 to 2 minutes, or until the pieces turn golden. Add garlic and stir-fry with the tofu for 15 to 20 seconds. Follow with the sliced shallots and cook another 15 seconds. Then add the dried shrimp, and ground roasted dried chiles. Stir and heat through a few seconds. Place aside into a bowl.

Add the noodles back into the wok, and all the reserved ingredients (egg, shrimp, and seasonings) and toss the noodles well with the ingredients in the wok to coat them evenly. Stir-fry 1 to 1 1/2 minutes until the noodles have changed their texture and softened a little.

Add the sweet-and-sour seasoning mixture. Stir well to evenly coat noodles. If the noodles are still too firm for your liking, sprinkle 1 to 2 tablespoons of water over them to help cook. Taste and adjust flavors as needed to your liking by adding more fish sauce or tamarind juice; if the noodles are not sweet enough, sprinkle in a small amount of granulated sugar.

When the noodles are cooked to your liking, toss in 1/2 of the 1 cup of bean sprouts. Sprinkle with half the chopped peanuts and return the shrimp to the wok. Stir and when the vegetables are partially wilted, transfer to a serving platter, or dish onto individual serving-size plates, and garnish with the remaining bean sprouts and chopped peanuts, the lime wedges, cilantro and green onion and chile flowers.

Serves 2 as a one-dish lunch. Squeeze lime juice over each portion before eating.

You Should Also Read:
Chile Vinegar Condiment (Prik dong)
Drunken Noodles


Related Articles
Editor's Picks Articles
Top Ten Articles
Previous Features
Site Map





Content copyright © 2023 by Mary-Anne Durkee. All rights reserved.
This content was written by Mary-Anne Durkee. If you wish to use this content in any manner, you need written permission. Contact Mary-Anne Durkee for details.