Green Papaya Salad (Som Tam)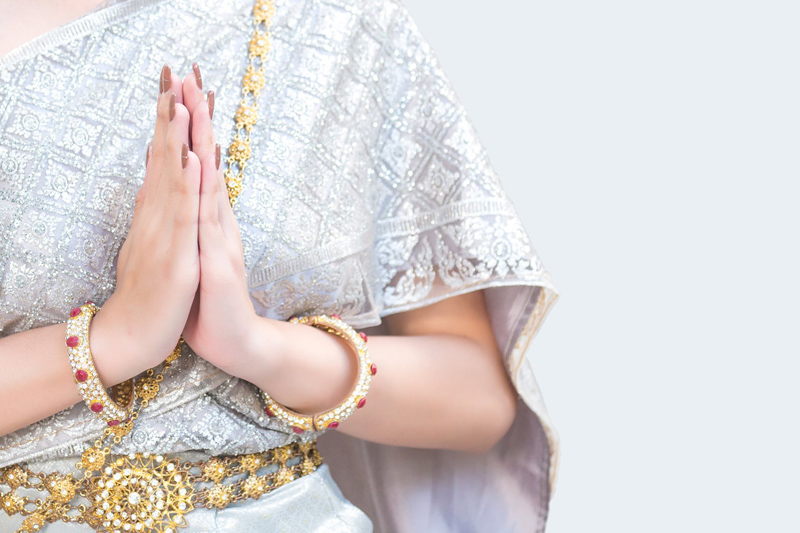 Thai salads can be very spicy so use chiles according to your taste. Begin with a couple of chiles and add until you like the hotness of the salad. Remember to balance the hot-sweert-sour-salty taste!

Our family likes this salad very hot having been to Thailand many times and building up our palates for a love for hot chiles. I think perhaps the hottest Som Tam is in Laos! There they often include fresh water salted crab and a nut-like ingredient that lends a bitter note unlike what is common outside of Laos.

This salad is especially wonderful with barbecue chicken (Gai Yang) and sticky rice. I like using a large clay mortar with a wooden pestle that we bought in Thailand many years ago, but you can make it in a wooden salad bowl.

Ingredients
3-6 garlic cloves, sliced
2-10 Thai chiles (prik kee noo or phrik chee fa), diced (Serramos are a good substitution if Thai chiles are not available
1/2 cup long beans, cut into 2" pieces
2 tsp. small dried shrimp
1-2 tsp date palm sugar, to taste
Juice of 1-2 limes, to taste
1 1/2 cups unripe green papaya peeled, julienned
1-2 Tbs. fish sauce (nam plah), to taste
4-6 cherry tomatoes, cut in half
1 Tbs. chopped unsalted roasted peanuts

Place garlic and chiles into mortar and pound with pestle until the mixture forms a smooth paste.

Add the dried shrimp and pound to break them up a bit. Add the date palm sugar, juice of 1 lime, the fish sauce and lightly mix with a spoon.

Add the julienned green papaya. Toss well with the seasonings. Then, pounding with one hand and stirring using the spoon in your other hand, lightly bruise the green papaya until it picks up all the flavorings and seasonings.

Taste and adjust the flavour as needed adding more fish sauce, lime juice or date palm sugar to a balanced flavour. Depending on your palate add additional chiles as this salad should be the hottest part of a Thai meal.

Add the tomatoes at the end, stir and bruise slightly to blend in with the rest of the salad. Place on a serving plate and sprinkle with peanuts.

Serves 2 with a side plate of raw vegetables, as desired for a Thai meal. We often serve slices of cucumbers, wedges of cabbage, green onions, and tomatoes for a cooling effect as needed by dinners, and Boston Lettuce leaves.

Garnish with all or any:
toasted chopped peanuts
sliced green onions
mint leaves
Thai basil leaves (bai Krapoa)

Green papaya is available in most Asian markets, or even already juilenned green papaya is available in some Southeast Asian markets. Sometimes the already juilenned papaya will contain some carrots-if so just omit the beans. If buying a whole green papaya-pick a firm shinny one. Peel, and juilenne.

If serving as an entree: Serve with sticky rice.

Pointers:
Sprinkle the julienned papaya with salt, and let stand for half an hour, then squeeze and discard any liquid. I usually place the papaya between paper towels, twist to drain off the liquid.

The Isan style to eat this dish is place a small spoonful a of som tam in a lettuce leaf and eat out of hand. Then take a bite of sticky rice that you roll into a ball and eat. You alternate the sticky rice, som tom, cabbage, etc. Great finger food with beer on a hot day!


You Should Also Read:
Barbecued Chicken (Gai Yang)


Related Articles
Editor's Picks Articles
Top Ten Articles
Previous Features
Site Map





Content copyright © 2022 by Mary-Anne Durkee. All rights reserved.
This content was written by Mary-Anne Durkee. If you wish to use this content in any manner, you need written permission. Contact Mary-Anne Durkee for details.