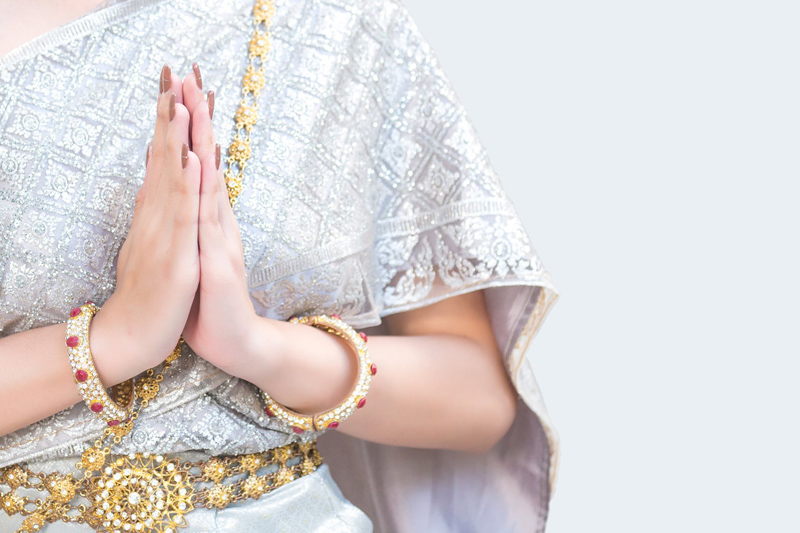 Khao Man Gai is one of the most common street hawker foods in Singapore, Kuala Lampur, Penang, Bangkok, Chiang Mai, Saigon, or any small village where ethnic or overseas Chinese reside. The overseas Chinese brought this old favourite recipe with them to the various places in Southeast Asia where they established new homes after leaving Mainland China.

In Thailand the dipping Sauce called Nam Jin really kicks up an often far too subtle boiled chicken. The Thais have really put their taste mark on this old recipe making it their own.

Method
1 whole chicken boiled
1 ½ tablespoons minced garlic
2 teaspoons peanut oil
1 cup uncooked Jasmine rice (Thai Hom Mali)
4 or 5 chunks of gourd or radish
1 bunch of cilantro including roots, well washed and cut into 2" pieces
1 tablespoon fresh ginger
1 tablespoon fermented soybean
1 tablespoon sweet soy sauce
1 tablespoon white soy sauce
1 tablespoon lite soy sauce
1 tablespoon lime juice
1 teaspoon sugar (date palm)
1/2 teaspoon sea salt
1 tablespoon red Thai chiles, minced
Stock from the boiled chicken

Method
Place whole chicken in a large stock pot, add the salt, pepper, radish or gourd and soy sauce. Do not cover pan. Skim foam off after 10-15 minutes, repeat if more foam forms and discard the foam.

Fry the garlic in oil until fragrant-do not burn.

Wash the uncooked rice to remove any bran or stones. Add to the garlic and stir fry until it begins to cook a little. Now place the rice-garlic mixture into rice cooker with some chicken broth. Usually the new crop rice requires less liquid to cook, so start with a ratio of 1:1. Add more broth if needed to cook rice. This should take about 14 minutes.

Remove the chicken from the pot, de-bone and cut into slices. Strain the broth and set aside.

To make sauce
Combine the minced garlic, minced ginger, fermented soy bean, soy sauces, lime juice, chiles, and sugar together stirring until thoroughly combined. There are various dipping sauces served by each street hawker and everyone has their favourite spot to eat this chicken depending on who has the "best" dipping sauces.

To Serve:
Spoon the rice onto a serving dish, arrange the chicken slices on top, garnish with sliced cucumber. Or you can plate each serving on a separate plate or in a large bowl.

Anyway, back to "khao mun gai" and "khao mun gai tod". The dip on the left is for the former and the one on the right is for the latter! The brown looking one is made from soybean sauce, chili, ginger, sugar, vinegar and dark soy sauce. The red one is much sweeter. It is made up of sugar, red chili, garlic, vinegar and salt. I do like this one and have a large bottle in my kitchen cupboard. You use it for dips for food like fried chicken or fried shrimps.


You Should Also Read:
Nam Jin
Blood Tofu & Other Thai Food Trevia


Related Articles
Editor's Picks Articles
Top Ten Articles
Previous Features
Site Map





Content copyright © 2022 by Mary-Anne Durkee. All rights reserved.
This content was written by Mary-Anne Durkee. If you wish to use this content in any manner, you need written permission. Contact Mary-Anne Durkee for details.