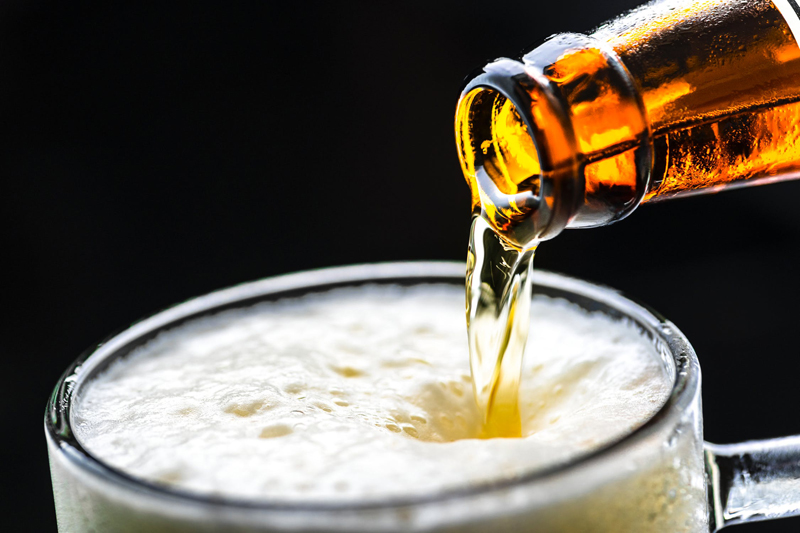 Interested in reading more on your favorite subject of beer? Read reviews.
99 Drams of Whiskey - Book Review


Hans Offringa, World-class whisky authority and author from Zwolle, the Netherlands, has generously contributed his review of 99 Drams of Whiskey, a 2009 volume by Kate Hopkins, published by St. Martin's Press.
Beer & Brewing Shop


Spread the pleasure of beer, good cheer and brewing with this fine selection of BellaOnline Recommended products, books, and services. The Beer Fox has reviewed these items for quality and value, and chooses them as the crème de la crème for Beer Lovers.
Beer Book Review - Ambitious Brew - The Story of American Beer


Maureen Ogle recounted her own life story – one that had teetered on the edge of failure before developing into a colorful palette beneath a historian's analytical pen, the fuel that gave power to her newest book, "Ambitious Brew – The Story of American Beer."
Beer Hunter, Whisky Chaser Book Launch


Michael Jackson was, without a doubt, the most influential writer to affect the development of beer and whisky on the international stage, and now, 13 international drinks writers from the world of beer and whisky have collaborated on a book to honor him.
Christmas Beer by Don Russell - Book Review


No one shares holiday cheer better than Philadelphia beer writer Don Russell, who celebrates the season with his newest book, Christmas Beer: The Cheeriest, Tastiest, and Most Unusual Holiday Beers.
Extreme Brewing at Home


Deep down, you know that you need to understand the basics, but you were never one for slowing down and reading the directions, especially for a complex project.
Farmhouse Ales - Book Review


An introduction to farmhouse ales is a liberating experience for those who live by the rules of endless possibilities.
Garrett Oliver - Brooklyn Brewmaster of Beer and Food


Garrett Oliver of Brooklyn Brewery is internationally recognized as an expert in traditional beer styles and food-beer pairings. In The Brewmaster´s Table - Discovering the Pleasures of Real Beer with Real Food, he entertains the beer lover with his passion for epicurean pleasure.
Homebrew Tips for the Novice Brewer


Homebrewing - A sense of the mysterious floats around the brewpot, while the artist closes her eyes to envision the aromas and flavors of the most provocative ale she might conjure up.
Hungry Planet : What the World Eats - Book Review


Two years later, the compulsion overtook me. Hungry Planet: What the World Eats stood on the shelf at my local bookshop, tempting me with what lived within the covers.
Incurable Hophead Ken Wells Explores America´s Beer Scene


Is hopheadism curable? What is the soul of beer? Who has the most power in the American brewing industry? Ken Wells explores a "River of Beer" and the contemporary Beer Scene in his newest book, Travels With Barley - A Journey Through Beer Culture in America.
Is Beer the Secret Spice of Life?


Discover the secrets of herbs and spices, crafted into beers with tantalizing results.
Joe Sixpack's Philly Beer Guide - Book Review


Whether you love beer or think you hate it, no trip to Philadelphia should be made without a copy of Joe Sixpack's Philly Beer Guide in hand.
Michael Jackson - Maven of Malt - Wins James Beard Award for Whiskey


An esteemed panel of Judges, experts in their profession and recognized by the Foundation Awards Committee, selected Michael Jackson as the recipient of the coveted James Beard Medal for his book, Whiskey - The Definitive World Guide.
Oxford Companion to Beer – Personal Book Review


The Oxford Companion to Beer, edited by Garrett Oliver with associate editor Dr. Horst Dornbusch, must be hailed as the world's most comprehensive book on beer, to date.
Pennsylvania Breweries 4th Edition Book Review


Pennsylvania Breweries, 4th Edition, has just been released in time for the 2010 holiday season, published by Stackpole Books, Mechanicsburg, PA, and serves as a superb travelogue to Pennsylvania itself and the fine beers waiting to be found in every notch and swale within the state.
The Beer Journal - The Best in Personal Logbooks


The Beer Journal, designed and written by Chris Wright of Monument, Colorado, USA, has been engineered as a well-thought-out tool for your streamlined journey into this new world of craft beer.
The beerbistro Cookbook - Book Review


If a restaurateur could capture velvet elegance and merge it with the comfort of relaxed indulgence, how much would your delectation increase? Casual elegance...Gourmet chic merged with relaxed gustatory delight - in a word, beerbistro of Toronto.
The Complete Homebrew Beer Book - Review


The Complete Homebrew Beer Book, by George Hummel, sets the bar among homebrew books with directions and recipes that provide a direct path to successful brewing, with no bull … period.
The Ginger Man - A Book Review


J.P. Donleavy is brilliant. This picaresque novel, written in a modified style of stream of consciousness, is constantly moving, giving the reader little time to ponder a moral or ethical dissection of Dangerfield's antics.
The Tender Bar - Book Review


JR Moehringer´s simple words drew me into the pages, as if through the door of that Tender Bar.
Twelve Best Beer Books of 2012


What would the year be without a Best Beer Books of 2012 list? Take inventory of the bookshelf in your personal library. If these are missing, be sure to put them on your New Year's Bucket List for 2013
Whiskey - The Definitive World Guide


In his book, "Whiskey – The Definitive World Guide," Michael Jackson takes you through an exhilarating journey of fascination covering the ingredients, craftsmanship, and world development of whiskey.
Editor's Picks Articles
Top Ten Articles
Previous Features
Site Map
Content copyright © 2018 by . All rights reserved.
This content was written by . If you wish to use this content in any manner, you need written permission.
Contact Carolyn Smagalski for details.