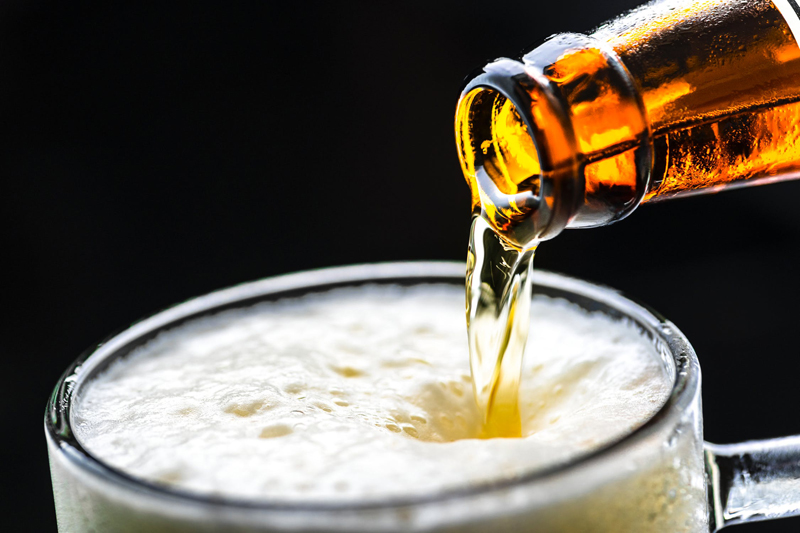 Splash into the world of creative cooking with beer! Find recipes here!
Amber Bay Beer Bread Recipe


The Beer Fox says, "Classic cheesy bread memorializes a charm reminiscent of Southern hospitality on the grand plantations."
Amber Magic Peach n' Raspberry Crisp Recipe


The Beer Fox says, "Delectable and delicious, top this refreshing dessert with a scoop of frozen yogurt!"
Amishville Applesauce Nut Bread Recipe


The Beer Fox says, "Country fresh farm bread – delicious with a butter, honey or cream cheese spread, or simply alone."
Anderson Valley Anadama Beer Bread Recipe


The Beer Fox says, " A blend of cornmeal, molasses and the golden sparkle of wheat touch heaven with this hearty bread."
Angel's Share Blueberry Cobbler


Did you know that Blueberry Cobbler got its name from the cobbled streets common to London and early America? This version of Blueberry Cobbler uses Bourbon Barrel-Aged American Strong Ale to round out the fruit sweetness, while leaving a hefty amount for you to enjoy while waiting for oven magic.
Ask the Beer Fox - Deep Frying in Beer Batter


A reader asks: Beer Fox, is it possible to add beer to peanut oil to deep fry in?
Beef & Beer - Two Easy Classic Recipes


Beef and beer is a merging of classic design. Add to your repertoire of beef cuisine with these two easy, yet delicious, gastronomic delights.
Beefy Sam's Stroganoff Recipe


The Beer Fox says, "Foreign/Export Stout neutralizes tomato sharpness in a well-balanced, easy-to-prepare meal, the perfect satisfier for a ravenous appetite."
Beer & Food Pavilion at the GABF 2009


The Great American Beer Festival 2009 Beer and Food Pavilion demonstrates that food shows draw big crowds, whether on the Food Channel or in the Great Hall of the Colorado Convention Center surrounded by beer.
Beer and Seafood - Atlantic Flounder Divine Recipe


Imagine yourself as a seafaring adventurer of the 1500´s, embarking on a journey to the Far East. With beer as a staple, is it any wonder that beer and seafood have become perfect food pairings?
Beer Can Turkey Smoker-Style - Recipe


Every welcome sign of spring tells me it's time to get out the gas-fired smoker. Smoking food takes a little longer than using a grill, but the results can be juicy and satisfying.
Beer Cookery - Huck Finn n' Honey Pancakes Recipe


Sweet, light and versatile - a morning delight with the added freshness of hand-crafted beer, fresh fruit and honey!
Beer Cookery - Seneca Falls Stir Fry Recipe


The Beer Fox says, "This is a superb light dish, dressed with a creamy sauce and seductive character!
Beer Cookery - Widerkomm Steak Tournedos Recipe


Tender tips of beef in a euphoric blend of complex herbs and juices dripping with Thomas Hooker Irish Red.
Beer Cooking with Decadent Chocolate Recipes


Chocolate has long been considered a decadent delight. Add the full, robust flavors of porter or stout for a richness unmatched by earthly pleasure.
Beer Float Recipes - Sweet Seduction


You are a beer lover, and as such, possess a super-human power to overcome the heat. Exotic? Intemperate?
Beer Fox Arrogant Bastard Steak Recipe


A favorite attraction for a summertime barbecue by the pool. A juicy slab of steak, a rich brew, and music with an arrogant beat!
Beer Fox Marinades for Outdoor Grilling: 3 Winners


It's July – American Beer Month! What a great time to discover tips that add to your overall health, especially tips that elevate your favorite brew to the pinnacle of the food-chain pedestal.
Beer-Kissed Cranberry Bread Recipe


We all love quick little recipes for our Thanksgiving Holiday. When it involves beer, our delight is that much greater, particularly when it comes in unexpected recipes.
Bonavista Halibut de la Mer Recipe


The Beer Fox says, "Liberty Ale mirrors the delicate flavors of the sea, and enhances those distinctive characteristics."
Bourbon Drenched Cranberry Bread Recipe


Nothing is quite so satisfying than sweet, bourbon-soaked cranberries, hidden deep within a tasty wheat loaf. Damon Bourbon-Barrel Aged Russian Imperial Stout from Hill Farmstead Brewery in Vermont has the lusty, boozy profile that makes cranberries sing with flavor.
Charlottetown Potato Pot Recipe


Potatoes are deeply connected with the Maritime Provinces, and this hearty potato side dish is filled with variety, vitamins and island flavor.
Chef Mick Hug's Oatmeal Stout and Cheddar Soup Recipe


Executive Chef Mick Hug of the Millennium Alaska Hotel in Anchorage Alaska, reveals his recipe for this cheesy, beer-infused soup: "Extra-sharp Cheddar and Oatmeal Stout balance perfectly in this hearty soup."
Chef Mick Hug's Smoked Porter Brine for Fish and Meat Smoking Recipe


Chef Mick Hug of the Millennium Anchorage Hotel in Anchorage, Alaska, reveals his recipe for Smoked Porter Brine prepared to smoke a side-of-salmon during his demo, "What's Smokin' in Alaska's Hot Beer Scene?" at the Alaska Women's Show, in Anchorage Alaska.
Cherry Orange Minute Lamb & Beer Recipe


The Beer Fox says, "Tender, flavorful lamb; fruity flavors; a warm fireside friend; soft jazz and a frosted mug of Ale – perfection!"
Citrus Squash & Double Red Fire Onions Recipes


The whirl of the holidays can set our brains spinning, making it difficult to focus on some of the small parts of holiday meals. You may like to add a bit of pizzazz to your table with some side dishes that dazzle.
Colette's Cajun Shrimp Supreme Recipe


The Beer Fox says, "For the shrimp lover, this hot Louisiana magic will awaken your taste buds! Y'all be askin' for more, every time!"
Cookie Recipes Pumped Up with Seasonal Beer


To a true connoisseur of happiness, nothing resonates with as much gusto as a holiday.
Cooking for Cinco de Mayo - Balearic Beef & Dough Puffs Recipe


The Beer Fox says, "Celebrate with a specialty dish for Cinco de Mayo - hearty and beefy, thickened with zesty corn and red peppers."
Cornell Nexus Beer-B-Q Chicken Recipe


Due to my great fondness for Canada, coupled with many friendships and an attraction to the Mondial de la Biere, I thought it a good idea to get approved for Nexus, a program that allows pre-screened individuals expedited border crossings.
Country Corn-Cheddar Chowder Recipe with Beer


The word chowder may possibly find its etymological roots in the Romance languages, from the French chaudière and the Latin word caldaria. Both words refer to the vessel in which the soup is prepared...
Da Vinci Chicken Maximus Recipe


The Beer Fox says, "The seductive medley of light cuisine, sweet barleywine and a creamy palate merge flawlessly in one tasty dish!"
Dilly Girl Quick Bread Recipe


The Beer Fox says, "A fabulous quick-bread easily blended in a food processor, with a wonderful dill aroma!"
Dogtown Jambalaya Recipe


Looking for a sumptuous dish to "wow" your Super Bowl crowd or light your senses during "Mardi Gras Madness?" This sumptuous combination of flavors meets the excitement of the season.
Double Chocolate Stout Espresso Cookie Recipe


Chocolate has earned the distinction for being one of the great primary flavors, just as red, yellow and blue are primary colors. Somehow, we instinctively know this flavor.
Emmy Lou's Georgia Cornbread Recipe


The Beer Fox says, Sweet Northern Cornbread may take you back into memories of Grandma´s kitchen, but Southern Style authenticates the gracious hospitality of the Old Manor homes of the Savannah River region. Which do you prefer? Northern Style or Southern Style?
English Tavern Deli Rounds Recipe


The Holiday season is filled with rushed preparations - setting the menu for parties and dinners, shopping for the little ones, decorating, and baking. Still, you have to stop long enough to eat, but may not want to spend precious hours on the basics.
Eric the Red Potatoes & Wintered Greens Recipe


The Beer Fox says, "A taste of Northern culture - hearty and full of vitamin-rich goodness."
Français Cherries & Cream Pie Recipe


The Beer Fox calls this "a melt-in-your-mouth cream cheese creation, enhanced with a delectable touch of delicate cherries."
GABF Photos from the 2009 Beer & Food Pavilion


In a glassed-in haven in the center of the festival floor, beer enthusiasts can take a break while observing the most well-versed beer chefs, brewmasters and authors as they teach about what works.
Gluten Free Beer Bread with Dill Recipe


If you are eating Gluten Free due to Celiac Disease or sensitivity to wheat flour, you can still delight in the joys of fresh baked beer bread.
Golden Braided Beer Bread Recipe


The Beer Fox says, "Light and golden, this luscious bread has the appearance of a master's touch with simplicity at its heart."
Golden Hawk Veggie Gems Beer Batter Recipe


The Beer Fox says, "A few laughs with friends - a tall, cold brew - crispy fried veggies coated in Half-e-Weizen batter - This is the starting gate to a night of fond memories."
Good Time Louie's Steamboat Shrimp


Tantalize your senses with this hot and spicy dish, enlivened with the clean, aromatic sparkle of Full Sail Amber.
Grand Banks Bouillabaisse Recipe


The Beer Fox says, "A grand medley of seafood and succulent witbier combine to make this a mariner's delight."
Grand Maui Tuna Teriyaki Recipe


The Beer Fox says, "This succulent tuna is dressed in a complex blend of Canadian sweetness with an exotic touch of the Pacific tropics. An elegant dish, requiring a minimum of preparation time."
Grande Scallops Joliette Recipe


The Beer Fox says, "Scallops marinated in herbed juices, broiled on skewers, and served on a bed of lightly tossed pasta is a truly 'grand' creation."
Grilling With Beer - Fat City Sausages 'n Outlaw Sauce Recipe


The Beer Fox says, "Marinated sausages, perfectly dressed, for a steamy night around the grill!"
Grilling With Beer Workshop - Marinades - Recipes


In his book, The Dictionary of Popular Food/Nutrition Misbeliefs, German food chemist Udo Pollmer recommends that soaking red or white meats in beer, before grilling, reduces the formation of cancer-causing HCA's (heterocyclic amines), and actually prevents the formation of these compounds.
Grills - Grilling Tools - Beer Can Chicken Recipe


As the sun warms overhead and bronze bodies line the beach, thoughts of easy cooking fill your head. Outdoor grilling becomes a passion, making no exception for the occasional rainy day.
Holiday Turkey with Cranberry-Beer Dressing Recipe


As an old-fashioned Thanksgiving tradition, brining the bird in cranberry and beer is a treat that will gain a memorable place in the halls of Holiday lore.
Honolulu Coconut Clouds Recipe


The Beer Fox says," Sweet and simply divine, this after-dinner treat satiates the palate with a touch of tropical elegance."
Irish Cooking - Glengarriff County Cork Stew Recipe


The Beer Fox says, "A taste of the Irish! Delicious aromas contribute to an aura of home-style comfort during leisure cooking time."
Juniata Flapjacks and Beer Recipe


The texture of these flapjacks is achieved from the paired action of a yeasty beer with the lightness of beaten egg whites.
Katzenjammer Kielbasa n' Kraut Recipe


The Beer Fox says, "Music, dancing, and revelry bring a touch of 'New Year's magic' to a late Winter evening."
Kennetake Mushrooms Portobello & Beer Recipe


Cooking with beer couldn´t be simpler - Rich and savory Mushroom Warmer, with a dash of Lancaster Dunkel Weizen from Lancaster Brewing Company!
Kiawah Island Crab Dip Recipe


The Beer Fox says, "A taste-of-the-shore merges well with lemony orange and spice for a delicious dip that serves well with gourmet crackers, seasoned bagel chips or foccacia bread."
King Tut's Chicken Recipe


The Beer Fox says, "Fit for a king and full of sweetness, this apricot/ale blend enhances the full flavor of King Tut's savory, summertime chicken dish."
Lake Sinclair Jerk Chicken


It´s time you added cooking with beer to your culinary repertoire! A dish with zappin´flavor and a minimum of work!
Lakeland Pasta Salad Recipe


Crisp garden vegetables and festive rotini with tantalizing Lakeland Dressing is a refreshing addition to the buffet table, whether celebrating an autumn holiday or enjoying a Sunday afternoon with friends.
Laurel River Honey Swirls Beer Bread Recipe


The Beer Fox says, "Buttery, honey-drenched swirls burst with mouth watering flavor and the enticing aroma of pecans and cinnamon!"
Lina's Chilled Italian Trifle Recipe


In her best Italian accent, The Beer Fox says, "Rich and light, this chilled Italian dessert is fit for the Brewchef's Hall of Fame - so special, you will want to reserve it for adults only."
Lindbergh's Coldtail Shrimp Recipe


The Beer Fox says, "This tasty appetizer is a treasure for any special occasion!"
Low Calorie Lakeland Pasta Salad Recipe


The Beer Fox says, Crisp garden vegetables and festive rotini with tantalizing Lakeland Dressing is a refreshing, low-calorie addition to a Sunday afternoon barbecue!
Lucy Saunders - The Best of American Beer & Food - Cookbook with Recipes


This year, at the 2007 Great American Beer Festival, this warm and engaging beercook spoke with the expertise of a saavy culinary artist, whether she was presenting her book to the media or demonstrating her culinary skills to festival-goers in the Beer & Food Pavilion.
Macedonian Dill Beer Bread Recipe


The Beer Fox says, "Dressed in the intoxicating aromas of fresh herbs and sparkling wheat ale, this flavorful loaf is as pleasing to the eye as it is gratifying to the palate."
Marietta Valley Pepper Steak Recipe


The Beer Fox says, "A colorful, flavor-packed family dish, with meat and vegetables in a juicy sauce."
Mediterranean Paella Mallorca Recipe


The Beer Fox says, "A taste of the Balearic Islands create waves of satisfying sensation on the tongue."
Molten Cherry Chocolate Cake Recipe


The Beer Fox says, " Rich, dark, chocolaty, and just a hint of coffee makes this a molten, mouth-watering slice of pleasure!"
Moose Drool Muffins


Quick and easy morning muffins with a touch of Montana´s big sky!
Mountain Stout Oatmeal Cookies Recipe


"Sweet dreams and sugarplums lie ahead, with milk and cookies, just before bed."
New Orleans Pecan Pie Recipe


The Beer Fox says, "Delight in this festive holiday pie with huge, full-flavored pecans, enhanced with the unique elegance of a complex, finely crafted ale."
Newburg Salmon in Parchment Recipe


The Beer Fox says, "Tasty seafood, locked with the flavor of herbs in parchment, is a flavorful-treat in this zesty sauce."
North Shore Pineapple Meringue Recipe


The refreshing sweet-tang of pineapple meringue is a nice touch for the Christmas season. Pineapples are a symbol of hospitality, and this twist on sweetness adds a light-hearted zest as a memorable holiday dessert.
Okrakoke Swordfish Dijon Recipe


The Beer Fox says, "A fresh Dijon glaze creates its own unique flavor when combined with the rich juiciness of swordfish."
Olla Podrida Combolina Recipe


The Beer Fox says, "Reminiscent of your vacation to the Mediterranean, this highly seasoned stew blends 'good times' with friends."
Orange Oatmeal Wit-Cranberry Cookies - Recipe


Served with Orange Oatmeal Wit-Cranberry Cookies, the delicate flavors of witbier awaken each flavor in the cookie. Get the recipe!
Party Food - Black Warrior Meatballs Recipe


Kick back with a quick-and-easy recipe for your next holiday bash! Rave reviews for the beer lovin´ gourmet cook!
Pattaya Stir Fry Recipe


Beer Fox says, "This delectable dish is light on the tongue and dressed with a creamy sauce. Touched with lemon and orange, it is in the character of Thai cooking, using a wok to seal in juices and food flavors, and to crisp up vegetables.
Pecan Saison Coffee Cake & Dubbel Biscuits Recipes


Serving brunch? Nothing goes better than sour cream and Saison for making a coffee cake or quick bread for the occasion. The two ingredients combine well to create a buttermilk substitute which lends itself well to baking.
Peruvian Lamb Bake Recipe


Marinated lamb in a sauce of zesty herbs makes a grand bake with a wonderful twist. Sleeman Original Dark Ale is that secret ingredient - the key to culinary success.
Portsmouth Crab Chowder Recipe


The Beer Fox says, "As a complement to this full-bodied chowder, add a crusty beer-bread and a hearty brew!"
Quick & Easy Scotch Caramel Cake Recipe


A deep amber body, tinged with ruby and topped with a cream-colored head emits aromas of caramel, plums, butterscotch, alcohol, and light cocoa. As an ingredient in cake, Belhaven Scottish Ale provides moisture and rich fruity flavors.
Recipes for Blithering Idiots and Old Numbskulls


Blithering Idiot used to be a derogatory term. That was before Weyerbacher Brewing Company gave their English Barleywine the moniker.
Rhinelander Beer Bread Recipe


The Beer Fox touts this as a hearty rye loaf, perfect with soups or German stews. Terrapin Rye Pale Ale adds complex flavor and spiciness, while the sea salt and poppy seeds paint the top like the hand of an artist.
Roanoke River Barbecued Pork Recipe


Enter the world of cooking with beer - savory pork barbecue lights up your tastebuds with wow!
Rockville Bisque Made with Shrimp Recipe


As you orchestrate your Holiday entertaining, celebrate with this shrimp bisque that speaks of elegance and fine dining. A true award-winner that will gather more than a few rave reviews.
Rockwell Pheasant 'n Creme Recipe


The Beer Fox says, "Tasty bits of herb-seasoned pheasant, drizzled in a creamy sauce, greet your taste buds like the grandest of feasts."
Roguish Herbed Weizen Bread Recipe


In a country overflowing with prepared foods, instant puddings, rocket-fast drive-through-windows and energy drinks sure to make you impatient with those slow-pokes doing the speed limit, slowing down to prepare the most basic staple-of-life elevates your status as a gourmet cook.
Sassy Sassafrass Gingerbread Cake Recipe


The Beer Fox says, "Spicy and sassy, just like YOU!"
Sausage & Beer Cheese Soup Recipe


You may wish to add beer to a cheese sauce, but be aware of the rules that govern cheese before you strike out on your own.
Scandinavian Coffee Twist Beer Bread Recipe


The Beer Fox says, "The enticing aromas of homemade bread and cinnamon twist together in a combination of harmonious pleasure."
Sean Paxton - Homebrew Chef Shares Beer Recipes


Sean Paxton is the real deal. Since the mid-1990s, Paxton, known as the Homebrew Chef, has brought his knowledge and expertise about food and beer to dining establishments across the country.
Seattle Style Apple Glazed Chicken Recipe


Mouth-watering with a touch of sweetness, this juicy, barbecued delight is a pleasure to the palate and demands center-stage on the dinner table.
Secret Recipes of Homebrew Chef Sean Paxton


Homebrew Chef Sean Paxton reigns as one of the great beer and food chefs of the Craft Beer Renaissance in the United States. As a guest chef at the 2009 Great American Beer Festival's Beer and Food Pavilion, Chef Paxton has been generous with his secrets.
Sharbot Lake Salmon Steak Recipe


Herb-dressed salmon, flavored with a masterful glaze of citrus and Canadian Belgian-style witbier!
Sir Edmund Superior Beef Recipe


The Beer Fox says, "This superior blend of barleywine and aromatic herbs combine with tender beef for a robust delight!"
Smokin' Stoned Stewpot Recipe


The Beer Fox says, "Smokey and stoned! This compliment-winning dish has melt-in-your-mouth flavor!"
Smoking with Beer in Alaska With Chef Mick Hug


Mick Hug, Executive Chef at the Millennium Alaska Hotel in Anchorage, Alaska, is one of the most dynamic chefs you will ever meet.
Smoky Mountain Spareribs Recipe


The Beer Fox says, "A powerhouse punch of zesty flavors make these ribs a lip-smackin' delight. Juicy aromas arouse the senses through this masterful blend of honey and ale."
Spiced Autumn Muffins with Pumpkin Ale Recipe


As the crisp air of autumn freshens your hair and lifts your spirits, prepare something to keep you warm inside with the added zest of pumpkin ale.
Steamin' Chile Chili Recipe


The Beer Fox says, "Although chili is claimed as the official dish of the state of Texas, it is actually a dish, made with peppers and meat, with its etymology derived from the Spanish "chile con carne."
Sugar Mama Pecans Recipe


Time to party on! Gear up to celebrate the next big weekend event with the best of the best! Beer and pretzels deliver extra zest with crunchy, beer-drenched pecans sweetening the mix!
Sunset Steam Rye Bread Recipe


Home-baked beer bread not only warms the house, but also comforts the spirit on cool and dreary days. Rarely do we seem to have enough time to take on such a project as baking bread, but it takes only minutes to mix the ingredients.
Ten Tips for Cooking with Beer


Although Belgians and Germans have been cooking with beer for centuries, America's chefs have featured wine or whisky in gourmet dishes with much greater prominence. This seems to have created a knowledge gap in the world of flavorful cuisine.
Tennessee Butter Cake Recipe


The Beer Fox says, "A rich pound cake, moistened with the flavors of Water Gap Wheat."
Terrapin Rye Bread


The Beer Fox says, "Beautiful, brown and full-bodied, this zesty rye loaf is richly aromatic, with a texture that will tantalize your taste buds."
The Art of Breadmaking with Beer - Basic Recipe


Breadmaking with beer is an old world art that fills your home with delightful aromas. Part I explained beer, beer styles and techniques for breadmaking. Part 2 brings the art to life with a recipe for your enjoyment!
The Art of Breadmaking with Beer - The Basics


Have you ever hand-crafted your own bread? Brewing and breadmaking are two of the oldest crafts known to man. Part One teaches techniques and Old-World tips. Beer Bread Recipes follow in Part Two.
Tropical Orange Grove Chicken Recipe


The Beer Fox says, "Delight in the glazed sweetness of citrus-drenched chicken, enhanced by the grandeur of a complex brew in an award-winning mustard!
White Gold Maritime Seafood Cakes Recipe


Delicate, flavorful seafood, dressed with the distinctive flair of the Maritime Provinces, and sweetened with the light, fruity hand of a white-gold brew!
Witch's Brew Spice Cake Recipe


The Beer Fox says, "This golden spice cake has a rich, nutty flavor that warms your soul like a clear fall day in New England!
Ye Olde Boston Veal Birds Recipe


The Beer Fox says, "This tenderized veal in classic ale sauce is reminiscent of Olde English Inns and the hospitality that made them famous."
Editor's Picks Articles
Top Ten Articles
Previous Features
Site Map
Content copyright © 2018 by . All rights reserved.
This content was written by . If you wish to use this content in any manner, you need written permission.
Contact Carolyn Smagalski for details.