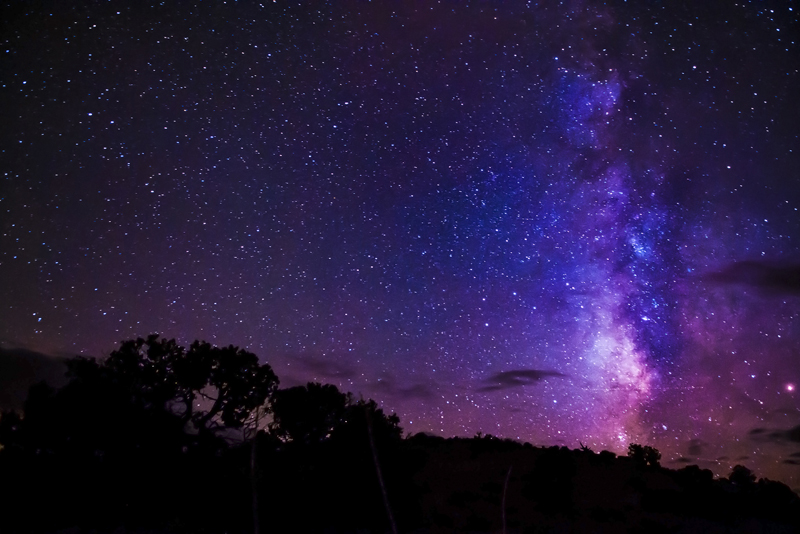 The life histories of stars from birth in nebula, through the main part of their lives (the main sequence) and on to the end, possibly as a white dwarf or in a supernova explosion.
ABC of Astronomy – B Is for Bok Globule


B is for Bok globule, a kind of dark nebula studied by Bart Bok. B is for Bayer who invented a handy system of star designations beginning with a Greek letter. And B is for Baily´s beads. You won´t find them in a jewelry shop, but you might see them in a solar eclipse, as Francis Baily did.
Astronomy Humor


Here's a collection of astronomy jokes for kids, adults and geeks of all ages. Laughter helps to keep us young and healthy, so see if anything tickles your fancy. (And how *does* the Man in the Moon cut his hair?)
Bang! - The Universe Verse - book review


What would it take to explain the Big Bang Theory? James Lu Dunbar´s "Bang!" might do it - and amuse you and your children at the same time. It´s a splendid little book which tells the story of the universe in verse and appealing graphics.
Chemical Cosmos - book review


"The Chemical Cosmos: A Guided Tour" is an astronomy book about chemistry - or perhaps a chemistry book about astronomy. It´s an engrossing guided tour that will take you from the baby Universe through the first stars, the formation of solar systems and to our search for the origins of life.
Cosmic 4th of July


What links the USA´s Independence Day holiday, the Crab Nebula and NASA´s Deep Impact spacecraft? What links the American War of Independence with the planet Uranus? And what is the Fireworks Galaxy? Read on to find out.
Cosmic Collisions


We no longer see the heavens as perfect and the stars as eternal and unchanging. Even the Universe had a beginning, and everything that we observe changes and evolves. Many of these changes involve cosmic collisions.
Cosmic Ghosts, Ghouls and Vampires


Astronomers use colorful language for cosmic objects. But unlike ghosts, ghouls and vampires in horror stories, the cosmic ones aren´t scary late at night. Here are tales of the birth, evolution and death of stars, a blinking demon and a star that, at Halloween, seems like the Sun´s ghost.
Cosmic White Christmas


If you´re dreaming of a white Christmas, the cosmos may have something of interest. How about deep snow on one of Saturn´s moons, a gigantic Christmas tree whose lights are baby stars, a snowman on an asteroid or an Einstein ring?
Creepy Crawlies in Space


What was the first Earth creature to go into space? Not a dog, but a fruit fly. Insects and arachnids have been mini-astronauts for over sixty years. They have also inspired the naming of heavenly objects.
Death of a Massive Star


Massive stars are born in the same way as smaller stars like the Sun. But a massive star then burns brighter and hotter, and ends its life in one of the Universe's most stupendous explosions, a supernova. For a time, it shines as bright as entire galaxy of a billion stars.
Do Red Dwarfs Live Forever


Looking up at a clear, dark sky, you can see thousands of stars. Yet without binoculars or a telescope, the most common type of star is invisible. These are the small, cool red dwarfs that fill the sky and live practically forever.
Empire of the Stars - Book Review


A fateful meeting of the Royal Astronomical Society in London adversely affected the lives of two scientists and hindered progress in the study of black holes for a half a century. So says the author of Empire of the Stars. BellaOnline´s astronomy editor liked the book, but wasn´t convinced.
Galactic Winter Games


Welcome to the Galactic Winter Games, a starry tribute to Earth´s Winter Olympic Games. It´s a tour of some really cool cosmic sights – as well as some hot ones, such as one of the biggest explosions in the Universe.
Gemini - the Celestial Twins


Gemini. A story of the love and loyalty of two brothers parted only by death. Includes a star that´s actually a system of six stars, and a giant star that can help us measure distances in space. Contains an object that completely baffled astronomers for twenty years.
George´s Secret Key to the Universe - book review


In Lucy & Stephen Hawking´s book, the hero George used to have a quiet life, but now he´s trying to rescue his next door neighbor from a black hole. Here´s a lively illustrated story, beautiful color images of the universe, and from the man who knows, a great explanation of what a black hole is.
Halloween


Halloween falls midway between an equinox and a solstice. In the ancient Celtic world it was new year´s eve and the start of winter - time to prepare for survival in the darkening days. But also a time when the boundary between our world and the otherworld weakened. Who knew what might cross it?
How the Sun Was Born – Facts for Kids


The Sun didn´t exist five billion years ago. But the material to make it did. There was even enough to make a number of stars and still have material left over for planets, moons and other small bodies. What was this material, and how did it end up as stars and planets?
How the Sun Will Die - Facts for Kids


The Sun was born in a nebula five billion years ago. It´s going to keep going for another few billion years, but it won´t last forever. Here´s the story of what happens to a sunlike star when it runs out of fuel. And some of it is very strange.
Icarus at the Edge of Time book review


Icarus flew too close to the Sun with wings of wood and wax. The wax melted and he fell to his death. Brian Greene´s Icarus of the future flies too close to a black hole and finds that he should have paid more attention to Einstein.
It´s Alive - book review


The Universe Verse is back. Book 1 was the Big Bang Theory in verse and drawings. Now stars and planets have formed, but something new is happening: Life. Book 2 is about evolution by natural selection. In its cheerful verse and lovely color drawings, it´s also a love poem to our beautiful Earth.
Life and Death of Massive Stars – Facts for Kids


Stars are all born in the same way, but they live and die in different ways. A star´s mass rules how hot it will be, how long it will shine, and how it will end.
Life and Death of the Sun


In the distant future the Sun will be many times its present size and thousands of times brighter. It will seed the Galaxy with elements like carbon and oxygen–perhaps for life on a world yet unborn. Then it will collapse into a tiny dead sphere. For a time, a beautiful nebula will mark its place.
Mother´s Day - An Astronomy Bouquet


Flowers from the florist are popular for Mother´s Day. But for really stellar mothers, here is a cosmic floral tribute with links to some dazzling astronomical images.
Nebulae


Nebulae are vast clouds of gas and dust between the stars. Some are stellar nurseries, others are remnants of dead stars.
Perseus the Hero


Perseus was a first-class hero: a demi-god, monster-slayer, maiden-rescuer, founder of Mycenae. When he died the gods put him in the sky. His constellation contains beautiful nebulae, a demon and a singing black hole.
Red Dwarfs - Ten Facts for Kids


If you go outside on a clear dark night, you might see a few thousand stars. But without a telescope, not a single one will be the most common type of star in the Universe. You won´t see red dwarfs, the stars that will still be shining in the far distant future when all the others have died.
Smallest Star in the Universe


No one could possibly say that a star is the smallest one in the whole Universe. But the smallest known star is 2MASS J05233822-1403022, which is a pretty big name for a star that´s about the size of Saturn. Could there be even smaller ones as yet unknown?
Starbirth


People once thought that stars were eternal and unchanging. Today we know that they have life cycles of birth and death. Here is the story of how a star like our Sun is born.
Stars – Ten Facts for Kids


Stars are nuclear reactors. If a really big one took the Sun´s place, it would swallow up the Sun and everything as far away as Jupiter. Yet others aren´t much bigger than Jupiter. Big stars don´t live very long and die in a blaze of glory. Smaller ones live for billions of years.
The Magic Furnace - book review


What is everything made of? What makes the Sun shine? "The Magic Furnace" relates the tale of how science answered these questions. The book tells a good detective story with great characters, and clues include the Big Bang and the biggest explosions in the universe.
What Herschel Found in a Dark Nebula


What´s hiding within an impenetrable dark cloud in the constellation of the Eagle? A stunning stellar nursery. Find out how the Herschel Space Observatory was able to photograph it.
White Dwarfs


White dwarfs are the corpses of medium-sized stars that have run out of fuel. They typically have the mass of the Sun, while being about the size of the Earth. It's no wonder that early twentieth century astronomers were dumbfounded by them.
Who Let the Dogs out?


Someone must have left the door open, because the skies are full of dogs. You can see the dogs of Orion and the hunting dogs of the shepherd Bootes in pursuit of the Great Bear. There is also the Running Dog Nebula and the memory of poor Laika, the first cosmonaut, who perished in space.
Young Astronomers at Work


Telescopes are essential for astronomy, but you don´t need one of your own. A computer can be the right instrument. Big telescopes collect data faster than professionals can process it, so amateurs can help. There is also room for individual ingenuity. See what some young astronomers have done.
Editor's Picks Articles
Top Ten Articles
Previous Features
Site Map
Content copyright © 2018 by . All rights reserved.
This content was written by . If you wish to use this content in any manner, you need written permission.
Contact Mona Evans for details.