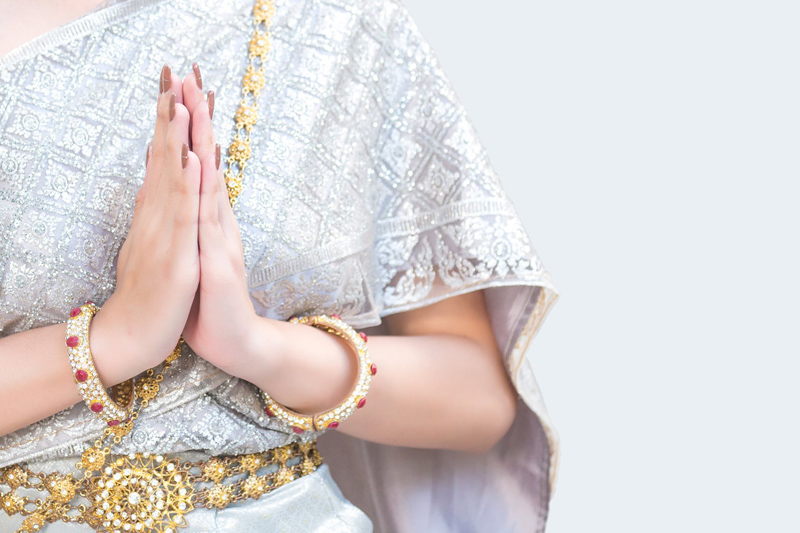 Massaman Curry is a favourite with many westerners and various meats or fowl can be used, although beef is probably the most common protein used. If in a hurry you can easily use prepared Massaman Curry Pastes in a tin or tub such as Mae Ploy or Mae Sri Brands. However making your own Massaman Curry Paste and keeping a quantity in a glass jar for easy use is a preferred method.

If you use already prepared Massaman Curry Paste I suggest brightening the flavor by adding some of the ingredients fresh.

Massaman Chicken Curry (Gaeng Massaman Gai)

1 lb. chicken, boneless, skinless cut in bite-sized pieces
3 cups coconut milk (24 ounce can)
3 tbl peanuts, dry roasted in skillet, chopped
6 peeled, but whole, small onions
6 small potatoes, peeled and par-boiled
2 bay leaves
6 roasted green cardamom pods
1 4" piece of roasted cinnamon bark
2 tbl date palm sugar
2 tbl tamarind juice
2 tbl lime juice
1-3 tbl Massaman curry paste
1 tbl slicerd garlic

Open a large can of coconut milk. You should end up with 1 cup thick cream and 2 cups thin coconut milk. Some coconut milk is pasteurized and it won't separate. I buy the cans marked Coconut Cream (Savoy Brand) when I want to be able to separate the thick and thin coconut milk. In Thailand many cooks make their own coconut milk, but that is rarely the case in the West.

Pour the thin coconut milk into a small saucepan, add the chicken, bring to a simmer and add the chicken. Simmer until the chicken is no longer pink.

Place the thick coconut cream in a wok and bring to a boil, add the massaman curry paste and "stir fry" until it is fragrant and begins to separate. This process develops the flavor of the curry paste.

The coconut oil will separate out and can be carefully skimmed off with a spoon to make the curry less oily. Add the cooked chicken in thin coconut milk to the wok of curry paste and gentle incorporate the two.

Add the peanuts. taste and adjust the flavor until the balance of hot, sweet, salty, sour are in balance to your taste.


Add the potatoes and simmer until cooked.

You can use sweet potatoes in this recipe, but my family prefers Golden Yukon potatoes as they hold their shape better.

Serve on a bed of steamed Thai Hom Mali Jasmine Rice, or double the amount of potatoes and serve it alone.

Condiments such as Atjat (pickled cucumbers) or a lightly dressed mixed baby greens salad is a nice side dish.

Offer bowls of sliced chiles in fish sauce (Phrik Nam Pla), chiles in vinegar (phrik nam som or phrik dong), powdered chile (phrik phom), sugar, and often MSG for dinners to adjust the taste as they want.






You Should Also Read:
Ajar
Nam Pla Phrik
Massaman Curry Paste


Related Articles
Editor's Picks Articles
Top Ten Articles
Previous Features
Site Map





Content copyright © 2023 by Mary-Anne Durkee. All rights reserved.
This content was written by Mary-Anne Durkee. If you wish to use this content in any manner, you need written permission. Contact Mary-Anne Durkee for details.