April is Autism Awareness Month. To raise both money and awareness of the spectrum of disorders that are termed "autistic", Autism Speaks is sponsoring "Walk Now for Autism" all across the country.
This is a charity walk that speaks directly to me. My 16 year old son, Michael, has Asperger's Syndrome, a form of high-functioning autism.
Here where we live, the Georgia Walk for Autism is co-sponsored by
Autism Speaks
and
The Marcus Institute
, a center in Atlanta dedicated to helping people with developmental disabilities. The Marcus Institute offers in-home services, school consultation services, as well as an on-site day-treatment program and outpatient program for kids on the spectrum. All proceeds from Georgia's walk will be split between the Autism Speaks program for research and The Marcus Institute for treatment.
This year the walk will be on April 12th, 2008 starting at 8:30 AM at Atlantic Station in Atlanta – and walking for 3 miles.
Unlike many other charity walks, the autism walks are geared completely for the family. There is an information fair held at the same time that kids can play games at, get prizes, and be with others just like them. This walk is informal – there's no "winner", this is about awareness. Parents are encouraged to walk with their child that is on the spectrum. If your child needs to stop and sit for a few minutes, that's fine. If your child becomes overwhelmed by the experience, that's OK, too. This is a day for
them
.
On the other side, you don't have to know someone with autism to participate and help make a difference.
Claire and her 19 year old son, Blake, participated in Georgia's walk last year. When I asked her what the best thing about the walk was, she replied, "It was just very neat to see that many people in the community come together, whether they are affected by autism or not." She estimated that there were around 18,000 people at the walk, with teams ranging from "Team Jonah" that walks for their 7 year old son Jonah; all the way up to corporations like UPS, Delta airlines, and B98.5 FM.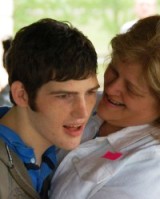 Despite severe limitations; such as being non-verbal and needing constant 2 on 1 supervision to prevent him from harming himself, Blake was able to walk rather than use a wheelchair last year. "He likes when people recognize him", his Mom said, and there were volunteers there from The Marcus Institute (which Blake attends) and other kids from our local support group
Spectrum
which Claire has been involved with for about 10 years. It is a major accomplishment for kids on the autism spectrum to be around that many people, but Claire said the energy was great and there was plenty of space for him to spread out. It made her very proud of him.
Melissa and her husband, Scott also walked last year and have a child on the other end of the spectrum. Her 12 year old daughter, Courtney, has Asperger's Syndrome like my own son. While Courtney does not have some of the physical and communication difficulties that Blake has, the walk provided its own challenge for the family.
For Courtney, and many other kids on the spectrum, big crowds and lots of noise can be overwhelming. So Courtney's parents, Melissa and Scott decided to start that walk from their house. The walk officially began at 8:30 AM, so that's what time they pulled out of the driveway. That way they got to the start line a little behind the large group of people that start out all at once, and Courtney was not so conscious of the crowd. The walk is very accommodating for these kids, with no stringent rules. It is all about getting these families to participate.
I asked her parents why they walked. Melissa said, "It was something that the 3 of us could do together. It's important that Courtney sees us support Autism as a family." Scott said it gave him an incredible sense of solidarity, being there with so many other families that know exactly what we all are going through every day.
I asked Courtney what she thought. "It was fun! …The fact that I actually got to walk and all the different people and things." She wants to get some Heelies for her next time walking.
If you live in Georgia, please come out and join us on April 12th. If you don't live here, don't worry – there's a walk near you, too! Check out
Walk Now for Autism's website
to find a walk in your state. There are even walks scheduled for Canada and one in England. And while the majority of the walks are during April's Autism Awareness month, there are more walks scheduled throughout the remainder of the year as well.
If you can't get out there and walk with us, but would still like to help out, log onto the
Walk Donation Page
. You can make a donation or sponsor your favorite walker or team. Teams and individual walkers can be searched for by state or by name.
So come get some fresh air, meet some very interesting people, and help raise awareness and funds for a worthy cause.
Guest Author, Michelle Taylor.
You Should Also Read:
Autism Spectrum Disorders Site


Related Articles
Editor's Picks Articles
Top Ten Articles
Previous Features
Site Map





Content copyright © 2022 by Michelle Taylor. All rights reserved.
This content was written by Michelle Taylor. If you wish to use this content in any manner, you need written permission. Contact Carla Cano for details.