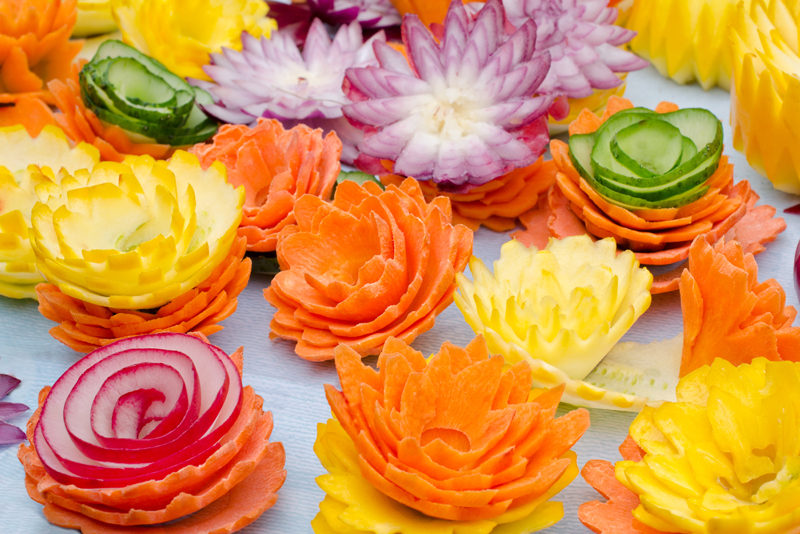 Find recipes and helpful hints for making holidays and birthdays even more special for your family.
Budget Friendly Peppermint Treats


Peppermints and Candy Canes can turn any ordinary treat into a holiday delight with your kids!
Apple Dapple Cake Recipe


There's no better way to say "Welcome Fall" than with an Apple Dapple Cake.
Baked Christmas Ornaments recipe


Bake up these beautiful salt dough Christmas ornaments with your kids for holiday fun that will last for generations! In this recipe, I provide a basic salt dough recipe that my great-grandmother passed down to all of us. I've included cookie shape ideas as well as a variety of decorating ideas.
Butterscotch Haystack Recipe


It wasn't a holiday at our house without my Grandmother's butterscotch haystacks. I have just as much fun making this holiday treat now as I did when I was a child!
Christmas Morning Recipes


Three delicious recipes for Christmas morning--or any other morning you´d like something special.
Easy Holiday Appetizer Recipes


Holiday appetizers for kids couldn't be easier with this cheesy bread bowl, served alongside fruit and veggie sticks!
Father's Day Burger Recipe


A new twist on an old favorite grilling recipe, along with a homemade gift for Dad will make your Father's Day extra special.
Father's Day Roast Recipe


This is the perfect recipe for a delicious and budget friendly Father's Day dinner. While the roast is simmering in the slow cooker, your family can enjoy some special time with Dad.
Fun & Festive Halloween Recipes


Halloween is the perfect time to make festive treats. Spider Cupcakes and Muffin Pumpkin Faces are easy and delicious. Most of all, they are lots of fun to make with your kids!
Fun Holiday Dessert Recipes


Peppermint candies and ice cream turn these desserts into holiday spectacular treats, for kids and adults alike!
Green Eggs & Shams recipe


Happy St. Patrick's Day! Your little leprechauns will get a kick out of these adorable little green shamrock-shaped eggs and tortillas... and you will feel good knowing that they ate a healthy, nutritious breakfast.
Halloween Party Snack Recipes


Roasted pumpkin seeds, veggies with a festive dip, and caramel apple slices are three healthy Halloween party snack recipes.
Halloween Pumpkin Heads Recipe


One of the most simple and festive Halloween recipes for kids involves nothing more than vanilla wafers, frozen orange juice, powdered sugar, coconut, and some creativity!
Heart Shaped Cheesecake Recipe


A heart shaped pan and a delicious, inexpensive recipe are the perfect ingredients for a kid friendly Valentine's Day treat!
July 4th Parade and Recipes


A 4th of July parade and some kid friendly patriotic desserts are the perfect ingredients to make this holiday extra special.
Leftover Thanksgiving Turkey Recipes


Leftover turkey is the perfect ingredient for turkey fajitas and turkey wraps! Both recipes are an easy and budget friendly way to take advantage of delicious leftover turkey. Best of all, each recipe is kid friendly to eat and preapre.
Mother's Day Roast Recipe


When a hardworking Mom takes an extra shift at the hospital on Mother's Day, Dad and the kids create a spectacular Mother's Day surprise dinner.
New Year's Eve Recipes


Preparing food for a kid friendly New Year's Eve party doesn't have to be hard or expensive. Here are some easy and kid friendly recipes for your New Year's Eve celebrations.
No Bake Orange Balls Recipe


One bowl, four ingredients, and some eager young chefs are all you need for this delightful holiday classic.
Roasted Rosemary Turkey Recipe


Here is one simple and mouthwatering turkey recipe that will please both kids and adults alike.
Salsa Chicken and Cheese Recipe


This is the perfect recipe for healthy eating during the holiday season. It's simple and delicious!
Sweet Easter Treat Recipes


Making Easter treats with your kids doesn't have to be complicated or expensive. A box of cake mix plus just a few other ingredients equals Easter Basket Cupcakes and an Easter Bunny Cake!
Three Christmas Morning Recipes


One slow cooked breakfast casserole, one make ahead sour cream coffee cake, and traditional pancakes made fun with cookie cutters are the perfect recipes for your Christmas morning.
Turkey and Stuffing Recipe


These two recipes are simple, delicious, and perfect for the holiday season, or any other time of year!
Two Easy Halloween Recipes


In search of easy last minute Halloween recipes to make with your kids? How about a Butterscotch Jack o Lantern Pudding Pie or Muffin Pumpkin Faces? These are very easy and lots of fun to make with kids.
Valentine's Day Cookie Recipe


You and your kids can create your own personalized messages on these delicious homemade Valentine's Day cookies.
Editor's Picks Articles
Top Ten Articles
Previous Features
Site Map
Content copyright © 2018 by . All rights reserved.
This content was written by . If you wish to use this content in any manner, you need written permission.
Contact Kymberly A. Morgan for details.