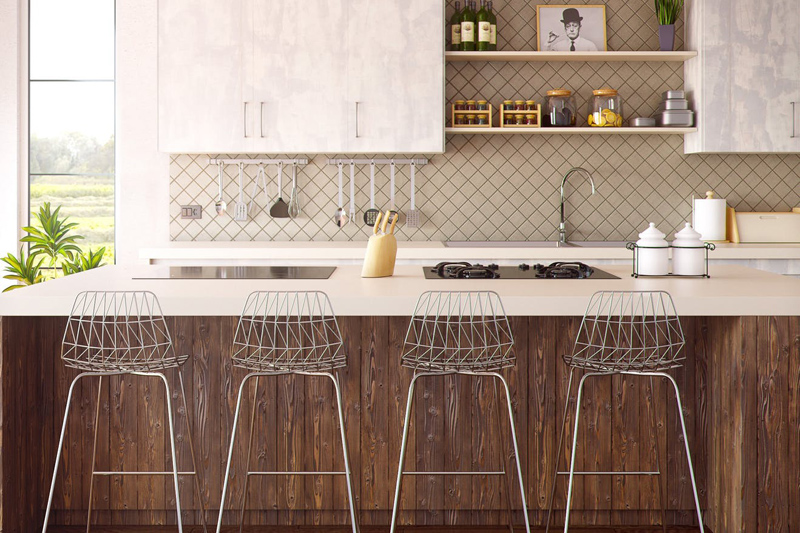 The legendary Johnny Appleseed was a real person who lived in the days of the American frontier. Born in 1774, his real name was John Chapman. He dreamed of a land where no one went hungry because apples were plentiful, a land covered with blossoming apple trees. Beginning in his twenties, and for nearly 50 years, the nurseryman with a big love of apples roamed the land planting apple trees. He created apple orchards out of the wilderness in Pennsylvania, West Virginia, Ohio, Indiana, Illinois and Kentucky. Johnny Appleseed left a lasting contribution. His efforts changed the landscape and today that region is a very rich source of apples.

Over time American apple growers have developed and improved many varieties of apples and the U.S. is now the top apple producing country in the world. Today the state of Washington grows the most apples, followed by New York , then Michigan. Apples are America's favorite fruit and Fall is the season for fresh apples. Though many apple varieties are sold in supermarkets all year round, the freshest apples are available from September through November.
An Apple A Day Can Keep the Doctor Away -
Apples are good for you! Research tells us that apples really do promote good health. They contain numerous essential vitamins, minerals, and nutrients. They're beneficial to your teeth, your skin, your digestive system, your nerves and your overall good health. An apple every day really can help prevent heart disease by reducing cholesterol levels. Eating apples not only lowers cholesterol, it also improves the ratio of beneficial HDL to harmful LDL. They contain compounds that act as antioxidants against LDL, the "bad" cholesterol that clogs arteries. Studies have also shown a link between apples in your daily diet and a lower risk of other illness, including certain cancers.
Buying Apples -
This is the time of year to drive to an apple orchard for just picked local varieties. If you have apples in your refrigerator, you have tasty nutritious snacks plus a main ingredient for creating anything from healthy appetizers to delicious desserts. When selecting apples, press gently with your fingers to check for firmness. Choose apples that are firm, with no soft spots or blemishes. There are many varieties of apples to chose from. Some are best for eating fresh while others are best for cooking and baking. Click Here for more information about the different varieties of apples and their uses.
Apple Storage -
Handle apples gently to prevent bruising. To maintain quality, juiciness and crispness, store fully ripe apples in the crisper section of your refrigerator. Store them away from onions and other foods with strong odors. Never store them next to broccoli, cabbage, cauliflower, cucumbers, or spinach. Apples emit ethylene gas which will speed the ripening of other fruit, so keep them away from kiwi fruit, peaches, plums, pears. and other produce which over-ripen quickly. (To ripen green bananas, place them in a paper bag with an apple) When stored properly, most apples will keep for about 6 weeks.
Cooking and Baking With Apples -

Peeling or Paring -
When peeling is necessary before cooking, peel whole apples before cutting. Use a sharp paring knife or a fruit and vegetable peeler. Cut or peel the skin from the apple in strips or in a continuing spiral.

There are crank-type apple peeler, corer, slicer gadgets. These are a great convenience if you have alot of apples to use. They work best with firm apples that are uniform in size and free of blemishes

Use an apple corer -
for apple dumplings, baked apples, or before cutting apples into rings. On a cutting board, insert the corer directly into the center of the apple. Push straight down and twist slightly with even pressure and to remove the core and push it through. This can be done before or after an apple has been peeled, but a hollow-core apple might break easily while peeling.
Halve, quarters and slice -
Halve, then quarter the apple lengthwise and slice away the core. For thinner slices, cut quarters lengthwise again. Or, use a corer-slicer gadget to core and slice apples into uniform wedges in one step.
To prevent browning -
When cut, apples turn brown quickly. To prevent browning when cutting apples into slices or wedges to serve on a fresh fruit tray or to use raw in a fruit salad, dip freshly cut apples in lemon juice and water or in a solution made with a fresh fruit preservative
Apple Yields
One pound of apples equals 2 large, 3 medium or 4 small apples.

One pound of apples yields 3 cups of diced fruit or 2 1/2 cups of peeled, sliced fruit.

Two pounds of apples is enough for an average 9" pie.

For a deep dish 9" or 10" pie, figure about 3 pounds or 8 to 9 medium size apples.
---
Apple Recipes
Click on a name to view the recipe.
---
Apples For Your Country Kitchen .....
Pfaltzgraff Delicious Mixing Bowls - Set of 3
These hard-working stoneware bowls, in Pfaltzgraff's Delicious pattern are great for mixing batters, cookie dough and sauces, but are pretty enough to use as serving bowls on your table.
---
Fall apple pie photo courtesy of The U.S. Apple Association.
---
You Should Also Read:
The Home Cooking Recipe Index and Site Map
The Home Cooking Cookbook Corner
Fall is for Pumpkins


Related Articles
Editor's Picks Articles
Top Ten Articles
Previous Features
Site Map





Content copyright © 2023 by Sandy Moyer. All rights reserved.
This content was written by Sandy Moyer. If you wish to use this content in any manner, you need written permission. Contact Allyson Elizabeth D´Angelo for details.